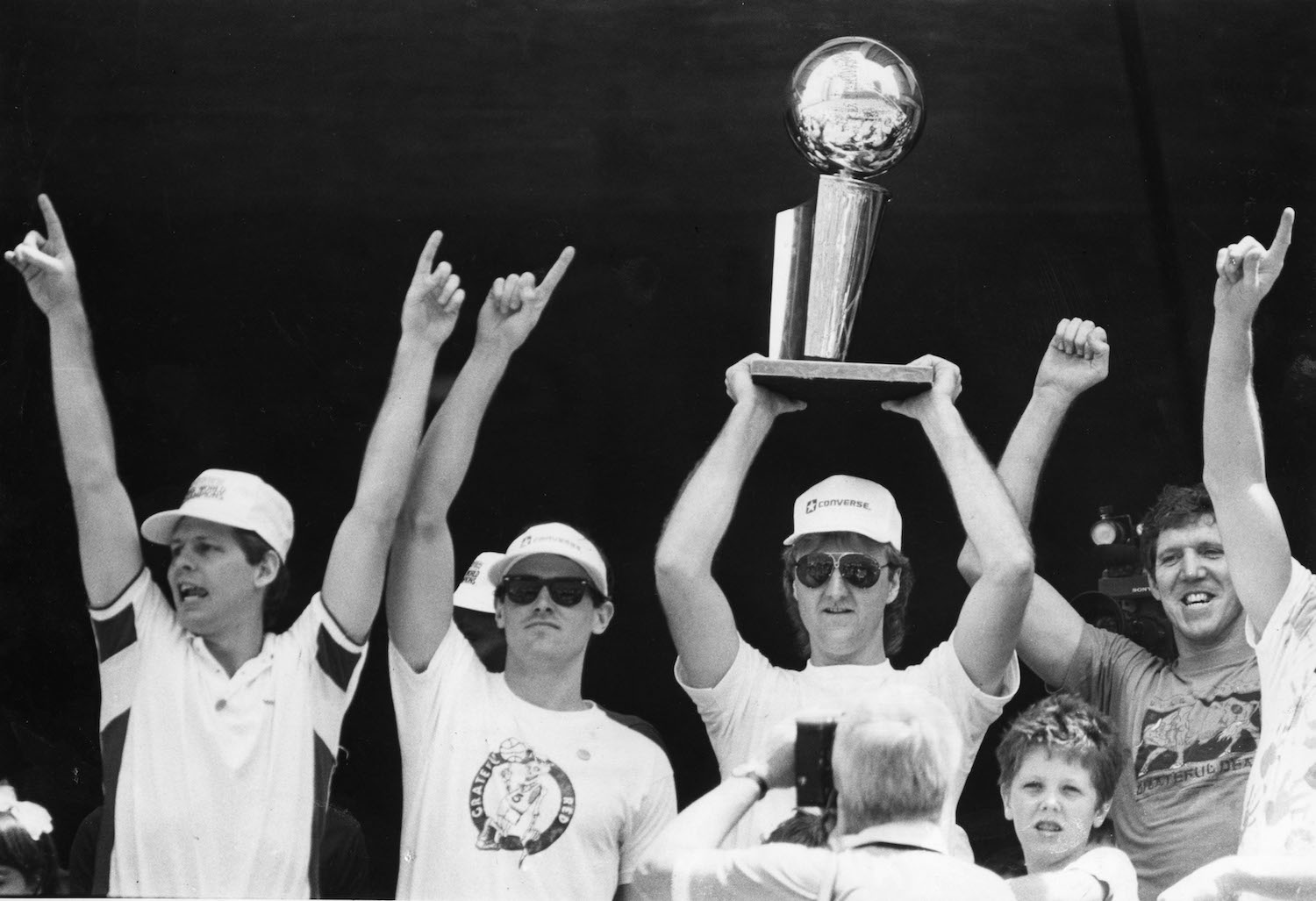 Larry Bird Celebrated the 1984 NBA Title With a Night of Partying, Then Went Out for a Run: 'I'm Getting Ready for Next Year'
Larry Bird led the Boston Celtics to the 1984 NBA title, but wasn't going to rest on his laurels after that victory.
When you think of Larry Bird, it's easy to remember the forward's incredible talent and assume that he simply strolled to NBA success. In reality, though, that wasn't the case. Larry Legend, for all of his natural ability, still had to put in the work behind the scenes. If you want a demonstration of that, look no further than the day after he and the Boston Celtics clinched the 1984 championship.
While the entire squad had understandably spent the previous night partying, Bird didn't let that detract from his offseason work. On his first day as NBA champion, he hit the pavement and started to prepare for the next campaign.
Larry Bird was already a star when the Boston Celtics won the 1984 NBA championship
If you want to be considered a franchise legend, there's no quicker way to attain that status than winning a championship. Larry Bird, however, was already a Boston icon before the 1984 NBA Finals.
The Celtics drafted Bird in the first round of the 1978 draft, but the forward chose to stay in college for the following campaign. Despite that decision and some concerns that he'd never finalize the deal, Red Auerbach eventually got everyone to sign on the dotted line. That move, it turned out, would change the course of franchise history.
During his first professional season, the Indiana State product averaged 21.3 points, 10.4 rebounds, and 4.5 assists per outing, cruising to the Rookie of the Year title. As an NBA sophomore, things got even sweeter for Bird as he claimed his first NBA championship. From there, the forward's stats would only continue to improve.
Flashing forward to the 1983-84 campaign, Larry Legend averaged a shade over 24 points and 10 rebounds per night. That earned him the NBA MVP Award, and, in the postseason, he built on success. The Celtics dispatched the Los Angeles Lakers in a famous final, giving Bird his second championship and his first NBA Finals MVP.
Following up a night of celebrations by preparing for next season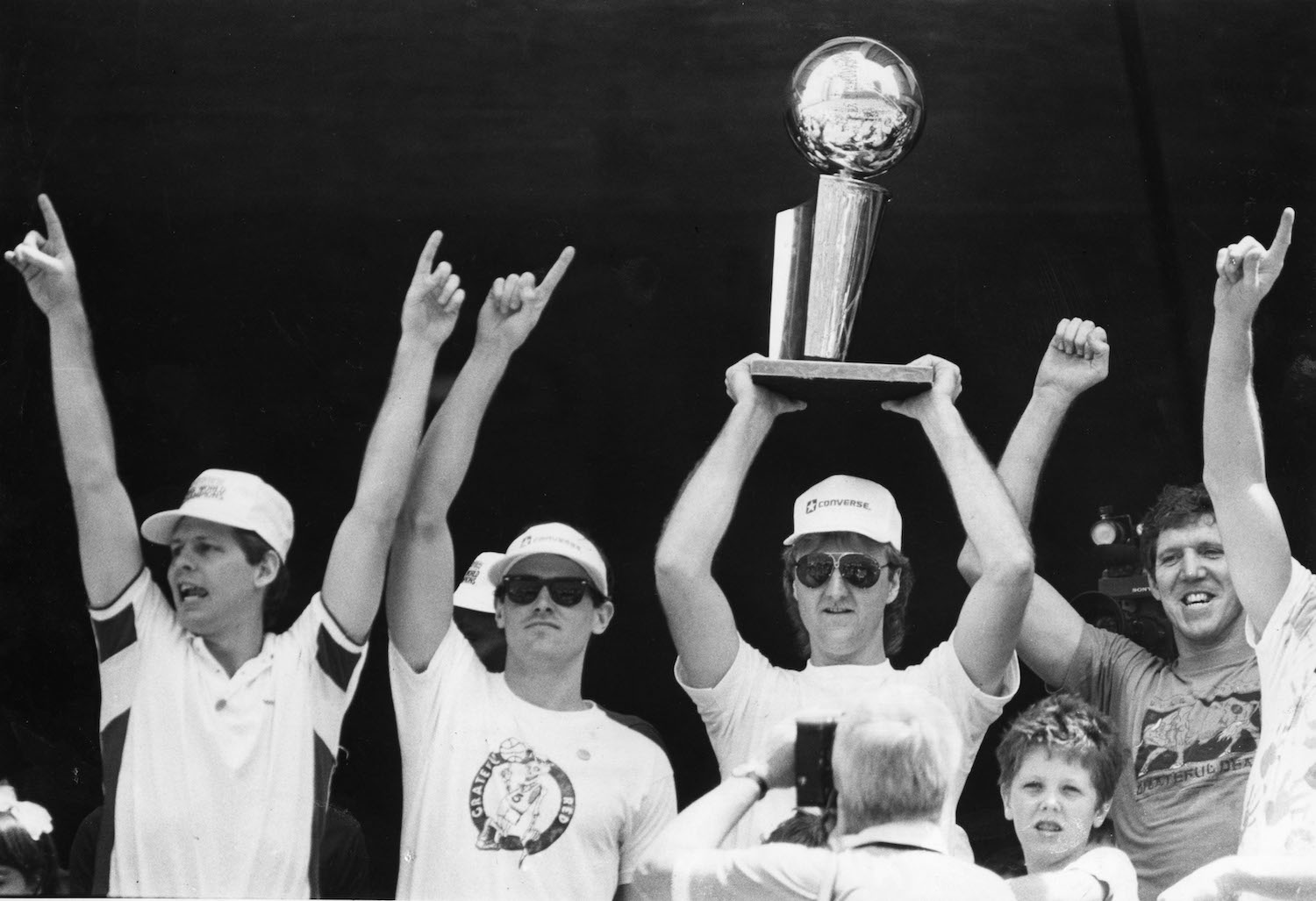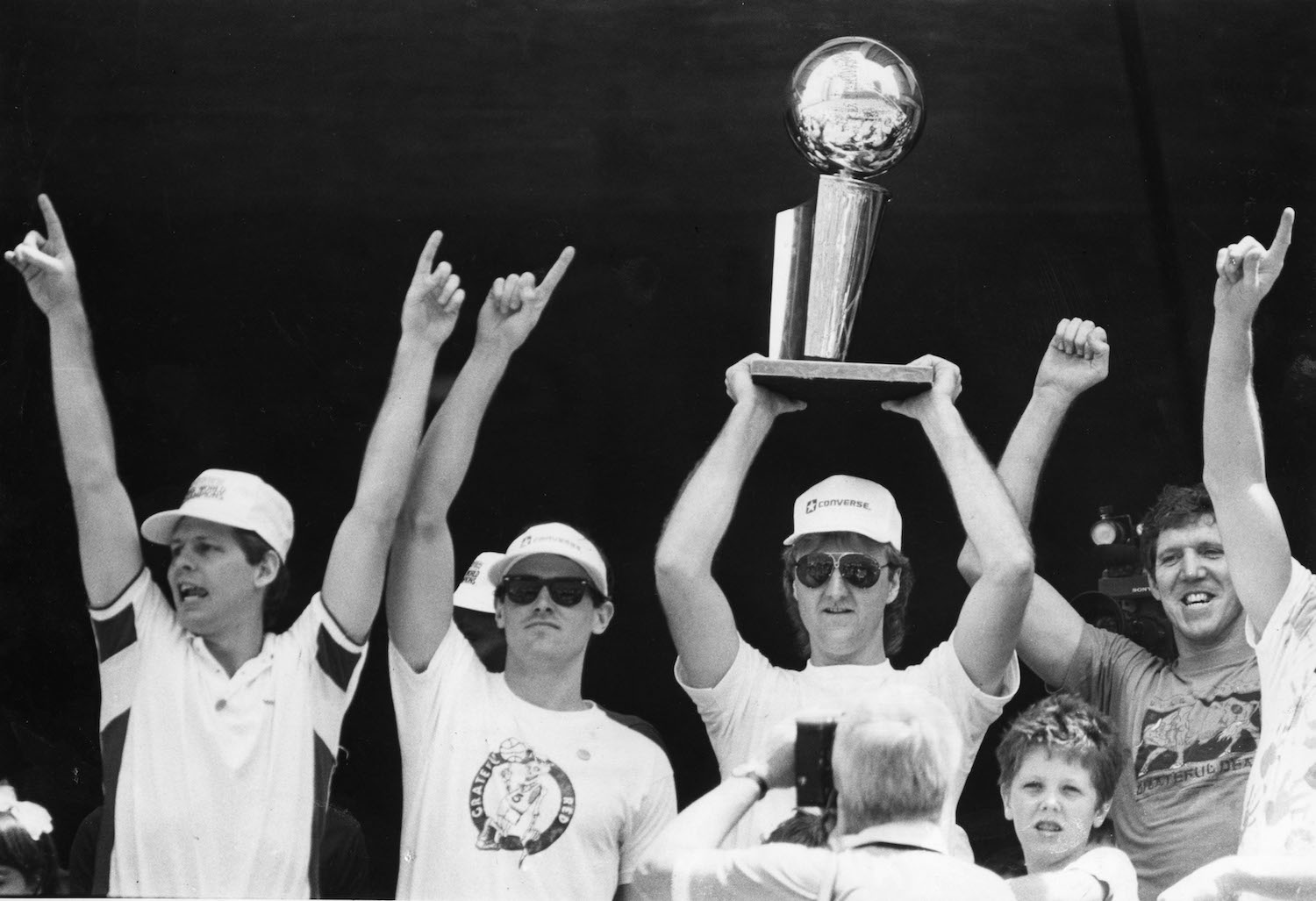 Given the success he'd found by that point in his career, it would be understandable if Bird wanted to rest on his laurels after winning the 1984 title. While there was plenty of celebration, the forward still kept his eyes on the prize.
As recounted in a Boston.com excerpt of When the Game Was Ours, Bird and the Celtics made their way to "Chelsea's, a watering hole in Faneuil Hall." While there were some issues getting there — the city was clogged with traffic and cheering fans — the group eventually made it to their own party. There, Larry Legend finally let his hair down.
"Inside, the two players clinked beer bottles and toasted their title. Larry, normally reserved in victory, disarmed [teammate Quinn] Buckner with occasional gleeful outbursts of 'We did it!'" Jackie MacMullan wrote. "Hours later, amid the singing and the drinking and the reveling, Bird grabbed Buckner and slung his arm around him. 'I finally got him,' Larry said. 'I finally got Magic.'"
The party eventually moved to the Celtics marketing director's home, and Bird reportedly stayed there until the sun rose. Those celebrations, however, were quickly consigned to the history books.
The morning after Boston's celebration, Bird finally went home for a little shut-eye. Around midafternoon, Buckner, who was experiencing his first-ever NBA title, drove to Bird's Brookline home with the hope of celebrating all over again. Larry's wife, Dinah, informed Buckner that Larry wasn't there.

"He was out running," Buckner said later. "When he got back, I said to him, 'Man, what are you doing?' "

Bird looked at him quizzically before he answered: "I'm getting ready for next year."

When the Game Was Ours, via Boston.com
That one line tells you everything you need to know about Larry Bird.
In the end, Bird's effort certainly paid off
Taken in isolation, that story of Bird going out for a run could seem like something that was embellished for the sake of his legend. Based on everything we know of the forward, though, it seems like that's genuinely the way he went about his business.
In a 1981 Sports Illustrated story, Bird explained that, despite his lack of athleticism, he had a few key strengths. "I would say my vision, my court awareness, and my height are God-given," the forward said. "Everything else I've worked my ass off for."
On the whole, it's safe to say that work paid off. As noted above, Bird claimed the 1980 Rookie of the Year title and followed that up by winning the 1981 championship. After his successful 1983-84 campaign, the sharpshooter claimed the NBA MVP crown in 1985 and 1986. He'd also win a third championship and a second NBA Finals MVP Award in 1986.
On the whole, the cliches about hard work beating talent are probably a bit overblown; no amount of effort, for example, could help a point guard out-rebound Yao Ming. Larry Bird, however, certainly wasn't going to leave anything to chance by slacking off.
Stats courtesy of Basketball-Reference.