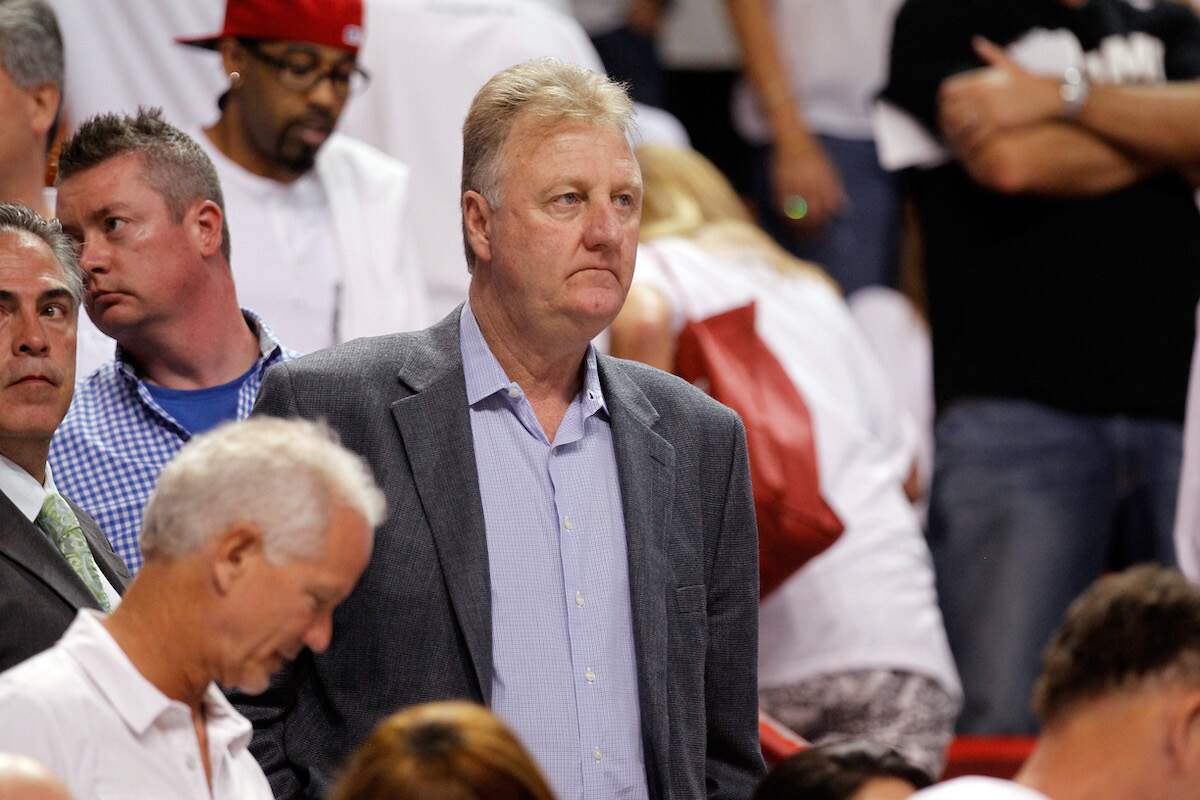 Larry Bird the Executive Stunned Pacers Players by Making 15 Straight Shots in Practice: 'We Didn't Know Whether to Keep Shooting or Just to End Practice'
Larry Bird put on a shooting clinic right in front of Indiana Pacers players he once had the power to trade or cut.
Imagine playing in the NBA. Now picture this: In the middle of a practice, the man with the power to trade or release you steps on the floor and proceed to rain jumpers in from every spot on the court. It would make for a pretty wild scene, right? Well, Larry Bird treated Indiana Pacers players to such an exhibition.
Bird always had a flair for the dramatic and loved putting on a show in the 3-Point Contest during his career. He did so even as an executive, with former Pacer and current Los Angeles Clippers star Paul George recalling the time Larry Legend had something special in store for Pacers players in the middle of a practice.
Larry Bird spent nearly 15 years in the Pacers front office
Nearly every basketball fan knows about Larry Bird's greatness during his esteemed career with the Boston Celtics. Many probably remember his brief stint as head coach of the Pacers. But some might forget just how long Bird stayed in Indiana as a member of the front office.
The Hick from French Lick spent close to 15 years as an executive with the Pacers. He was named the NBA's Executive of the Year in 2012, becoming the first person in league history to win MVP, Coach of the Year, and Executive of the Year.
The Pacers never won a title with Bird pulling the strings. However, he helped build the team that became the "Big Three" Miami Heat's most formidable opponent in the Eastern Conference. Led by rising star Paul George and defensive standout Roy Hibbert, the Pacers pushed the Heat to seven games in the 2013 Eastern Conference Finals and battled Miami for six hard-fought games the following season.
All told, the Pacers missed the playoffs just five times during Bird's tenure. He successfully orchestrated transitions from Reggie Miller to Jermaine O'Neal to Danny Granger and, finally, to George.
Larry Legend knew how to build a competitive franchise. If any player on the roster doubted as much, they probably didn't after watching one of his shooting displays.
Paul George said Bird made 15 straight shots during one Pacers practice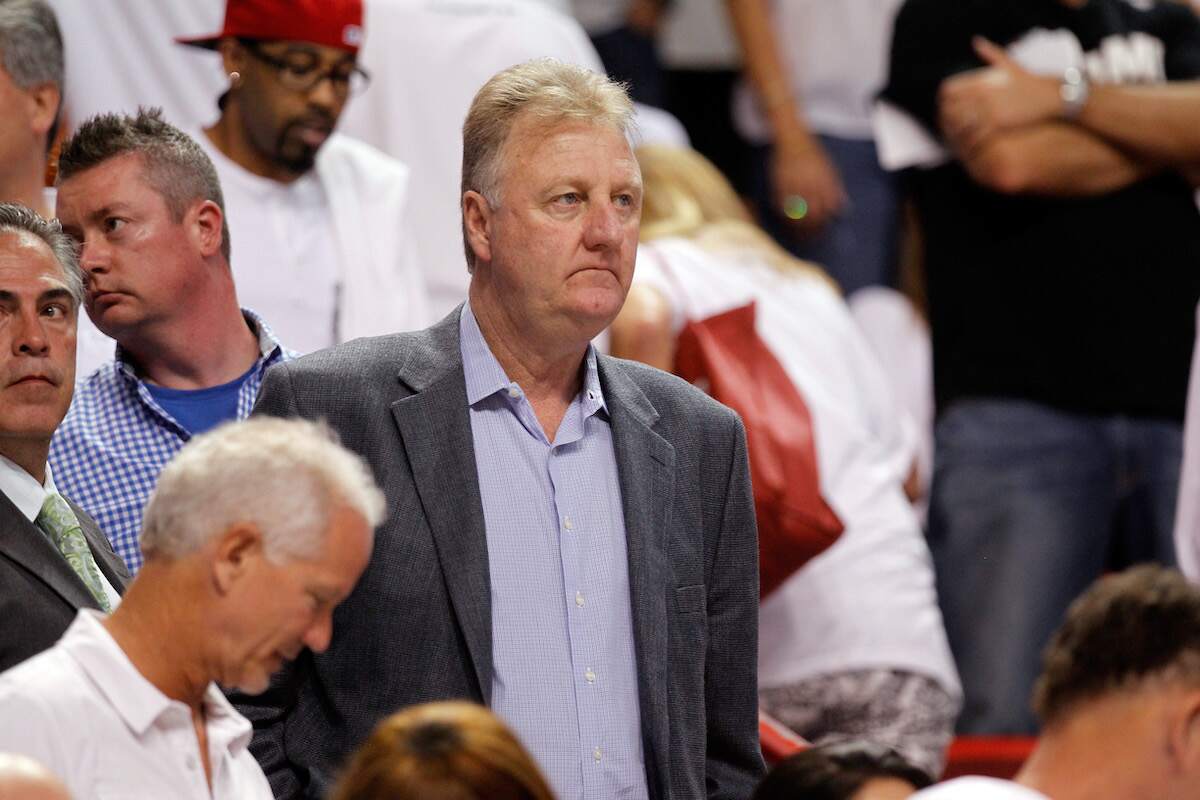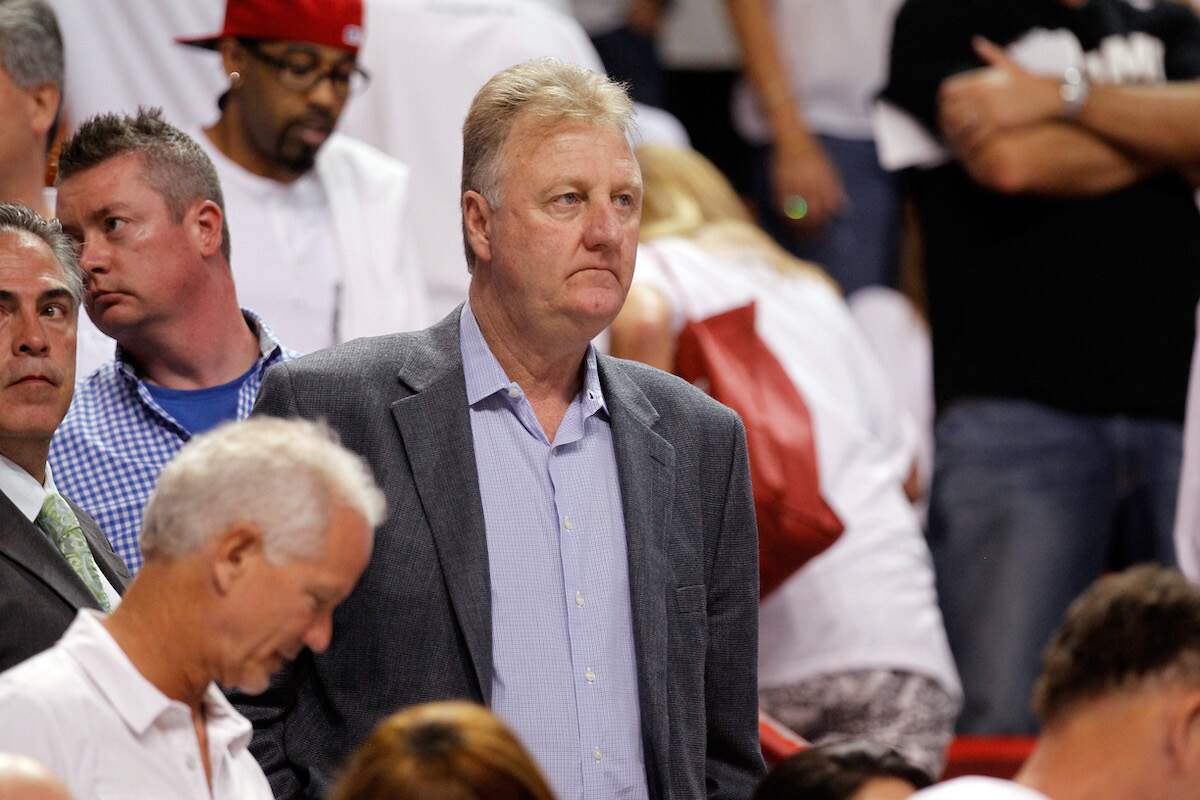 Former Pacers forward Jalen Rose once called Bird a "god" during Larry Legend's coaching days. The same probably applied to players on Indiana's roster in the early 2010s.
Paul George and the Pacers could not believe their eyes when Bird started casually hoisting jumpers in the middle of a practice. Nor did they know how to react when their general manager immediately left the gym thereafter.
During a 2013 interview with Slam Magazine, George remembered just how awestruck he felt in seeing a 50-something Bird make 15 consecutive shots.
"[Bird] picked a ball up that had rolled over. He rolled up his sleeves and made about 15 in a row and just walked out like nothing just happened. It was the craziest thing I've seen."

–Paul George (2013), via Slam Magazine
George's teammates shared his amazement. He said the entire team looked around with puzzled expressions, wondering if they should even keep shooting.
"We were speechless. We didn't know whether to keep shooting or just to end practice. It was sweet, man."

–Paul George (2013), via Slam
The nonchalance about the whole thing is vintage Bird. Whether he chose to talk trash or let his play speak for him, the former Celtics great always managed to make statements.
A more famous shooting exhibition
Larry Bird knew he was going to win the 1988 3-Point Shootout. He told fellow contestants as much in the locker room beforehand.
Bird dazzled the fans in Chicago with incredible theatrics, winning the competition by making his very last shot and doing it all without ever removing his warmup jacket. The moment resonated even with other all-time greats like Michael Jordan, who said he felt bad for contestants shooting after Bird.
The moment epitomized Bird's extreme confidence and shooting touch, qualities he shared with Pacers players nearly 25 years after his famous triumph.
Bird no longer has any present ties to the NBA. But George and countless others can probably advise against challenging him to a shooting contest, even now.