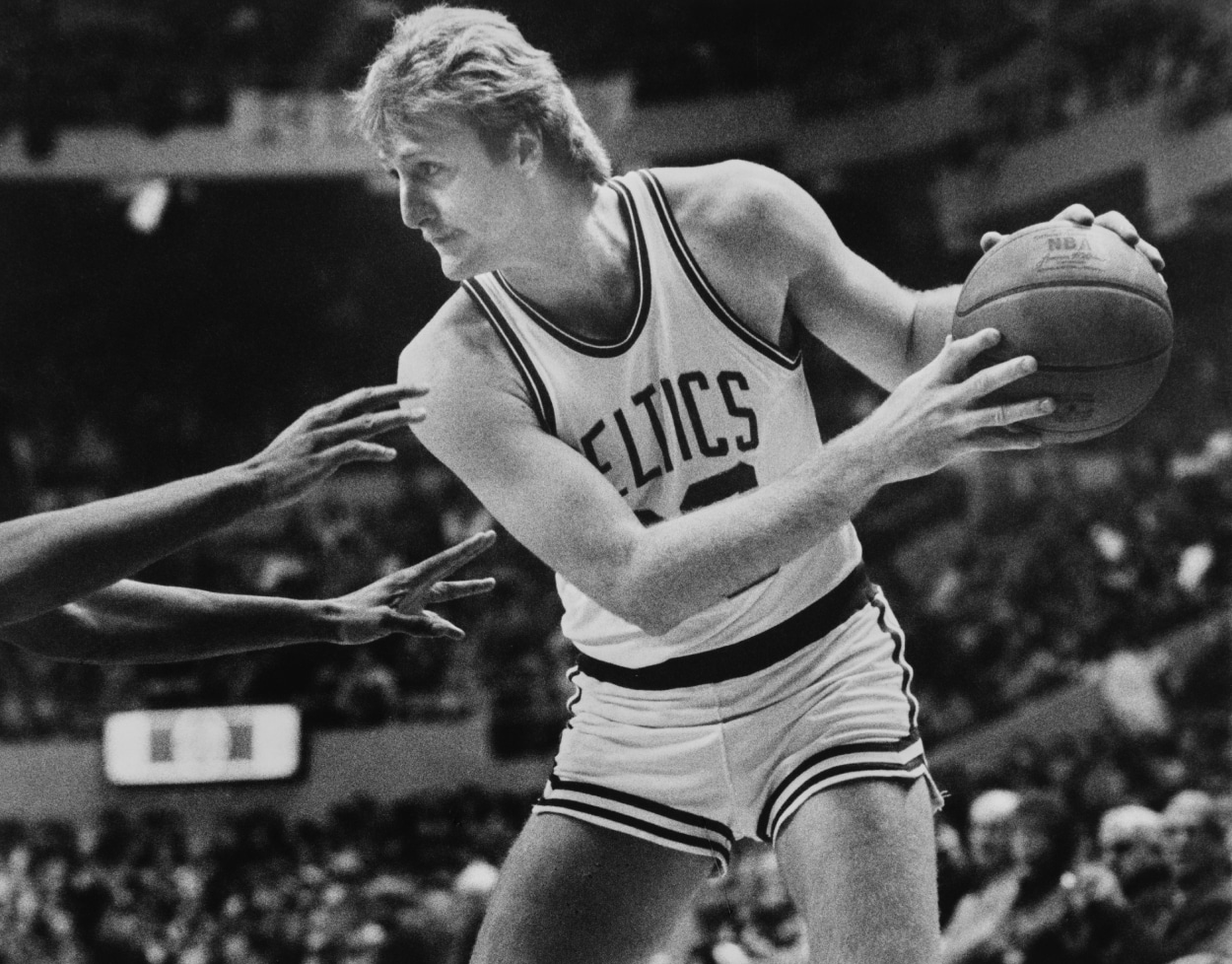 Larry Bird Explained Why He's Proud of His Iconic Towel-Waving Photo
Larry Bird's iconic towel-waving photo from the Boston Celtics bench means a lot to him.
Larry Bird had plenty of reasons to celebrate during his 13-year career with the Boston Celtics. He was part of three championship teams and won three straight MVPs. Bird goes down as one of the greatest to ever play in the NBA, possibly a top-5 player in league history.
There's one famous celebratory photo that still makes the rounds today. It's an iconic shot of Bird waving a towel from the bench in 1984. Bird once explained why that picture has so much meaning to him.
Larry Bird was an NBA star from the get-go
Larry Bird provided instant relief for the Boston Celtics. After playing in the 1979 NCAA title game for Indiana State, he joined a struggling Boston Celtics team for the 1979-80 season. Before Bird got to Boston, the Celtics were fresh off a 29-win season.
As a rookie, Bird started all 82 games and averaged 21.3 points and 10.4 rebounds on his way to winning Rookie of the Year. He guided the Celtics to an NBA-best 61-21 record. Boston fell to the Philadelphia 76ers in the Eastern Conference Finals.
Beginning with the 1983-84 season, the Celtics reached the NBA Finals four straight seasons. It's not coincidental that Bird was named the NBA's MVP in each season from 1984 to 1986.
Bird made every one of his teammates better. He is arguably the best passing forward in the NBA, and he was one of the most clutch players ever. Before injuries got to him in the 1988-89 season, Bird put together one of the greatest nine-year runs in NBA history.
Bird, a 12-time All-Star, was inducted into the Naismith Memorial Basketball Hall of Fame in 1998. He's also a member of the NBA's 75th Anniversary Team.
Bird explained why he was proud of his iconic photo
Bird was rarely a player who showed any emotion. He didn't have to get fired up to play the game he loved. Back in 1984, there was an iconic photo of Bird waving a towel from the Celtics bench that went viral. It's since turned into a GIF, and it shows he did enjoy a celebration or two.
In his book Drive: The Story of My Life, Bird explained why that famous photo means so much to him.
"The worst thing you can have is a deadhead bench," Bird wrote. "One of the favorite photos I have is one where I'm standing up and waving a towel on the bench.
"Kevin (McHale) had just thrown Max (Cedric Maxwell) a great pass, and Max had made a three-point play, and I was up screaming and hollering. I was so into the game, and I'm very proud of that picture."
Bird always believed in having a supporting cast on the bench.
"We used to have a boisterous bench," he said. "Everybody was into cheering except Max, who used to tell me that if Red (Auerbach) wanted a cheerleader, well then, he should've drafted a cheerleader.
But if it was a big game, who was the first one off the bench, screaming and talking junk to the other team and doing stuff to get the crowd into the game? Max. He knew how important it was.
"We had M.L. (Carr) and his towel waving. Quinn (Buckner) was another good guy on the bench. (Bill) Walton was very, very good on the bench."
And for a brief period, so was Bird.