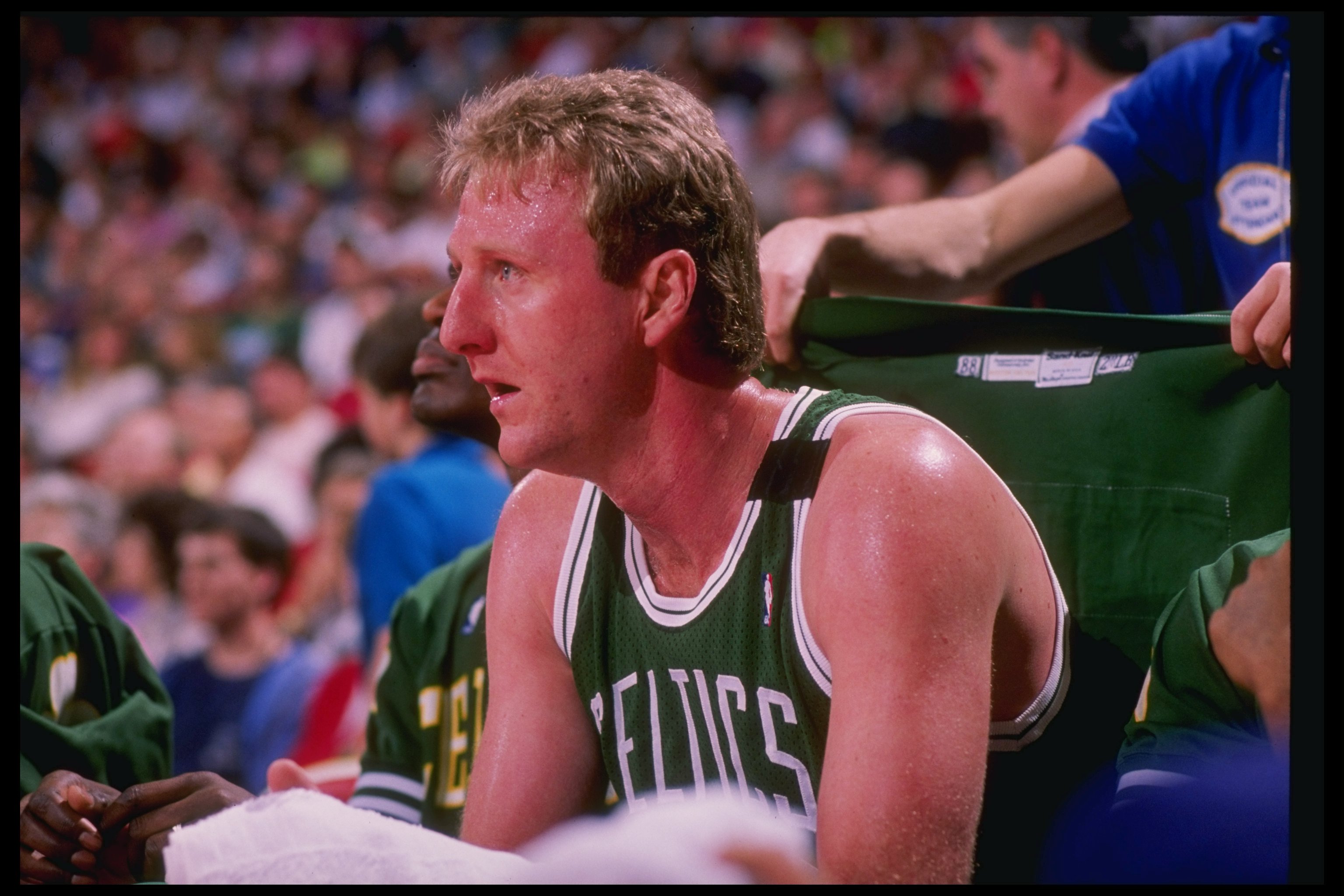 Larry Bird Had a Classic Christmas Present for Chuck Person 30 Years Ago
Boston Celtics Hall of Famer Larry Bird had a classic Christmas present for Indiana Pacers forward Chuck Person 30 years ago.
Larry Bird apparently wasn't in the Christmas spirit 30 years ago. The Boston Celtics were hosting the Indiana Pacers the day after Christmas in 1990. Pacers forward Chuck Person had done a little bit of trash-talking before the game. Bird, perhaps the best trash-talker of all time, didn't forget and gave Person a classic belated Christmas gift.
Larry Bird's legendary basketball career
Larry Bird wasn't the fastest or most athletic guy to ever put on a basketball uniform. He was, however, one of the game's best passers, shooters and was one of the smartest to ever play. Bird began his legendary NBA career during the 1979-80 season and made his mark in the league immediately.
Bird was named the NBA's Rookie of the Year after a stellar season with the Boston Celtics in which he started all 82 games. In his first year in the NBA, Bird averaged 21.3 points and 10.4 rebounds for the season. He made the first of his nine straight NBA All-Star appearances. For his career, he was an All-Star 12 of the 13 seasons in which he played.
Bird was a three-time league MVP and a three-time NBA champion. He spent all 13 seasons with the Celtics. Bird finished his career with a 24.3 points-per-game average while pulling down 10 rebounds per contest. He was inducted into the Naismith Memorial Basketball Hall of Fame in 1998.
Bird was one of the game's best trash-talkers
Larry Bird was known as one of the biggest trash talkers in the NBA. Or was he just a confident player? Bird would look at an opponent, tell him what he was going to do, and then do it. He did his talking and was usually able to back it all up.
One of his most memorable trash-talking moments came before a 3-point shooting contest during NBA All-Star Weekend. He walked into the locker room and simply asked who was coming in second place. Bird doesn't even consider that moment trash talk.
"The 3-point thing was more of a … it wasn't really (trash talk)," Bird told The Undefeated last year. "I just walked in and seen all them guys and said, 'Who is coming in second?' But I didn't do it for any reason at all. The one thing about that first 3-point contest, when I went in the locker room, they had them red, white, blue balls, and so I was feeling them. Them things were slicker than hell. I was like, 'How am I ever going to shoot this thing?' The 3-point line was never a problem. It's just that back then I never practiced it until we had the 3-point contest. I figured I could pick up a quick $10,000 by shooting a basketball on a Saturday afternoon."
Larry Bird's belated Christmas present to Chuck Person
Back on Dec. 26, 1990, The Boston Celtics hosted the Indiana Pacers. According to Fox Sports, Pacers forward Chuck Person, known as The Rifleman, said he was going Bird hunting when they were going to face the Celtics. Prior to the game, Bird announced he had a present for Person.
Person and Bird had always exchanged words and this was nothing new. "I've always respected Chuck, because when you're playing out there in a game, you know the guys are coming after you, certain guys every time you play them, and he was one of them," Bird told The Undefeated. "Chuck brought it every time. I always respect him for that. Yeah, we got in some verbal things. And he talked a lot junk before he got to Boston or I came to Indiana. But when it was all said and done, I respected the guy."
During that 1990 game the day after Christmas, Bird, after making a 3-point shot, turned to Person who was sitting on the Pacers bench and wished him a "Merry F—ing" Christmas," according to Fox Sports. Bird and the Celtics wound up putting up 152 points in a convincing win over the Pacers.