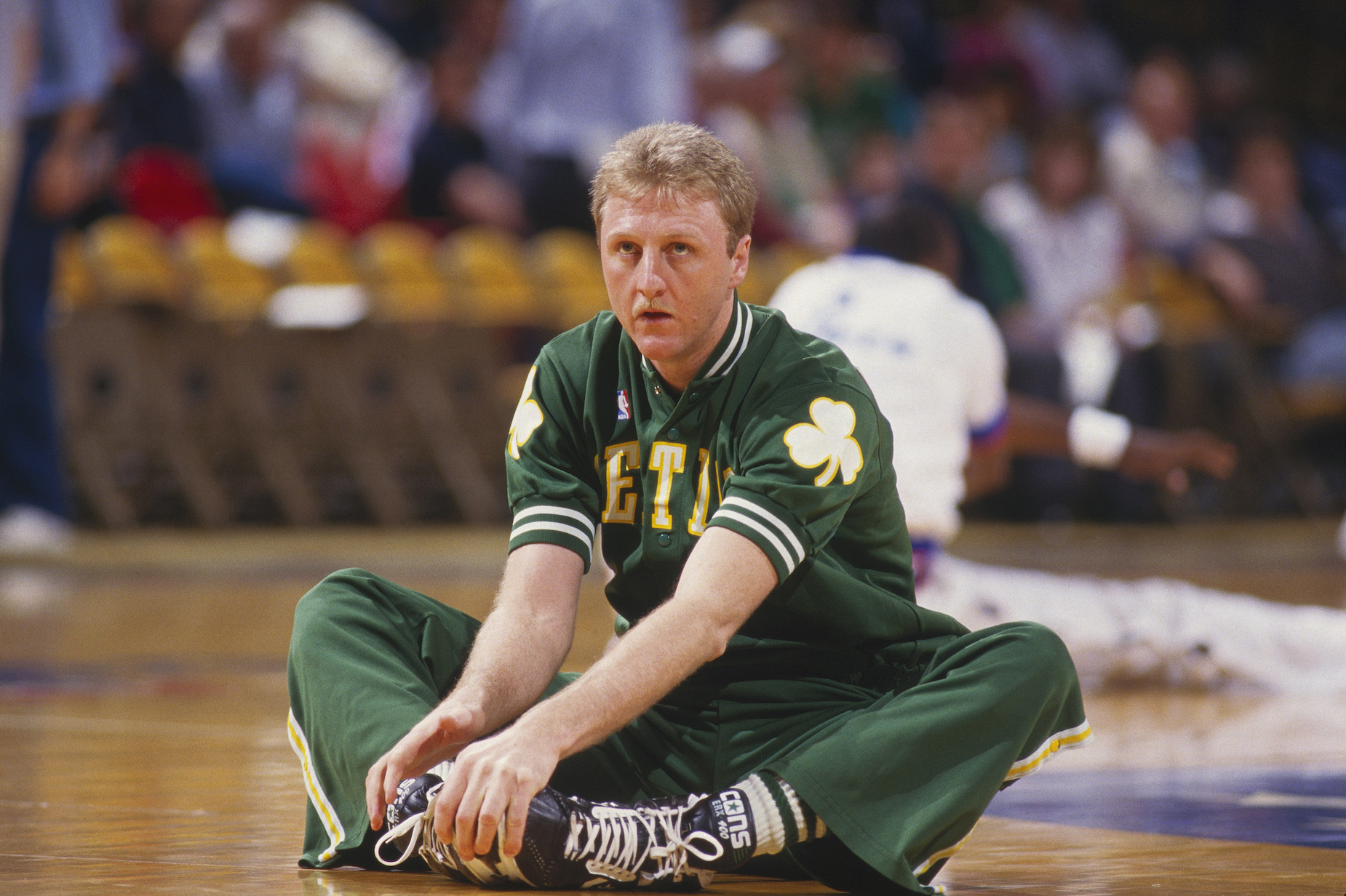 Larry Bird Refused to Let Anyone Haze Him During His Rookie Year With the Boston Celtics
While he eventually became an Boston Celtics legend, even Larry Bird was once a lowly rookie. The forward, however, didn't take part in any hazing.
These days, Larry Bird is a living legend. During his time with the Boston Celtics, the forward proved himself to be a deadly shooter, a ruthless trash-talker, and a serial winner. When he first joined up with his NBA teammates, however, he couldn't demand any special treatment. Even Larry Bird entered the locker room at the bottom of the food chain.
When it came time for rookie hazing, though, Larry Bird wasn't going to be anybody's lackey. From the start, he made it clear that he was there to win basketball games, no run errands for the Boston Celtics' veterans.
Larry Bird's rise to NCAA prominence
On paper, the best high school players will all enroll in big-time colleges and play their NCAA ball in the power conferences. Larry Bird, however, did things a bit differently.
During high school, Bird made a name for himself as a prolific scorer; he showed enough talent to earn a scholarship to the University of Indiana. The forward, however, wasn't destined to be a Hoosier.
Compared to his tiny hometown of French Lick, the Bloomington campus proved to be overwhelming; Bird left school without playing a single basketball game. The forward headed home and took a job as a garbage man.
Indiana State University basketball coach Bill Hodges, however, couldn't ignore Bird's talent and convinced the forward to give college basketball another shot in a more hospitable environment. Bird joined the Sycamores and, within the blink of an eye, Hodges' persistence paid dividends.
During his three seasons at Indiana State, Bird averaged 30.3 points per game. He also led the Sycamores to the 1979 NCAA title game, where they lost to Magic Johnson's Michigan State Spartans.
No time for rookie hazing with the Boston Celtics
When the 1978 NBA draft rolled around, the Boston Celtics snagged Larry Bird with the sixth-overall pick. Although there were some bumps along the way—the forward flirted with returning to college and improving his stock before the 1979 draft—he ultimately agreed to sign on the dotted line.
Although Bird had proven himself in the NCAA ranks and clearly possessed plenty of talent, he was still an NBA rookie. That meant he was expected to pay his dues as the new man at the bottom of the food chain. Larry Legend, however, was too confident for any shenanigans; from the start, he made it clear that he didn't have any interest in running errands for the senior players.
"Back in the old days, every rookie had to carry bags on the road," Jeff Judkins told Jayson Jenks of The Athletic. "I'll never forget our first road trip. He stood up in front of all the guys on the bus and said, 'I want you guys to know: I'm never going to get you any water, and I'm never going to carry one bag ever."
It's safe to say that Larry Bird backed up his word
More than 40 years later, it's not clear if Larry Bird carried anyone's luggage or not. One thing, however, is clear: the forward's confidence was well placed.
During his first professional season, when he was theoretically supposed to be carrying bags and fetching drinks, Bird made an impact on the court. He averaged 21.3 points per game, claimed the Rookie of the Year title, and helped the struggling Celtics return to form. That success, though, was only the beginning.
While he struggled with back problems toward the end of his career, Bird spent 13 years in Beantown, averaging 24.3 points, 10 rebounds, and 6.3 assists per game. He also won three NBA championships and took home three consecutive NBA MVP awards, and, as his title of Larry Legend would lead you to believe, established himself as one of the best players in NBA history.
During his time in the NBA, Larry Bird could do just about anything; his talents, however, didn't extend to carrying luggage.
Stats courtesy of Sports-Reference and Basketball-Reference