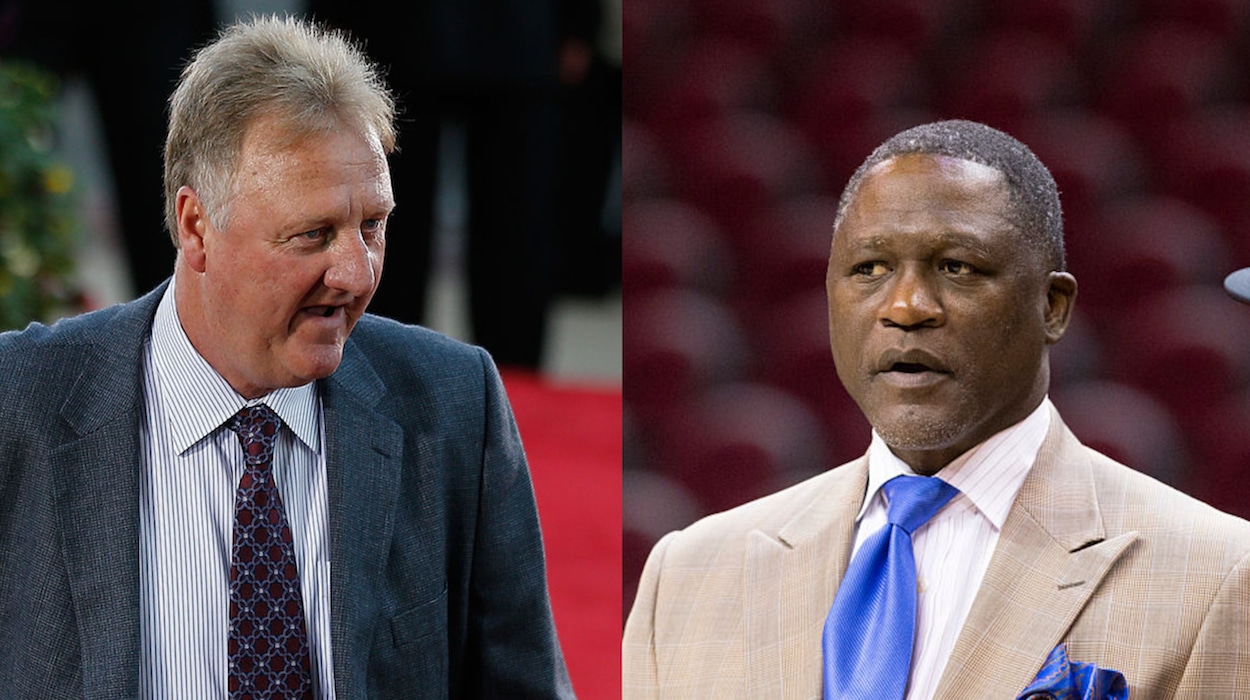 Larry Bird Is Still Trash-Talking Dominique Wilkins, Even In Retirement
During his playing career, Larry Bird talked plenty of trash. In retirement, it appears that those instincts are as sharp as ever.
From afar, it's tempting to think that NBA players mellow with age. It makes sense to be fully engaged with rivalries during your career; at that point, there's something to fight for. In retirement, though, that competition fades, and everyone can theoretically be friends. Larry Bird, however, plays by his own rules.
During his time in the Association, Larry Legend had no problem needling anyone who crossed his path. Opponents and teammates alike were fair game for his trash talk. That's still the case in 2023, as Dominique Wilkins can confirm.
Don't believe it? Let's check out the evidence.
Larry Bird is still questioning Dominique Wilkins and his defensive effort in 2023
If you played professional basketball between 1979 and 1992, being asked to defend Larry Bird was the sporting equivalent of drawing the short straw. Even if you knew what the Boston Celtics star was going to do, stopping him was another story.
Dominique Wilkins experienced that reality firsthand. Not only did he have to try and slow down the prolific scorer, but he was on the receiving end of some trash talk along the way. And while both men have long since retired, that verbal warfare is still going on.
On January 26, 2023, Pacers President of Basketball Operations Kevin Pritchard took to Twitter to share some texts that he had received from Bird. The former forward, who spent time in Indianapolis as both a coach and an executive, had snapped a picture of a photo of him shooting a jumper over Wilkins.
It wasn't enough to just send a picture, though. Larry Legend had to talk a bit of trash, writing, "Can you please tell your boy to put a hand up? I think that is the pose for the statue."
Once that screenshot hit social media, it made its way to Wilkins. The former Atlanta Hawk simply responded, "Man the disrespect," with four crying laughing emojis.
This isn't the first time Bird has taken a shot at Wilkins
Based on his reaction, it's fair to say that Dominique Wilkins hasn't taken Bird's jab personally. At this point, he probably knows what it's like dealing with Larry Legend.
During Wilkins' rookie year, for example, the pair crossed paths in memorable fashion. Ahead of the opening tip, the Hawk attempted to shake Bird's hand. Not only did he refuse, but he told the rookie that he didn't belong in the Association. As the game progressed, the Celtics star proceeded to score over his young counterpart and remind him of his failings.
Even when Dominique managed to overpower Bird at the rim, things didn't get easier. "He got up and said, 'I like you, rookie. You've got [guts],'" Wilkins recounted. "I was happy for a second, and then he said, 'But I'm still going for 40 on you tonight.'"
After that encounter, the two stars kept battling for Eastern Conference supremacy. The sparring even continued after they left the hardwood behind.
Remember how, in his text message, Bird made reference to Wilkins' statue? Well, he first used that line in 2015. When the Hawks unveiled a statue of their former star outside of Philips Arena, Larry Legend couldn't resist a chance to needle his old foe. "I'm pretty sure it's not made in a defensive stance," he apparently said at the time.
During his time on the NBA hardwood, Larry Bird was incredibly confident in his own abilities. While age may have diminished some of his physical skills, the trash talk is apparently still flowing behind the scenes.