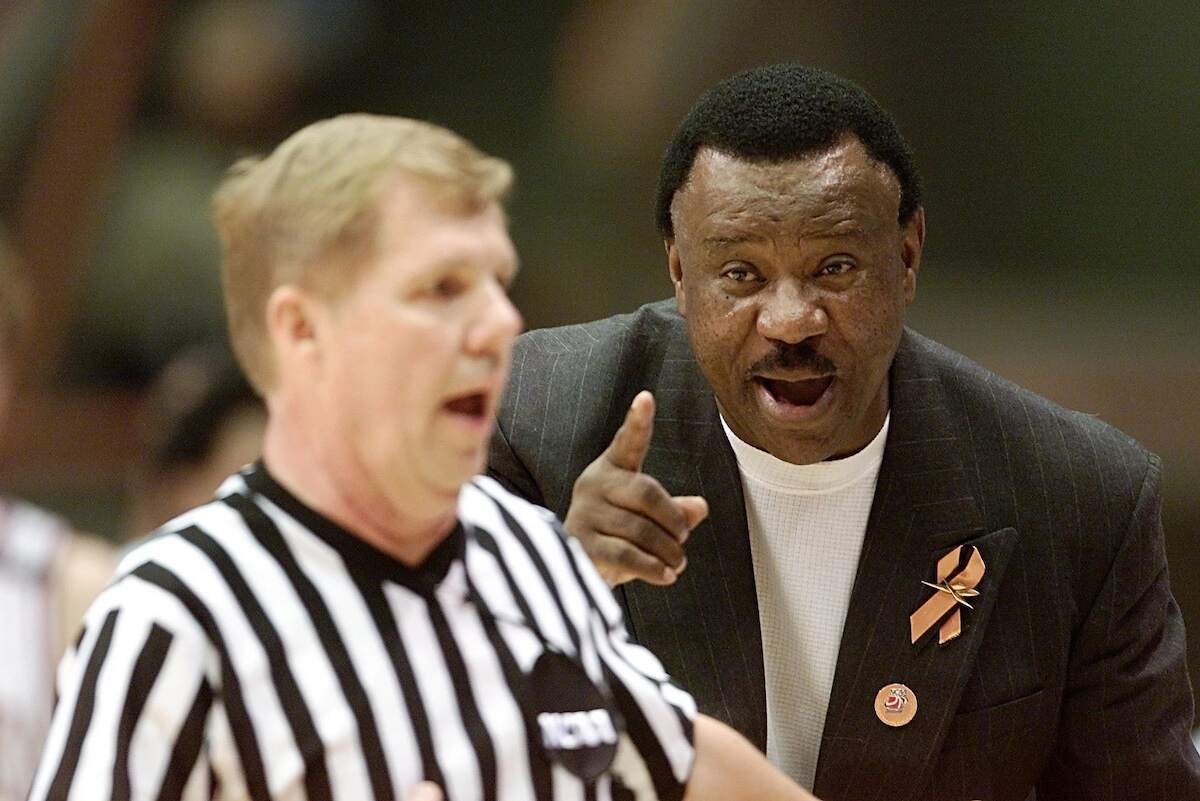 Larry Bird Hilariously Stunned Hall of Famer Nolan Richardson By Doing Absolutely Nothing
Nolan Richardson was shocked by Larry Bird back in the late '70s.
Back in the late '70s, Hall of Fame basketball coach Nolan Richardson hadn't heard about Larry Bird. Actually, not a whole lot of people outside of Indiana did as Bird quietly rose to stardom at Indiana State.
Richardson became familiar with the name during a drive while listening to a Sycamores college basketball game on the radio. Bird played well in the game and then shocked Richardson the following day by doing absolutely nothing.
Larry Bird became a star at little-known Indiana State
In high school, Larry Bird averaged 30 points and 20 rebounds per game. He was offered several scholarships but elected to remain in Indiana and attend Indiana University and play for the legendary Bobby Knight. He didn't last a month there as he was overwhelmed by the size of the school.
A man named Bill Hodges coaxed Bird into attending Indiana State, where he became a star. Bird put Indiana State on the basketball map when he led the Sycamores to a berth in the NCAA tourney finals in 1979. There, Bird battled Magic Johnson and Michigan State, where the Spartans came out on top.
Bird was drafted by the Boston Celtics, and Johnson by the Los Angeles Lakers. The Bird vs. Johnson rivalry lasted for years in the NBA and rekindled the Celtics vs. Lakers rivalry. Bird went on to play 13 seasons in the NBA, winning three championships and three straight MVPs.
Nolan Richardson had a legendary coaching career at Arkansas
Nolan Richardson began his college coaching career in 1981 at Tulsa, where he became the first Black coach to win an NIT championship. Under Richardson, Tulsa won conference championships in 1982 and 1984. Richardson was the first coach in NCAA history to win 50 games in his first two seasons.
Richardson left Tulsa for the University of Arkansas in 1985, replacing Eddie Sutton, who left for Kentucky. He was known for his up-tempo style of play and had the Razorbacks in the NCAA tourney in his third season at the helm. In 1994, Richardson led the Razorbacks to a national title, and he was named NCAA Coach of the Year.
The following year, Arkansas returned to the championship game and fell to UCLA. Richardson had 12 20-win seasons at Arkansas and four 30-win seasons. He went 390-170 at Arkansas. He was inducted into the College Basketball Hall of Fame in 2008 and the Naismith Memorial Basketball Hall of Fame in 2014. In 2019, the University of Arkansas named the basketball court after Richardson.
Bird shocks Richardson without doing anything
When Nolan Richardson was giving his Hall-of-Fame speech in 2014, he recalled the time when he first heard about Larry Bird. He said he was in his car listening to an Indiana State game. "It was New Mexico State playing Indiana State," Richardson told the HOF crowd, which included Bird. "I don't really care about the game, but New Mexico State is right up the street from El Paso, and I went to UTEP. We were big rivals, and I was hoping Indiana State would beat New Mexico.
"I have no clue of the players on either team. All of a sudden, this name keeps coming. 'Bird, he goes to the right. Bird, he makes the slap.' I said, 'Who's Bird?' It's Bird this and 'Did you see the Pass Bird just made?' I can't see it, but I'm just trying to imagine it.
"By the time I came to the end, I said, 'Boy, that brother can play.' Let me tell you something. When I got the newspaper the next morning and saw Larry's picture…I said, 'Damn.'"
Stats courtesy of Sports Reference.