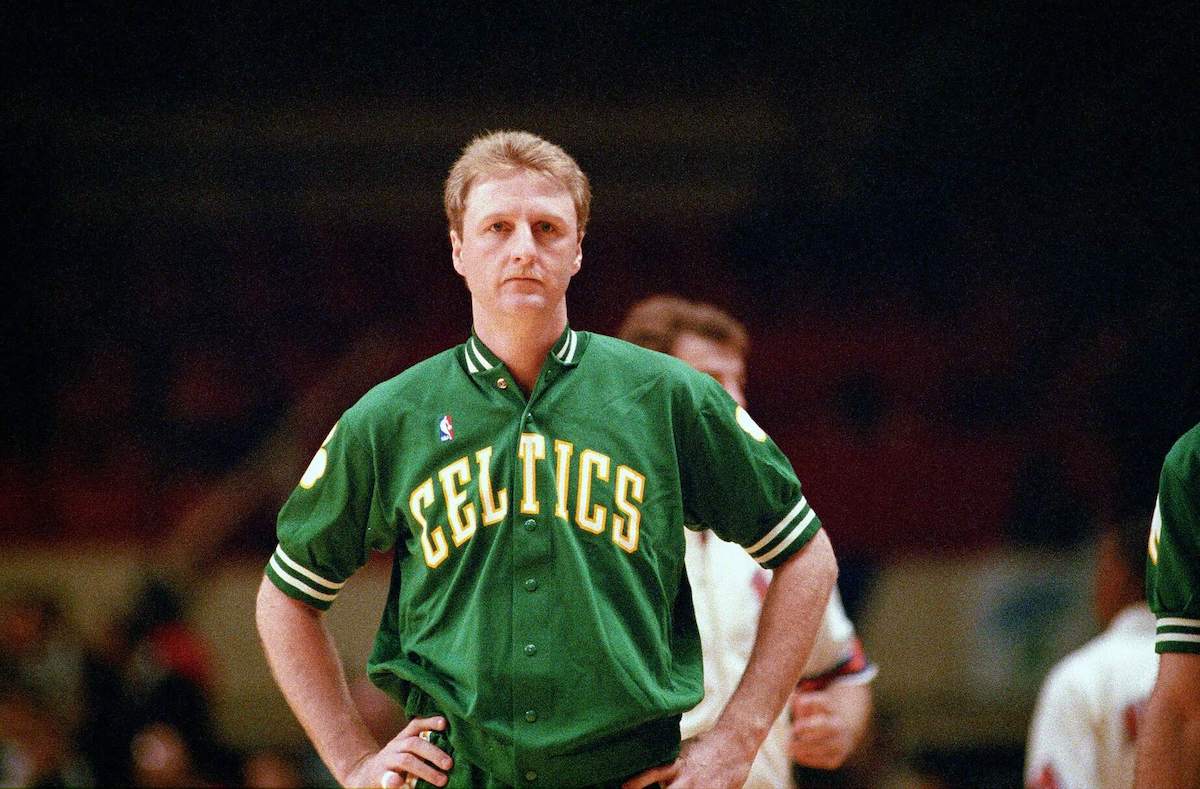 Larry Bird Once Played an NBA Game With $160 in Cash Inside His Shoe After Proving His Greatness to a Local Reporter
Larry Bird was a deadly shooter, even with an injured hand. Just ask a Boston Celtics beat reporter who lost $160 to the star.
While NBA fans have seen plenty of iconic athletes over the years, it's almost impossible to forget what Larry Bird did on the hardwood. Not only was the Boston Celtics great an incredible talent, but he was also supremely confident in his own skills. Plenty of opponents and, on one occasion, a Boston Globe beat reporter experienced that reality firsthand.
Although Larry Bird usually reserved his trash talk for the other team, he once felt the desire to put a local writer in his place. Not only did Larry Legend best the scribe in a free throw shooting contest, but he also pocketed $160 on the deal and hit the court with the cash still in his shoe.
Larry Bird proved to be an incredible basketball talent
In the modern NBA, virtually every player has to be capable of knocking down a three-point shot. Larry Bird, however, was ahead of the curve when it came to big men being able to shoot the basketball.
Despite his talent, Bird's basketball career got off to a tough start. The forward headed to the University of Indiana to join Bobby Knight's Hoosiers but didn't care for the Bloomington campus. Overwhelmed, Bird headed back home and started working as a garbage man until Indiana State University basketball coach Bill Hodges paid him a visit.
Bird agreed to give college a second and suited up for the Sycamores. That turned out to be the right move as he promptly grew into a star. During his time at Indiana State, Bird averaged 30.3 points per game, won 1979 National Player of the Year honors, and led his squad to the NCAA Tournament Finals.
After his junior campaign, Bird entered into the 1978 NBA Draft and, despite some contract-related drama, signed the Boson Celtics snagged Bird with the sixth-overall pick. In Beantown, his star only continued to rise.
Larry Legend spent 13 seasons in Boston, averaging 24.3 points, 10 rebounds, and 6.3 assists per game for his career. Bird also won three consecutive NBA MVP titles and lifted three Larry O'Brien Trophies as an NBA champion, earning himself a place in basketball history.
The Boston Celtics star was always supremely confident in his own abilities
In order to make it to the highest level of any sport, you have to be supremely confident in your own abilities. Larry Bird, however, had bravado to spare.
During his time in the pros, plenty of stories about Bird's trash-talking abilities reached the public. From playing a game left-handed to telling his opposition exactly how he planned to beat them, Larry Legend was never afraid to speak his mind and trust in his own greatness. On one occasion, he even bailed on the Celtic's visit to the White House after a night of partying, saying that Ronald Reagan knew where to find him.
Michael Jordan, who could more than hold his own when it came to on-court banter, even said that Bird was the best trash-talker he ever faced. That's pretty high praise, especially coming from His Airness.
Larry Bird once won $160 from a reporter, then hit the court with the cash in his shoe
Larry Bird's competitive fire wasn't limited to his interactions with NBA players, though. On at least one occasion, a Boston Globe reporter had to (literally) pay the price.
As explained in a transcript of a Globe podcast, former Celtics beat writer Dan Shaughnessy challenged Bird—who was nursing an injury after a fight—to a free throw shooting contest. Despite having "his hand taped like a fist, like a boxing glove almost," Bird started sinking shots with incredible ease.
"He made 6 out of 10, first round. I made 6 out of 10, so we're even. And then the second round, I was rebounding for him, and he said, 'Oh, I've got this figured out.' And he did," Shaughnessy recalled. "He made an adjustment, and he knew. And he made like 8 or 9 out of 10. And, of course, I step up, and I'm starting to see $5 bills fly through the air every time I let go, and I was choking, and he beat me by $160. I think it was 88-62 or whatever it was, but I owed him $160."
The following afternoon, Shaughnessy had to pay up. "He totally took the money, stuck it in his sneaker," the reporter remembered. "And, gross, he played with my eight $20 bills in his shoe the whole night and lit up the 76ers."
If it's any consolation, Shaughnessy managed to expense that $160 as "eight $20 lunches with [Celtics center] Robert Parish." He also learned a priceless lesson: Don't mess with Larry Bird.
Stats courtesy of Sports-Reference and Basketball-Reference