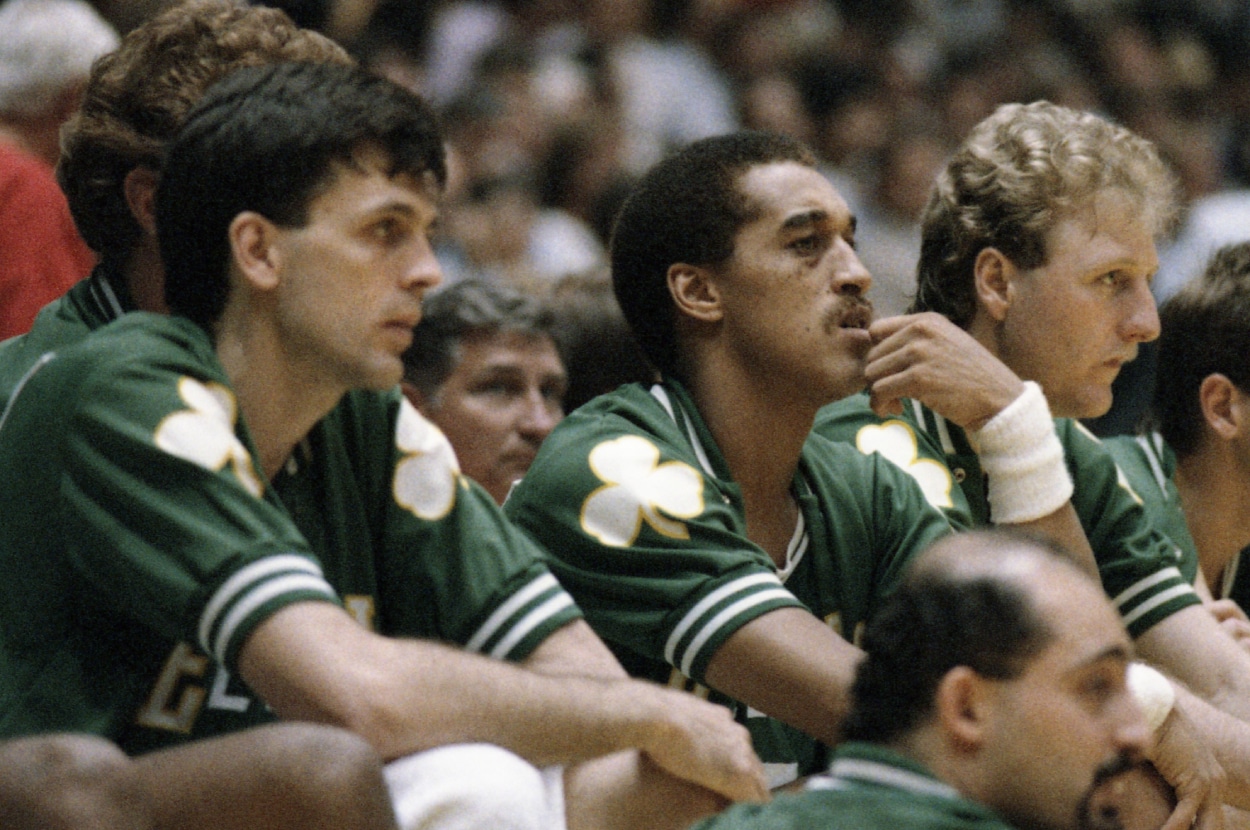 Dennis Johnson Once Explained the Difference Between Larry Bird and Kevin McHale When It Came to Killer Instinct
Dennis Johnson said Larry Bird wanted to crush his opponents when he had his foot on their throat.
On March 3, 1985, Kevin McHale set a team scoring record by netting 56 points against the Detroit Pistons. His output broke teammate Larry Bird's previous mark of 53 points. McHale's record lasted all of nine days as Bird scored 60 against the Atlanta Hawks. Former Boston Celtics guard Dennis Johnson used that moment to show the difference between Bird and McHale when it came to having that killer instinct.
Kevin McHale saw his scoring mark quickly erased by Larry Bird
Kevin McHale was in a rhythm. In that game against the Pistons in 1985, he made 22 of 28 of his shots from the floor in a 138-129 victory. The game was never in doubt, and McHale took himself out with roughly three minutes to go.
"The points just kept piling up and I kept getting the ball in good situations and scoring it," McHale said, per Yahoo Sports. "Before you knew it, I looked up on the board back at the old Garden, and they had the runner in the back that said 'new Celtics' team record' and I was like 'Wow. I didn't even know I was capable.'"
Larry Bird then made a prediction. He congratulated his teammate, but then said he should've gone for more points. He said 56 wouldn't be enough to keep that record.
"(McHale) had about three or four minutes to go in the game, and we were up by a pretty good margin, and he asked the coach to take him out," Bird said. "I happened to be standing there, and I told him he better go for 60 because 56 is not enough, that will be broken."
Nine days later, Bird put up 60 points in a game against the Hawks that took place in New Orleans. Bird's performance that night even had players on the Hawks bench in awe.
"We had a lot of guys on that team who could get hot like that," McHale told The Boston Globe. "And when a guy got hot, we'd get him the ball. That's what Larry did for me when I set the record, and we were all helping him that night in New Orleans."
Dennis Johnson said that Hawks game showed the difference between Bird and McHale
Bird and McHale were two of the biggest competitors on the Celtics. Both wanted to win, and both made plenty of sacrifices in order to do so.
Former Celtics teammate Dennis Johnson said the way everything played out with Bird quickly breaking McHale's record showed the difference between the two when it came to having a killer instinct.
"We talked about it afterwards," Johnson said, per Jackie MacMullan's book When the Game Was Ours. "Larry didn't understand why Kevin didn't go for it.
"When Larry had his foot on someone's throat, he crushed them. Kevin was the kind of person who would say, 'Aw, he's already down. No need to hurt the guy.'"