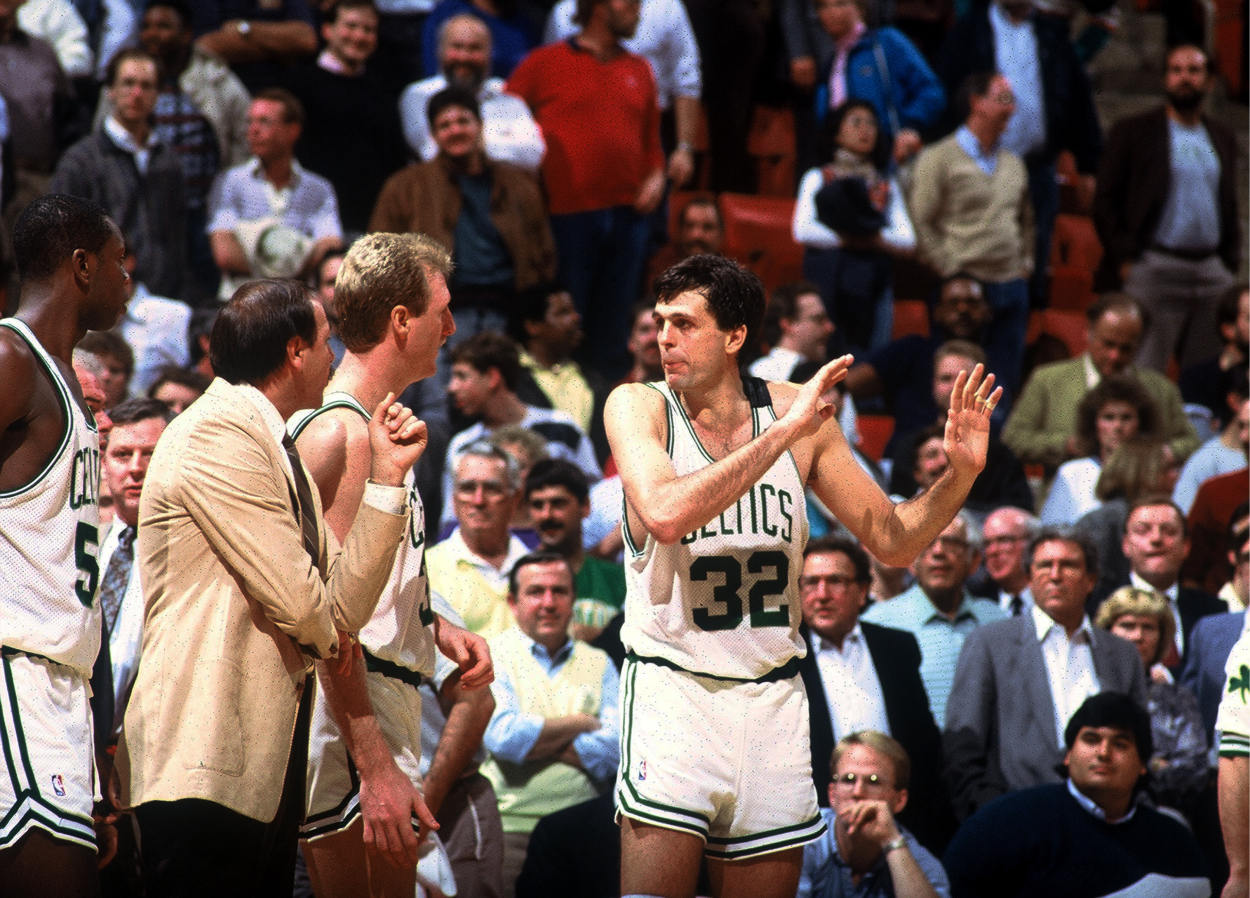 Larry Bird's Prediction Came True 9 Days After Kevin McHale Set a Boston Celtics Scoring Record
Boston Celtics legend Larry Bird predicted the future back in March 1985.
Larry Bird predicted the future back in 1985.
The Boston Celtics legend made a comment — some might say a prediction — right after his teammate Kevin McHale set a team record for most points in a game with 56 points on 22-for-28 shooting from the floor. He also pulled down a team-high 16 rebounds.
As the game was drawing to a close, Bird made his statement. Nine days later in New Orleans, it came true.
Larry Bird's triple-double was an afterthought when Kevin McHale scored 56 points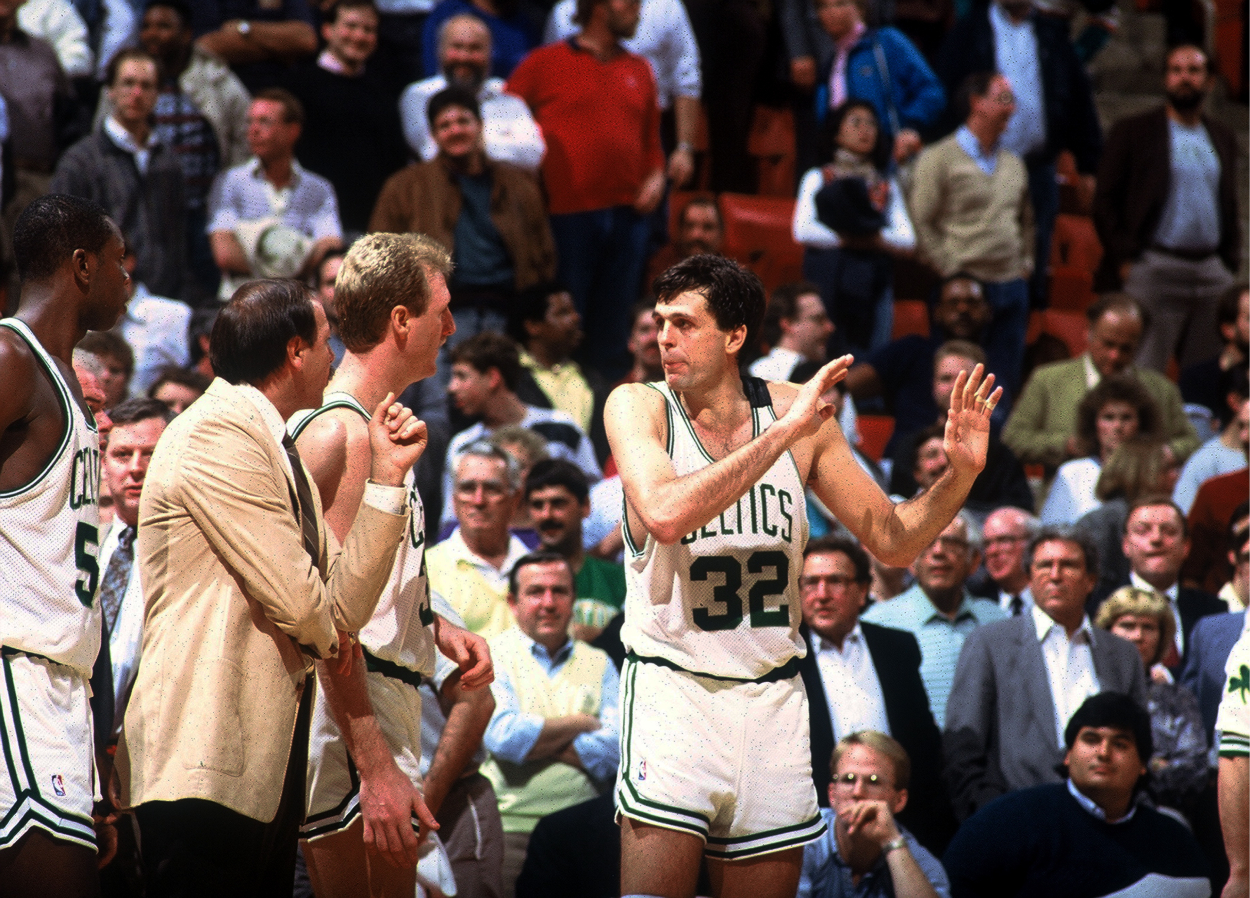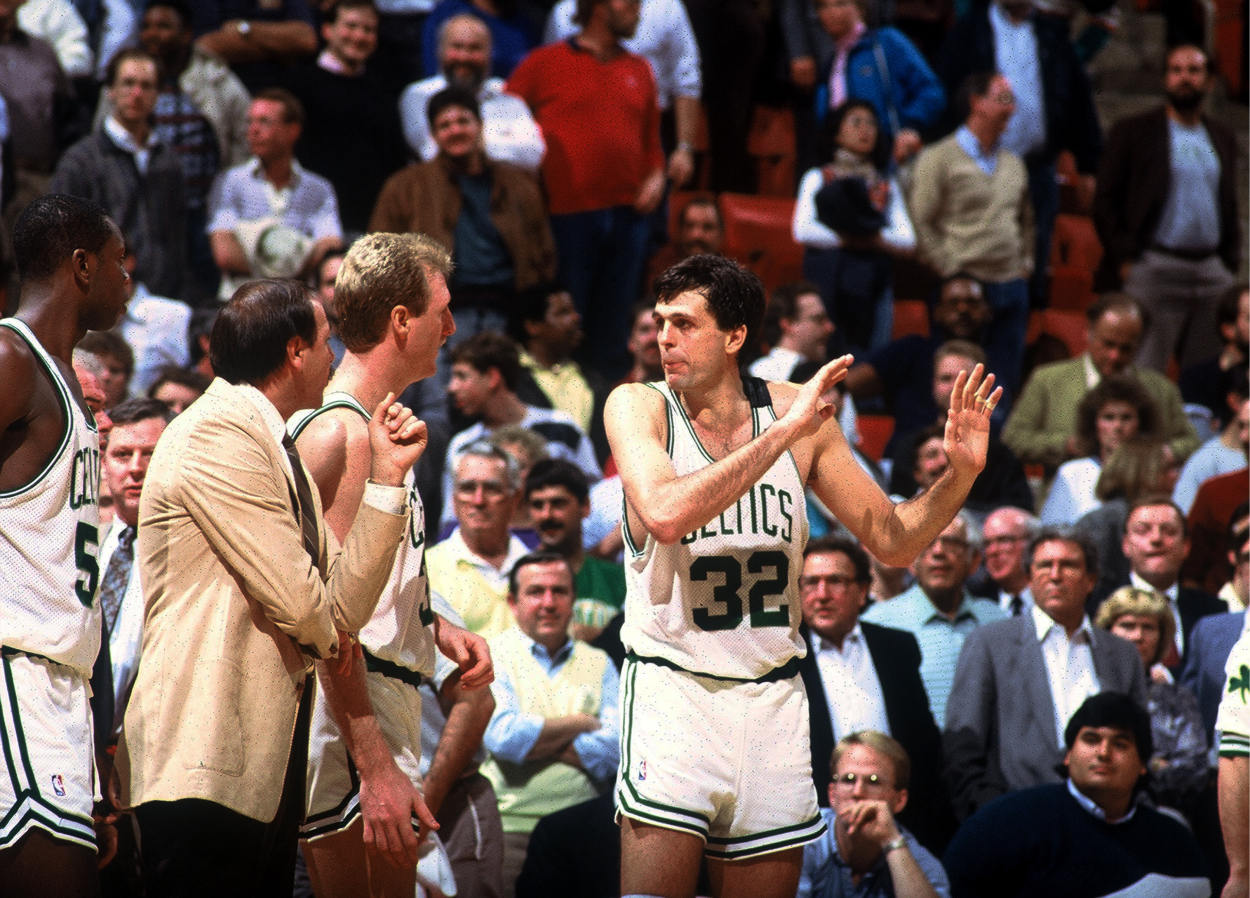 Against the Detroit Pistons on March 3, 1985, McHale had the game of his life. The Celtics were 47-13 heading into the game at the Boston Garden. The Pistons weren't quite the Bad Boys yet, but they still had Isiah Thomas and the hated Bill Laimbeer.
McHale caught fire, and his Celtics teammates kept feeding him. It was a fast-paced game, and the Celtics put up 70 first-half points. He missed just six of his 28 shots as the Celtics posted a 138-129 victory.
"The points just kept piling up and I kept getting the ball in good situations and scoring it," McHale said, per Yahoo Sports. "Before you knew it, I looked up on the board back at the old Garden, and they had the runner in the back that said 'new Celtics' team record' and I was like 'Wow. I didn't even know I was capable.'"
McHale finished with 56 points, breaking Bird's team record of 53 points set back in March 1983.
While McHale drew the headlines, Bird's big day went unnoticed. He finished with 30 points, 15 rebounds, and a team-high 10 assists.
Larry Bird's prediction came true nine days later
As the Celtics game against the Pistons wound down, McHale took himself out of the game. He had the record. The Celtics had the win. There was nothing left.
"(McHale) had about three or four minutes to go in the game, and we were up by a pretty good margin, and he asked the coach to take him out," Bird said. "I happened to be standing there, and I told him he better go for 60 because 56 is not enough, that will be broken."
Sure enough, nine days later, Bird broke the record.
Playing in Lakefront Arena on the campus of the University of New Orleans, Bird put on his show against the Atlanta Hawks. Danny Ainge said he remembered Bird asking what the scoring record at that arena was prior to the game.
"It was at a neutral site," Ainge told Brian Scalabrine in a 2020 video put out by the Boston Celtics. "I know that Larry was always telling the ball boys, hey go find out the scoring record as he was getting taped. He would always say, 'go find out the scoring record in this gym.'"
Ainge said Bird wasn't obsessed with stats or records.
"Larry just needed motivation," Ainge said.
Against the Hawks, Bird put up 60. It was an entertaining 60. Bird called some of his shots, and he even had the players on the Hawks bench cheering him on.
Bird's 60-point game has since been tied by Jayson Tatum
McHale recently said he wasn't surprised someone broke his record because that team was loaded with stars.
"We had a lot of guys on that team who could get hot like that," McHale told The Boston Globe last May. "Max. Tiny. Robert. Larry. And when a guy got hot, we'd get him the ball. That's what Larry did for me when I set the record, and we were all helping him that night in New Orleans."
On April 30, 2021, Tatum exploded for 60 in an overtime victory over the San Antonio Spurs. McHale said he watched the game and was pulling for the young Celtics star.
"I still follow the Celtics, and I saw the end of that one," McHale said. "He was really on fire. It doesn't happen that often, but sometimes a player gets in that weird zone.
"I was rooting for Tatum. Records are meant to be broken. But at the same time, I was kind of glad he stopped at 60, so Larry still shares the record."