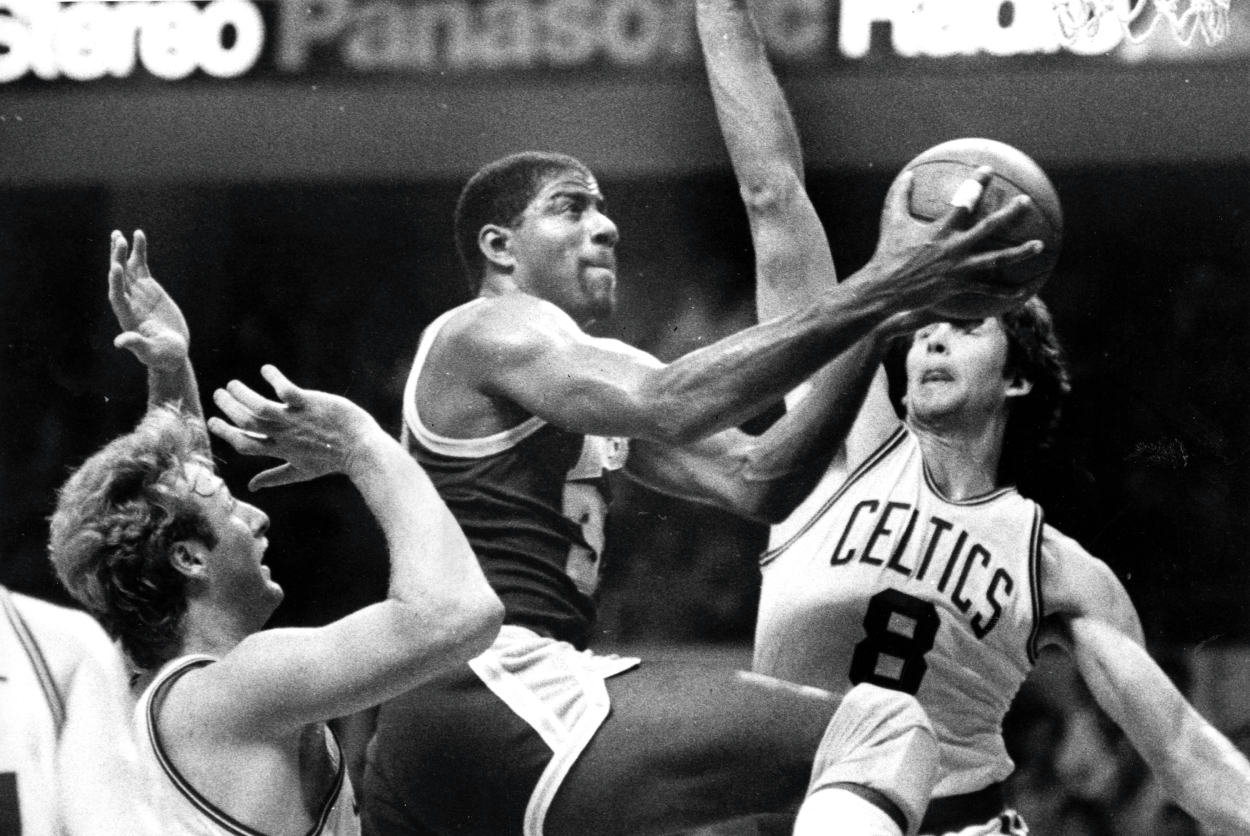 Larry Bird Reflects On the Key to Celtics' 1986 Title — the Bench: 'Lot of Days When (Scott Wedman) Played Better Than Me'
The Boston Celtics bench played a major role in securing the team's NBA title in 1986.
It's not ridiculous to say the 1986 Boston Celtics may have had the best starting five in NBA History. Larry Bird teamed with Kevin McHale and Robert Parish in the frontcourt. Dennis Johnson paired with Danny Ainge in the backcourt, giving them four Hall of Famers in the starting lineup. The Celtics had failed to win the title in 1985, so they went to work on their weakness — their bench.
Boston beefed up its reserves, most notably bringing in Bill Walton and Jerry Sichting. Bird recently said it was the bench that played a key role in helping him secure his third NBA championship.
Larry Bird and the Boston Celtics fell short in the 1985 NBA Finals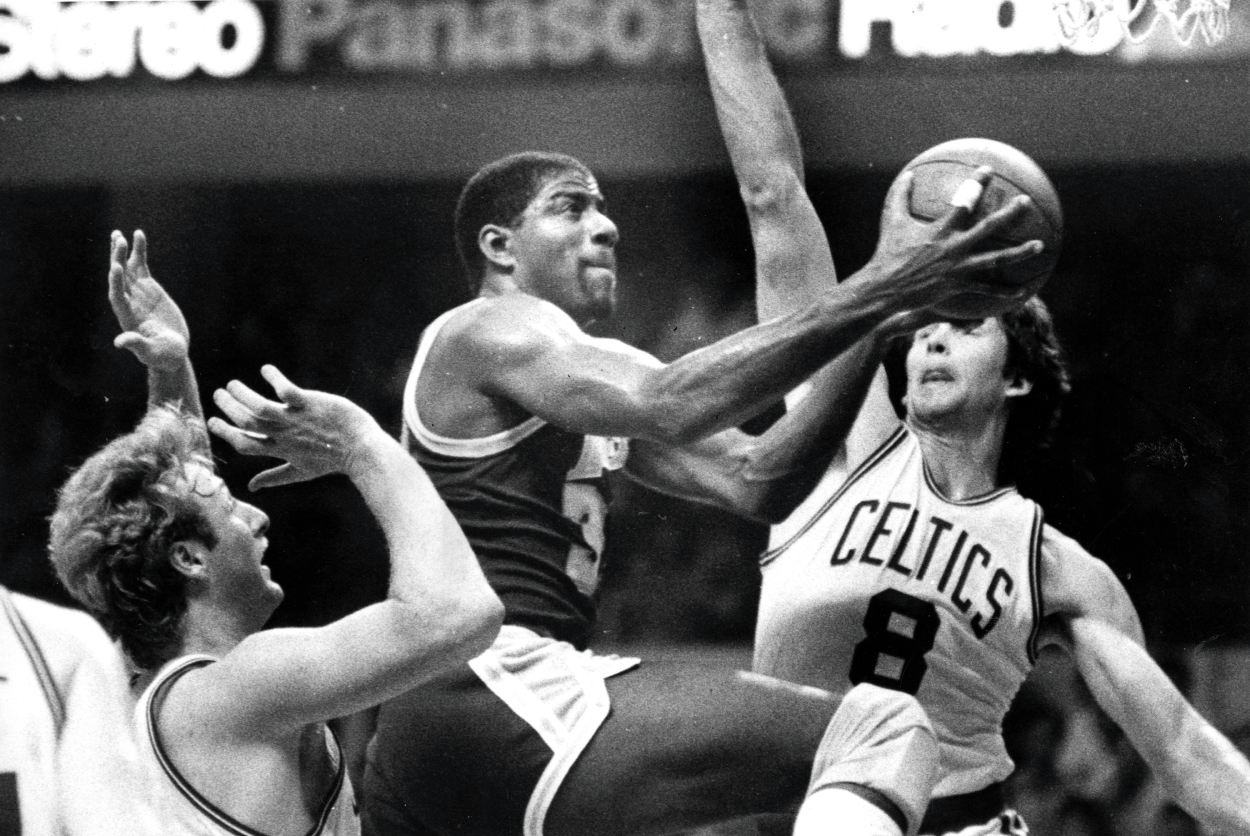 The mid-80s were dominated by the Celtics in the East and the Los Angeles Lakers in the West. The teams squared off against each other in the '84, '85, and '87 NBA Finals. Boston won in '84, and the Lakers won the other two. The Celtics also won their third championship of the decade in '86 when they defeated the Houston Rockets.
After the Celtics fell to the Lakers in the '85 Finals, they signed Walton and brought in Sichting to help shore up their bench. Sichting, a 6-foot-1 guard who came over from the Indiana Pacers, shot 57% from the floor that season while playing 19.5 minutes.
"Jerry was great the two years we had him, especially in '86," Bird said in a 2020 video put out by the Boston Celtics to commemorate their 1986 banner. "Jerry shot like 56 percent from the field. He's a dead-eye shooter. He's the one kid that we could get up and put pressure, full court, on other point guards. Isiah (Thomas) hated to play against him, so it was great for me to see it. He was scrappy. Jerry was a good little player."
The oft-injured Walton came in to spell Parish and McHale. He played in a career-high 80 games that season, averaging 19.3 minutes. He also put up 7.6 points and 6.8 rebounds.
Larry Bird said Scott Wedman 'played better than me' on a lot of days
Sichting and Walton joined Scott Wedman on the bench. Wedman was in his fourth year with the team after playing with the Kansas City Kings and Cleveland Cavaliers. With the Kings, Wedman was a scorer, averaging 16.5 points over seven seasons. He certainly had his big games with the Celtics off the bench.
"Me and Scotty competed every day in practice against one another," Bird said. "There was a lot of days when he played a lot better than me. It's always good to have a guy who could come in and score points in bunches."
Rick Carlisle, Sam Vincent, and Greg Kite also made strong contributions off the bench.
"There were nights when Scotty Wedman got on fire, and Bill was working it," McHale said. "It was a unique group of guys who could really play. I know those guys wanted to play more. Scotty was a hell of a player. All these guys wanted to play more, but they had good players in front of them. When they got their chance, they helped us win so many games."
Boston's bench players knew their roles
Walton and Wedman had been stars, but now they knew what their roles were on the team that Bird once said was the greatest one he'd ever been a part of. Kite, Vincent, and the rest of the group know they weren't expected to steal the show when their numbers were called.
"I'd just give them a breather for a couple of minutes, but to extend the lead, to hold the lead, was a beautiful thing," Kite said.
"It was an adjustment as a rookie," Vincent said. "As a rookie, your thoughts at that time are how do I fit in? How do I get into the rotation? How do I get some minutes and how do I make some sort of impact?"
"All those guys, there were nights when they came in and played at a higher level than we did," McHale said. "That got us ready to go again. It made you a better player, and it made you a way better team."
The Celtics may have the best starting five ever in the 1985-86 season, but they would not have won the NBA title without their role players.