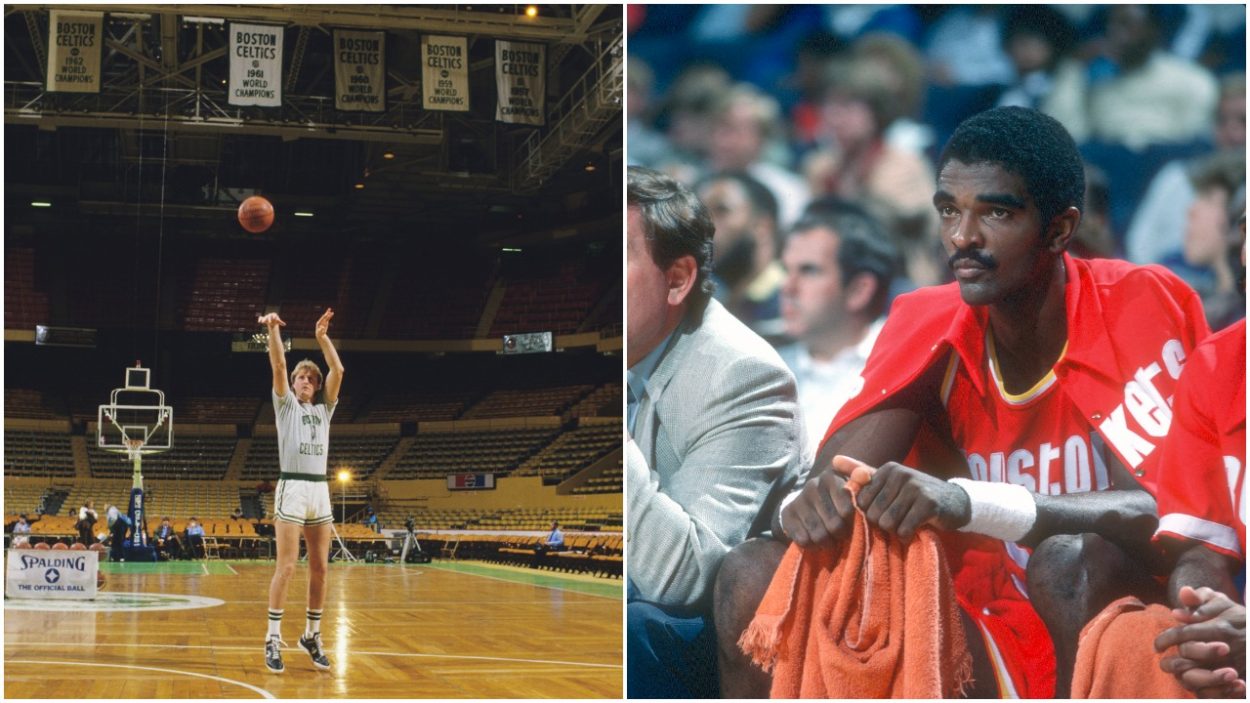 Larry Bird Threatened Ralph Sampson After the Rockets' Twin Tower Fought a Man 15 Inches Shorter Than Him: 'There Will Be a Lot of Contact in Boston'
Former Houston Rockets center Ralph Sampson drew Larry Bird's ire after he seemingly randomly ignited a brawl by punching Boston Celtics guard Jerry Sichting in Game 5 of the 1986 NBA Finals. Bird warned Sampson and the Rockets to wear their "hard hats" for Game 6.
Larry Bird and the Boston Celtics took it personally when Houston Rockets center Ralph Sampson refused to pick on someone his own size during the 1986 NBA Finals.
The Celtics came into Game 5 in Houston with a 3-1 series lead. However, the Rockets extended the series by taking a more physical approach. That included Sampson, who stood 7-foot-4, fighting Celtics reserve Jerry Sichting, a man 15 inches shorter and with such little national recognition that he would deem the scrap as his "15 minutes of fame."
However, Bird and his teammates had Sichting's back. They vowed to turn Game 6 in Boston into a brouhaha, if necessary.
Larry Bird and the Celtics promised Game 6 would be even more physical after Ralph Sampson fought Jerry Sichting in Game 5
Ralph Sampson clearly had it out for Sichting. The Rockets' Twin Tower — the other Twin Tower being Hakeem Olajuwon — targeted the 6-foot-1 guard in Game 5 and sparked an all-out brawl.
Early in the contest, Sampson ran right through Sichting with a forearm near the neck area as he established post position. The two got entangled, with Sampson throwing multiple punches at Sichting's head. Chaos ensued.
Bill Walton, who felt reborn during his time with the Celtics, tackled the Rockets center to the ground. Just when things seemed to be cooling off, Sampson got up and threw a kick at Sichting. Naturally, referees ejected the man they called "Stick." But he also seemingly lit a fire under his teammates. Houston dominated Boston 111-96 largely thanks to a dominant two-way performance from Olajuwon, who had 34 points and eight blocks.
After throwing some literal haymakers, the Rockets now had a puncher's chance in the series. However, Larry Bird and the Celtics promised to make life hell on Sampson and his teammates back home.
Bird all but threatened Sampson, telling him (h/t Los Angeles Times) to expect some hard fouls at the Boston Garden.
"Sampson and the rest of the Rockets better put on their hard hats because our fans can get nasty, too. "There will be a lot of contact in Boston."

–Larry Bird (1986), via the LA Times
Although Bird said Houston's physical play resulted in Boston losing its composure in Game 5, the Celtics never hinted at backing down from the Rockets' show of force.
Dennis Johnson said he anticipated there could be another fight. For his part, Sichting quipped that his 3-year-old hit harder than Sampson.
Sure enough, the Celtics came out motivated in Game 6.
Boston swarmed Sampson and dominated Game 6 to win the NBA title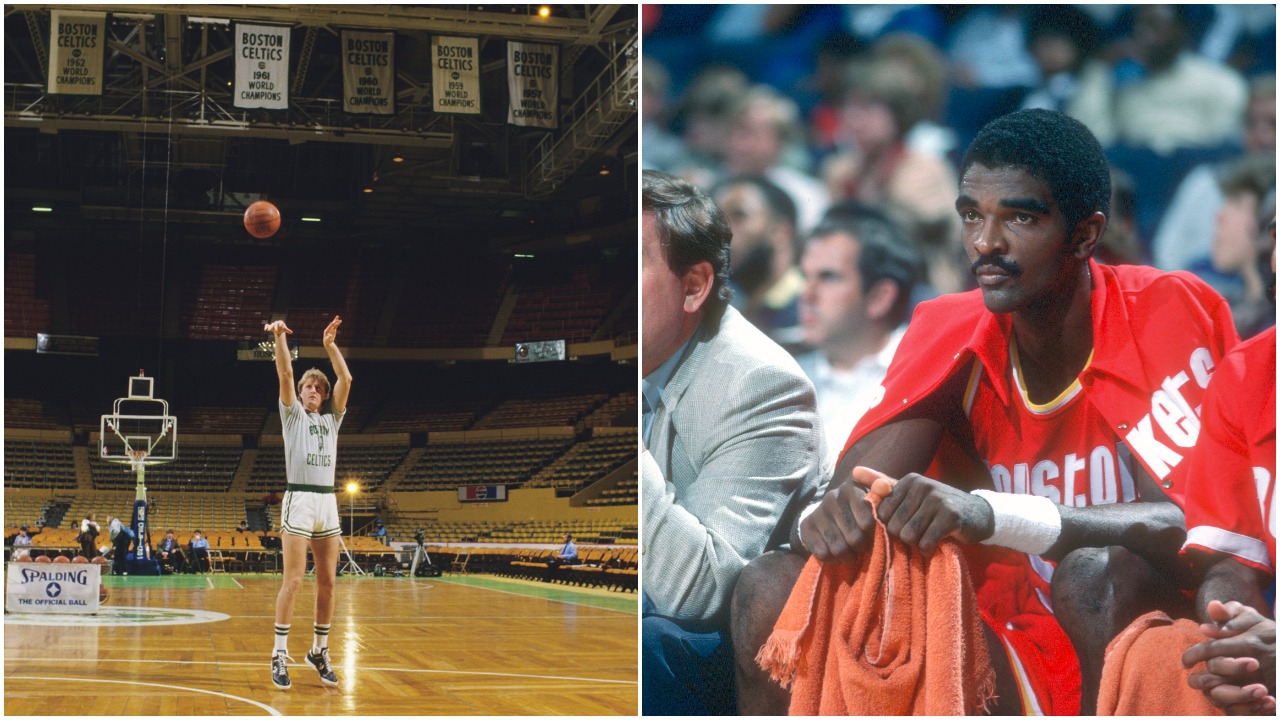 Ralph Sampson's brief moment in the sun came and then went. When the series shifted back to Boston for Game 6, he entered into a nightmarish atmosphere.
The Celtics held Sampson to just eight points on 4-of-12 shooting. He and Olajuwon both ran into some foul trouble, finishing with five personals apiece. The foul trouble on the Twin Towers and a determined Celtics defense hounding their every move made it impossible for the Rockets to claw back into the series.
Meanwhile, Bird sought to personally ensure that Boston concluded one of the greatest seasons in NBA history on its home turf. He posted a triple-double, scoring 29 points to go with 12 assists and 11 rebounds.
Boston routed Houston to win its third championship of the 1980s and etch its place into basketball lore. The way the Celtics responded to the theatrics in Game 5 likely made the victory all the sweeter.
Bird and Co. made good on their promise, which is something Larry Legend did quite frequently.
Bird often rose to the occasion
Someone with the nickname "Hick from French Lick" might sound like an unassuming individual. But Larry Bird became one of the great challenge-takers in NBA history throughout his career.
Whether trash-talking opponents right before nailing game-winning shots or engaging in drinking contests with Celtics teammates, Bird always wanted to maintain a mental edge in competition.
Ralph Sampson inspired his teammates with his scrappiness, but he also ignited something within Bird. The series might as well have ended as soon as Larry Legend issued his stern warning to Sampson.
Stats courtesy of Basketball Reference.