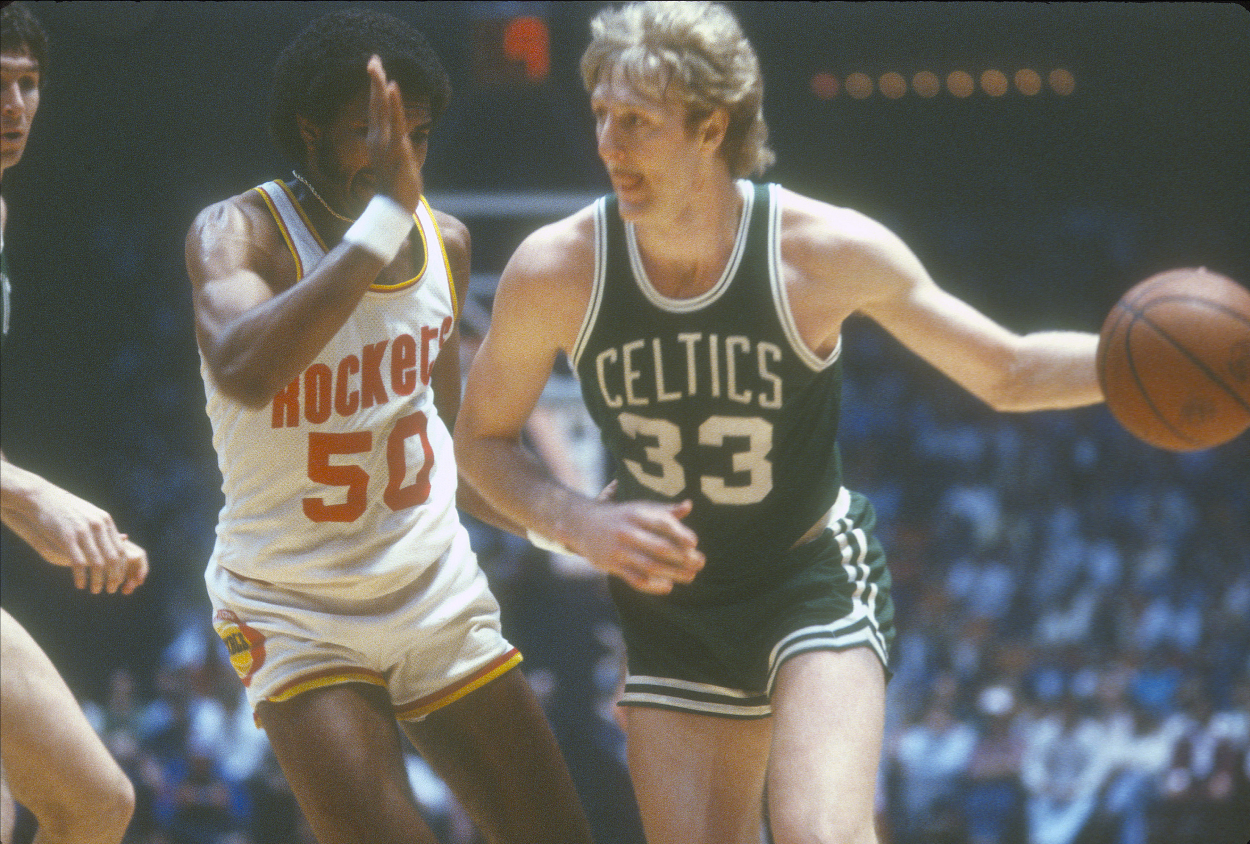 Larry Bird Was Fueled, Not by Money, but by Quieting Hostile Opposing Crowds With Late-Game Heroics
Quieting hostile opposing crowds was a motivating factor for former Boston Celtics star Larry Bird.
Although Larry Bird became the highest-paid rookie after a heralded college career at little-known Indiana State, he didn't need to be. That all occurred after some tough negotiation tactics by agent Bob Woolf. Money didn't make the former Boston Celtics star hungry. Basketball did. More specifically, shutting up a hostile opposing crowd is what motivated Larry Legend.
Larry Bird just wanted to play basketball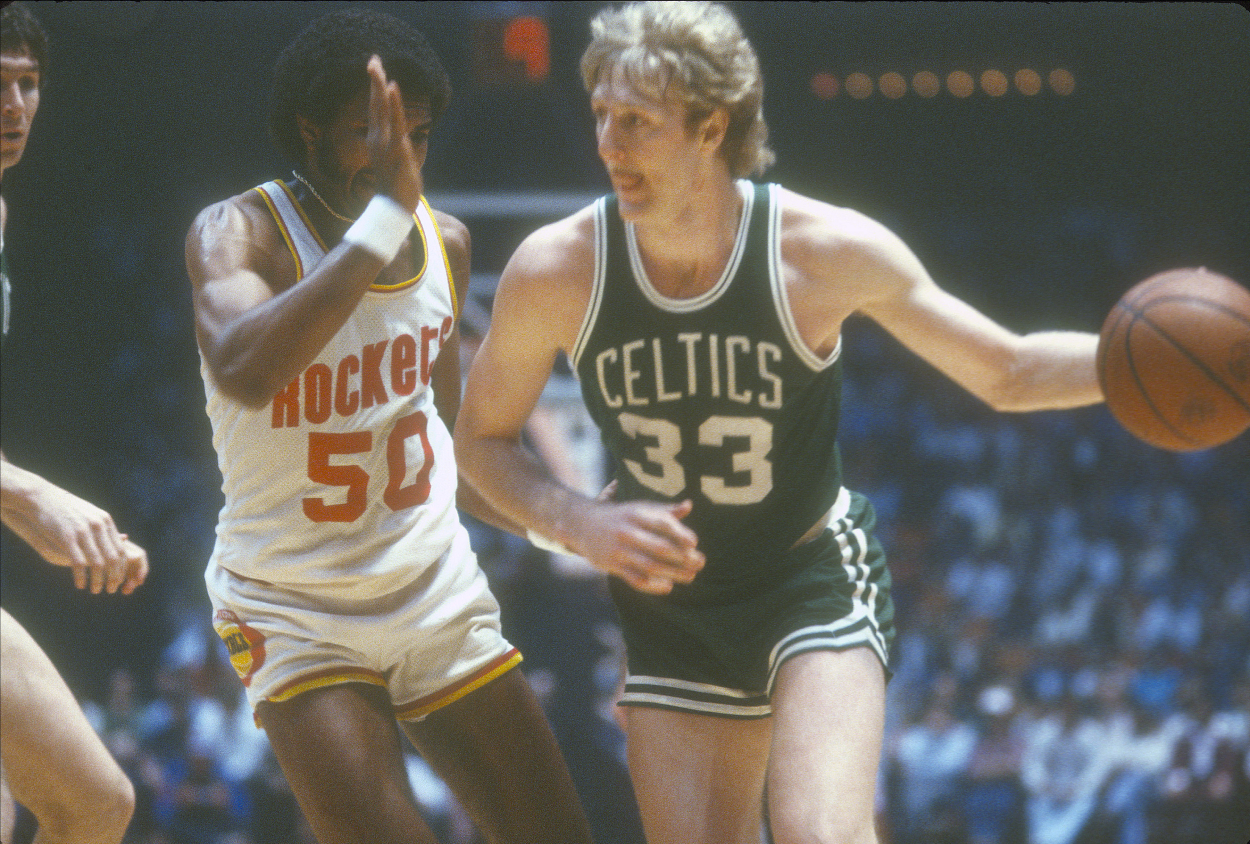 Bird never wanted to be involved in contract negotiations with Red Auerbach and the Celtics. He just wanted to be on the court. Bird never had much money growing up, and there was no need for him to have it as he embarked on his professional basketball career.
"The way I live, I'd be happy making 10 or 12 thousand a year," Bird told Sports Illustrated back in 1981.
It was Woolf's job, however, to get his client the best deal he could. Bird happened to be one of the top rookies heading into the NBA, and he fought for him.
When Bird made his first trip to visit Boston, Woolf knew right then that his client was just a regular guy and not a big spender.
 "Look at this," Woolf said in '81 as he pulled out Bird's hotel bill from that trip to Boston. "Three nights. Nothing but room and tax. Not a room service charge. Not a phone call."
Larry Bird was motivated by shutting down opposing crowds and having the ball in his hands in crunch time
Bird never wanted the spotlight. He only wanted the ball when the game was on the line. Sure, Bird did his trash-talking on the court but never was a fan of talking when the game was over. Most of the time, he did his talking with his basketball skills. That gave him his greatest pleasure, especially when it broke the hearts of the opposing fans.
In that '81 Sports Illustrated article, Bird recalled his team's playoff run to his first NBA title when the Celtics defeated the Houston Rockets in the NBA Finals.
He spoke about beating the red-hot Chicago Bulls in four games in the opening series.
"I made the best shot of my life in that series," Bird said. "Fourth game, tied up, their place, time out just before the fourth quarter, and they got about 20,000 fans just going nuts. Coach Fitch says, 'Let's do something to quiet this crowd down.'
 "We threw the ball in, messed around with it for a while, I made a 3-pointer, then stole the ball, went back, laid it in. We went up five within 40 seconds. I mean, that crowd just went 'Whoooo!' Stopped. From then on it was over."
The following series, Boston rallied from a 3-1 series deficit against the Philadelphia 76ers. They also rallied from 17 points down to win on the road in Game 6. Boston also trailed by seven late in the series clincher. That's when Bird stepped up with a pair of steals and then won the game with his final shot.
"I wanted the ball in my hands for that last shot," Bird said after the game. "Not in anybody else's hands in the world."
There was no player more confident than Bird
Bird wasn't finished. In the 1981 NBA Finals, the Celtics looked to close out the series in Game 6 on the road. Boston held an 82-67 lead entering the fourth quarter, but the Rockets mounted a furious comeback. With 1:51 remaining, the Rockets found themselves down by three points with the backing of a hostile crowd. Not for long.
A wide-open Bird took a pass from Tiny Archibald and calmly drilled a 3-pointer to shift momentum and take all the steam out of the crowd.
"I didn't even know it was a 3-pointer," Bird told Sports Illustrated. "I caught the ball in shooting position. Nobody was around. I just released it.
Heck, when I'm open like that for a shot, I usually feel like I can't miss it. And when I have a shot like that to get us a game, I got to take it because I know I have an excellent chance of making it."
It was those big shots and the quieting of the crowd that motivated Bird, not the $24 million he made while playing in the NBA.