Larry Bird's Legendary Trash Talk Actually Helped Begin His Friendship With Patrick Ewing
On the whole, crossing paths with Larry Bird wasn't a fun experience. Not only could the Boston Celtics star destroy any defender, but he also had a knack for unleashing some biting trash talk. If you were tasked with guarding Larry Legend, it was going to be a long night.
Patrick Ewing, however, wasn't one to back down from any challenge. In fact, the big man responded to Bird's trash talk in an unexpected way: he struck up a friendship with the sharpshooter.
Larry Bird was an offensive talent and a deadly trash talker
In NBA lore, guys like Michael Jordan and Gary Payton stand tall as some of the sport's best trash talkers. Larry Legend, however, was no slouch when it came to verbal warfare.
In general, Bird's exploits relied on his own confidence and skill. His signature move consisted of telling a defender the exact way he planned to score, then doing just that. Sometimes he'd even get a little more specific, like warning the Phoenix Suns that he was tired of playing against them before converting a game-winning jumper.
On some occasions, though, the Celtics star got a bit more aggressive. Stories emerged from Boston Celtics practices about how Bird would stand over teammates and warn them about his plans to kill them on the court. Opponents obviously faced plenty of verbal abuse, too. During his rookie year, for example, Dominique Wilkins was welcomed to the league by Larry Legend. "You don't belong in this league, Homes," Bird said, among other remarks.
With all of that being said, the Celtics star did have the respect of his peers. Michael Jordan even called Bird the best trash talker he ever faced, noting that Larry Legend used "good trash, though, not dirty trash."
Patrick Ewing struck up a friendship with Larry Legend after experiencing his trash talk firsthand
In isolation, Bird's trash talk may seem like a serious case of bad sportsmanship and a reason to avoid the Celtics star. Patrick Ewing, however, took the opposite approach and struck up a friendship with the living legend.
"Larry and I got to be great friends during the Dream Team," Ewing explained on a 2018 episode of The Dan Patrick Show. "And, you know, it's funny. He talked so much trash. Always talked trash. Talked trash on the floor, he was talking so much trash during the Dream Team, and that's how it started."
While some might be turned off by Bird's competitive steak and constant verbal barbs, the Knicks big man began to bond with Larry Legend.
"He's always talking trash to me, talking trash to the rest of the players," Ewing continued. "So I'm talking trash back to him, and it just clicked. You know, we're just always talking trash to each other and started hanging out. You know, going to dinner, going to lunch, you know, and just spending a lot of time around each other. We just developed a very good friendship."
Ewing was so impressed by Larry Bird that he defended the Celtics star's credentials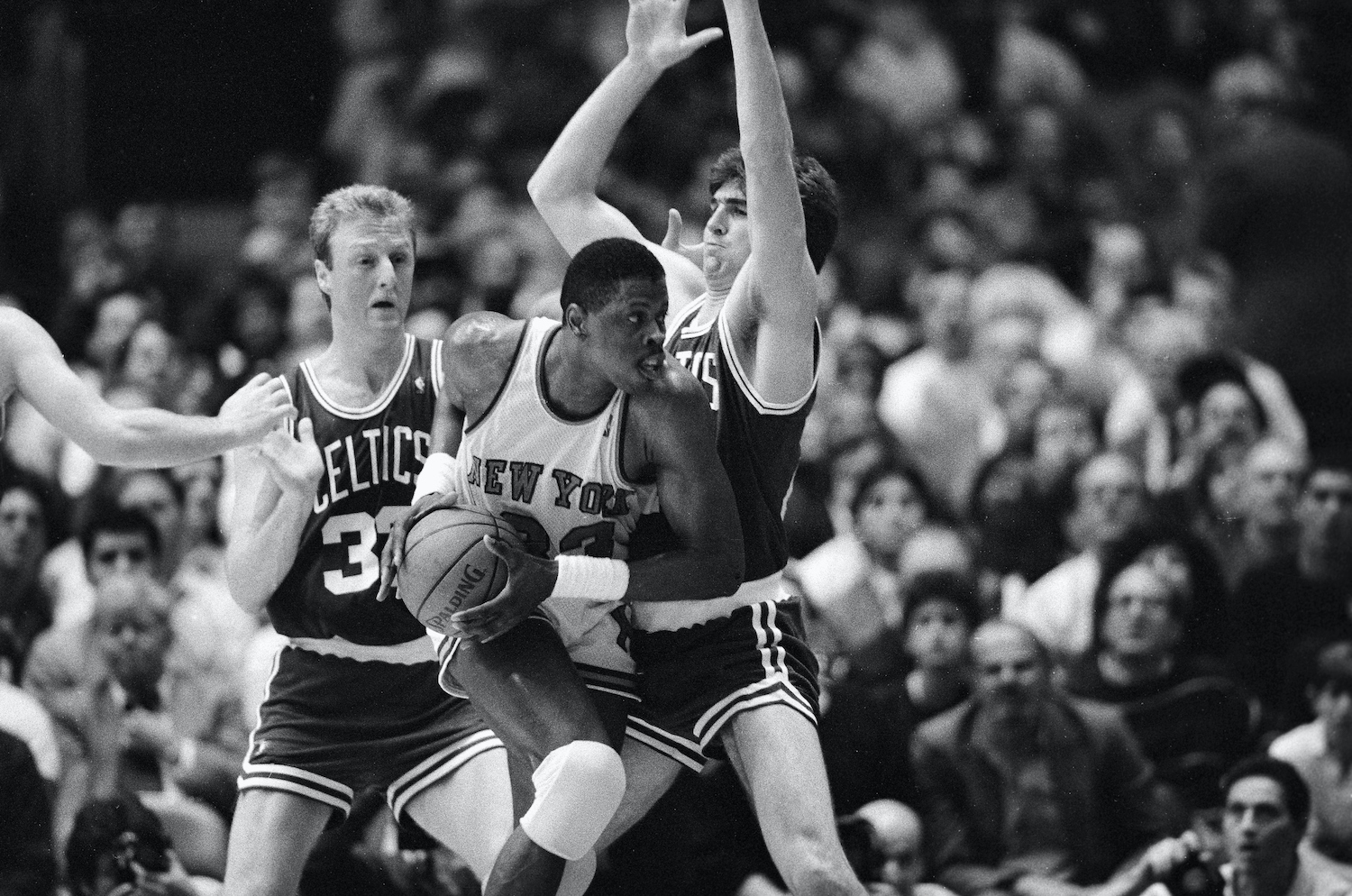 Ewing's affinity for Bird wasn't limited to that friendship, though. On one occasion, the center even circled back to some childhood friends to defend Larry Legend's honor.
"Growing up in Boston, people all used to always talk about that [Bird] can't jump, that he can't do this, he can't do that," Ewing recalled. "And a lot of my friends was like that, you know. So I got to the league, I called all my friends back up. I say, 'You know, all that trash that you were talking? You need to squash all that. This man is great. Whatever you were saying, for a man who can't jump, he's demolishing everybody.'"
While it's not clear when that conversation took place, it's safe to assume it took place before the two men teamed up in Barcelona. Ewing entered the NBA in 1985; even if he didn't talk to those friends immediately after getting to the league, he still had plenty of time to be impressed by Bird before 1992.
Among athletes, there' a general sentiment that game recognizes game, meaning that a mutual respect can overpower on-court rivalries. In Patrick Ewing and Larry Bird's case, it seems like they took things a bit further than that and formed a legitimate bond.