Cedric Maxwell Said Pee-Wee Basketball Failure Set Him up for a Big Game 7 Against the 'Los Angeles Fakers' in 1984 NBA Finals
Many Boston Celtics fans remember Game 7 of the 1984 NBA Finals as the one when Celtics forward Cedric Maxwell told his teammates to "Get on my back, boys." Maxwell took charge in the winner-take-all game against the Los Angeles Lakers, leading the Celtics with 24 points in a 111-102 victory. The man they call "Cornbread" said he developed his no-fear attitude after failing in pee-wee basketball. That childhood failure had him confident going in against those "Los Angeles Fakers."
Cedric Maxwell said his 'get on my back' comment was a myth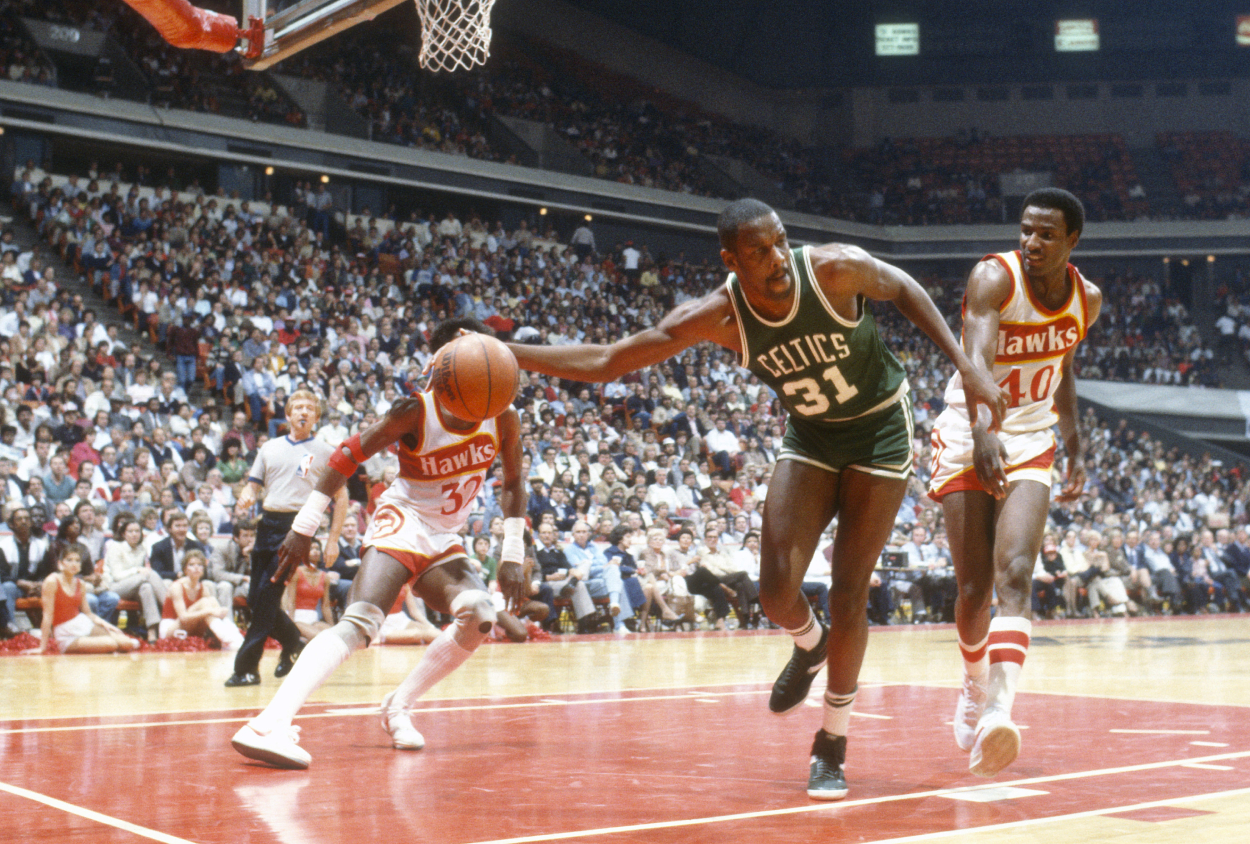 The story seems good. It just might not be accurate. Maxwell, who was named the MVP of the 1981 NBA Finals, was confident heading into Game 7 against the Lakers in the 1984 NBA Finals. He had been there before. He knew his teammates could count on him.
The "Get on my back, boys" comment is something basketball fans associate with Maxwell and that Game 7. As great as the storyline is, he said it was a myth.
"You can say 'climb on my back,' but what I actually said was an X-rated version," Maxwell explained to The Boston Herald in 2008. "The 'climb on my back, boys' part didn't really happen like that. It was a myth.
"Everyone might have been talking about it at that time, but I was just determined to come out and play a great game. I had been the MVP of the playoffs before. I felt like I had to have a big game against James Worthy in order for us to be successful."
Cedric Maxwell said his confidence came from failing at basketball as a child
There were two reasons why Maxwell was confident in himself going into that deciding Game 7. First, he had been there before. Nobody else on the Celtics had been a Finals MVP. Second, he struggled in a pee-wee basketball game as a kid. That failure, he said, turned him around.
"I remember failing when I was in pee-wee basketball," Maxwell said last year to Brian Scalabrine in a video by the Boston Celtics. "Went to an all-star game, and I didn't play well. From then on, I made it a mission in my mind to put so much fear in my body that I was going to respond in a positive way.
"Failure, to me, was probably the biggest motivation to be who I was in these big games. I did it in high school. I did it in college. And I damn sure was going to do it in the pros. In 1981, being the Finals MVP, and now you're trying to tell me I've got to play against the Los Angeles Fakers in the seventh game? You don't think I'm ready to play? Really?"
Maxwell remained calm and delivered one of his finest games when it counted most
Whether he said it or not, Maxwell did carry the Celtics in Game 7. At that time, Kevin McHale was coming off the bench for the Celtics, and Max was the starting power forward.
He played more minutes (43) than anyone on the Celtics in that Game 7 and led the team with 24 points. He also added eight points and eight rebounds as Boston pulled out a 111-102 victory to claim their second NBA title of the decade.
"I just started thinking about making it into a game," Maxwell said when Sacalabrine, a former Boston Celtics player, asked him how he stayed so calm. "I've hard about you, playing against some of these people who said they could play. You know, 'Scal, I can beat you.' You took on all these people and beat them, and you made it a game. That's what you do.
"Keep it in your mind that it's a very simple game that you've been playing since you were in grade school. If you do that, then you don't give in to the big moment and freeze up."
All stats courtesy of Basketball Reference.