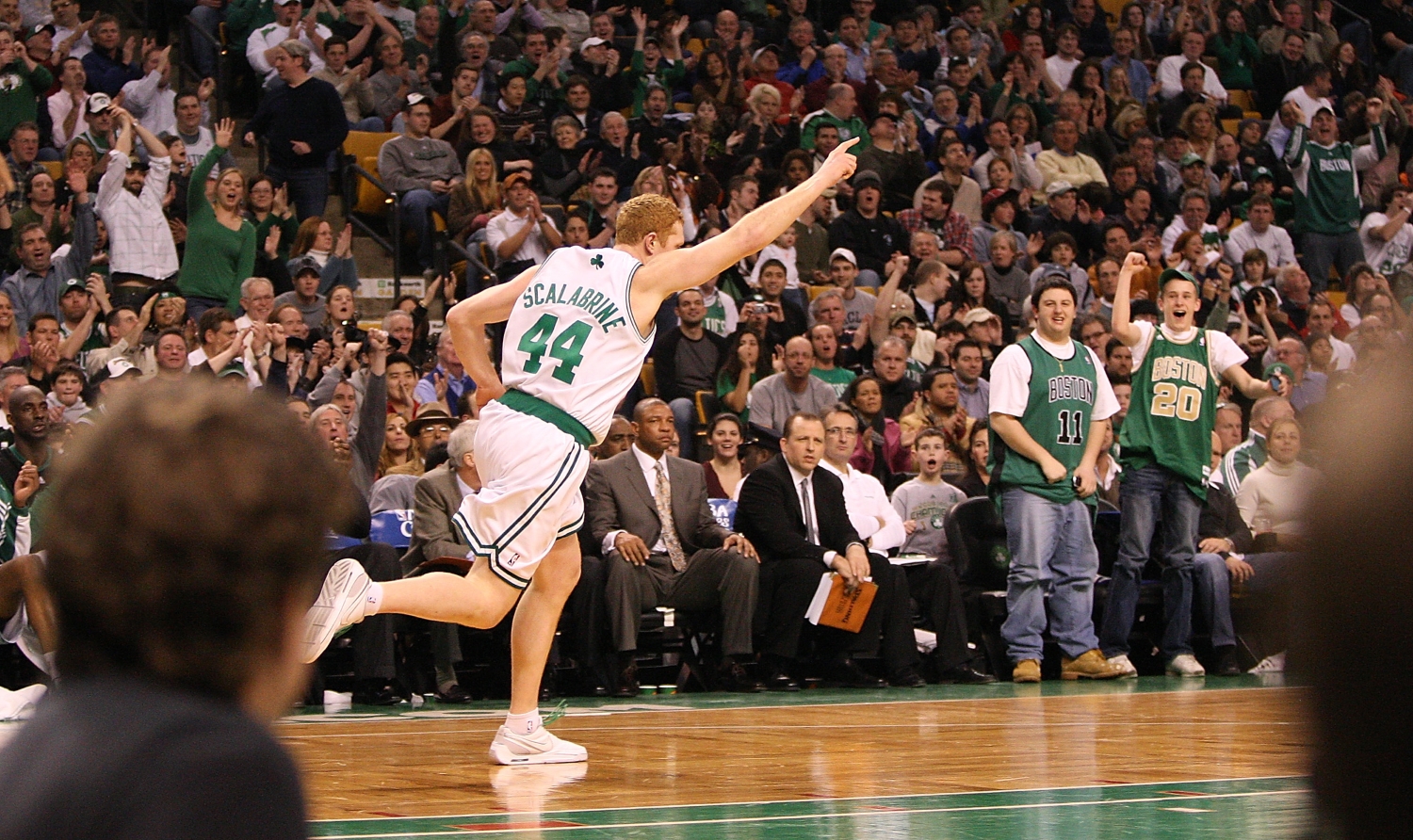 Retired NBA Player Brian Scalabrine Recently Taught a Trash-Talking Teen a Brutal Lesson About Respecting His Elders
Retired former Boston Celtics player Brian Scalabrine recently taught a teenager a brutal lesson in calling out the White Mamba.
Although his days as an NBA player are long gone, former Boston Celtics forward Brian Scalabrine recently called upon his basketball skills to school a trash-talking teenager.
And by the time the 43-year-old finished wrapping up his on-court lesson, his young adversary undoubtedly learned the brutal consequences of calling out the beloved White Mamba.
Brian Scalabrine suited up for three teams during his 11-year NBA career
Following a terrific career at USC, Brian Scalabrine got selected with the 34th pick in the 2001 NBA draft. Although he put up big numbers in college, the 6-foot-9, 235-pound power forward never came close to replicating that production as a pro.
Scalabrine spent the first four years of his NBA career with the New Jersey Nets. He played sparingly before earning an uptick in minutes during the 2004-05 season.
The California native took his talents to Boston on a five-year, $15 million contract.
His first few seasons with the Celtics featured plenty of losing. But after bottoming out with a 24-58 record during the 2006-07 season, Danny Ainge executed franchise-altering trades for Kevin Garnett and Ray Allen. Scalabrine watched his minutes get cut significantly, but he still earned a championship ring for his contributions.
A sneaky 3-point shooter who always gave his best effort when his number got called, Scalabrine eventually said goodbye to Boston fans (sort of) after playing out the final year of his deal.
Following a two-season stint with the Chicago Bulls, he retired from the NBA. During his 11-year career, the former second-round pick averaged just 3.1 points in 520 games.
The beloved backup has remained a popular figure in Boston
Brian Scalabrine made a sizable chunk of money for spending most of his NBA career on the bench. But even though his playing days ended a decade ago, he has remained heavily involved in the game.
In 2013, the Golden State Warriors added Scalabrine to their coaching staff. However, he didn't remain with the organization for long.
A year later, the former Celtics forward took an analyst job to appear on local Boston broadcasts. Over the years, Scalabrine has continued to carve out a bigger name in the sports media industry.
Besides providing enlightening commentary and analysis on the Celtics and the rest of the NBA, he also co-hosts a weekday show called The Starting Lineup that airs on SiriusXM NBA Radio.
Plus, Scalabrine also maintains an active presence in the local community.
And recently, he donated some of his time to teach a trash-talking teen a brutal lesson about respecting his elders.
A trash-talking teen recently learned a brutal lesson about respecting his elders
Considering he scored a total of 32 points in his final season, Brian Scalabrine may have seemed like a worthwhile target for a one-on-one battle. However, one teenager quickly learned he made a massive mistake by calling out the 43-year-old version of the White Mamba.
In a video that has since gone viral, a high school basketball player challenged the retired former NBA big man to a quick game of hoops.
After agreeing to put their shoes on the line, the two squared off in a "battle" that was incredibly one-sided.
Despite a sizable age gap, Scalabrine thoroughly dominated his young adversary. He utilized his 6-foot-9 frame to outmuscle a much smaller (and inexperienced) opponent. And in fitting fashion, he called game and hit a jumper to secure an 11-0 shutout.
Ultimately, Scalabrine showed that even pro athletes who didn't make a major impact during their careers still possess impressive skills compared to the average person. So even though he didn't make many memorable shots during his NBA career, the big man proved he can still put the ball in the basket when it counts.
His prize for winning probably won't come in handy, though.
After all, does anyone really think Scalabrine can fit his feet into that kid's shoes?
All statistics courtesy of Basketball Reference.