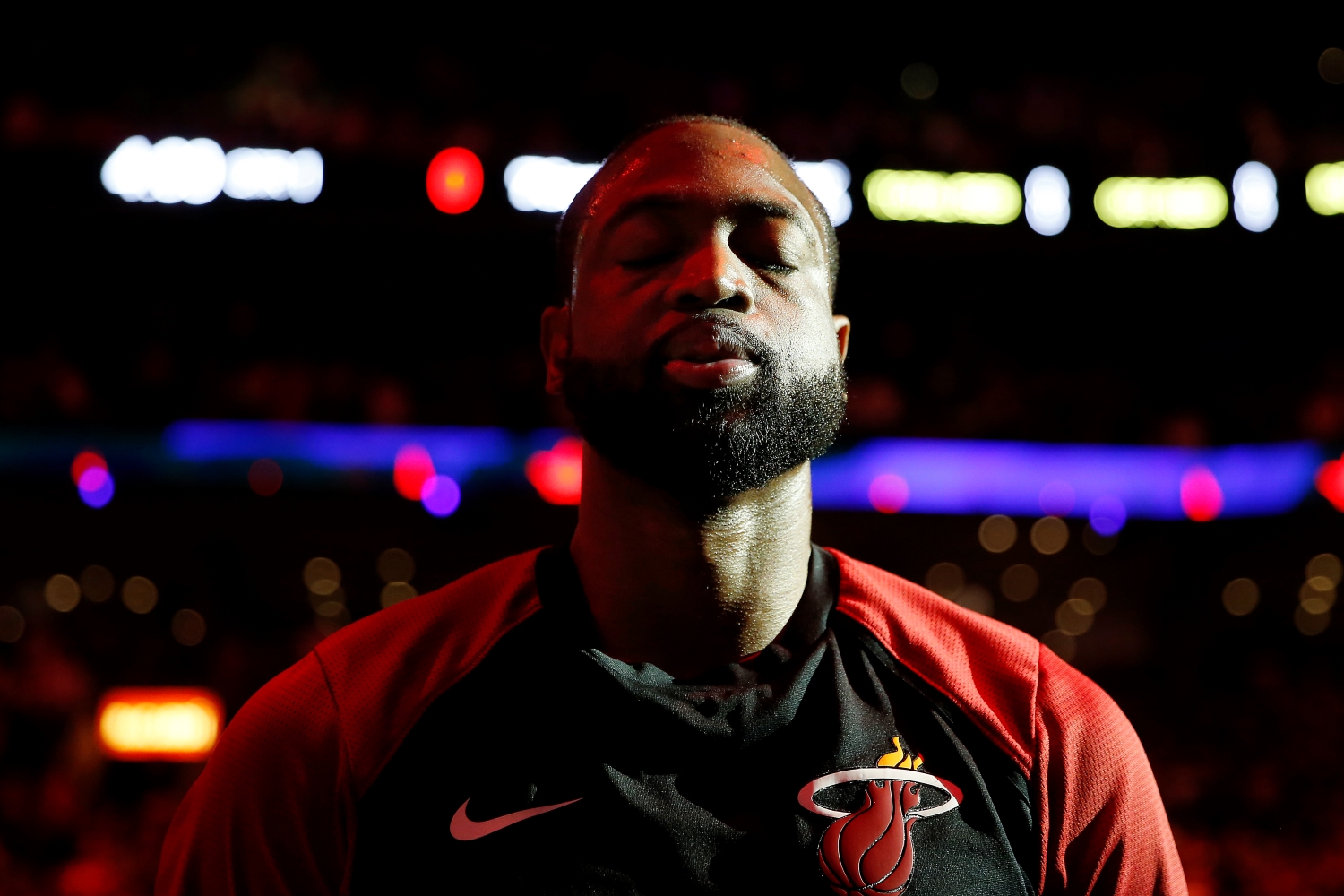 NBA Legend Dwyane Wade Paid a $5 Million Price to Officially Keep Things Quiet With His Ex-Wife
Dwyane Wade made almost $200 million during his NBA career, but the Miami Heat legend spent $5 million to keep things quiet with his ex-wife.
Thanks to his skills on the basketball court, Dwyane Wade earned nearly $200 million during a legendary career that saw him become the face of the Miami Heat.
However, shortly after winning his third championship ring, the future Hall of Famer had to pay a steep price to officially keep things quiet with his ex-wife.
But even after spending $5 million to do so, Wade still boasts an incredible net worth that proves why he deserves to be mentioned as an all-time NBA great.
Dwyane Wade earned millions as one of the biggest NBA stars of his generation
Dwyane Wade arrived in Miami as the third pick of the 2003 NBA draft. Of course, he entered the league at the same time as LeBron James and Chris Bosh, who later became his teammates in South Beach.
But before those two came to town, the former Marquette star won an NBA title playing alongside one of the most dominant players ever: Shaquille O'Neal. The dynamic duo carried the Heat to a championship by defeating the Dallas Mavericks in six games in 2006.
By proving himself a legitimate star, Wade earned a substantial raise. He first signed a three-year, $43 million contract extension before inking a nine-figure deal that reflected his status as an elite shooting guard.
The Heat legend enjoyed his best single-year payday in 2016-17. However, it came as a member of another NBA team.
In his first and only year with the Chicago Bulls, Wade made $23.2 million and averaged 18.3 points, 4.5 rebounds, and 3.8 assists in 60 games.
He split the 2017-18 season between the Cleveland Cavaliers and the Heat. The 13-time All-Star retired a year later after averaging 15 points in 72 games.
Although Wade racked up $196.4 million in career earnings, he had to devote $5 million to officially keep things quiet with his ex-wife.
The Miami Heat legend paid a $5 million price to officially keep things quiet with his ex-wife
Dwyane Wade married Siohvaughn Funches in 2002. However, after splitting in 2007, the couple got divorced three years later.
A widely publicized custody battle ensued that eventually led a Chicago court to award Wade sole "care, custody and control" of his two sons in March 2011.
"My life changed in a huge way," he told the Associated Press. "Mentally, I've been preparing for it for over a year now. To me, it's bigger than that. For me, it shows a lot of people that you need to fight to be in your kids' lives sometimes. You fight until you can't fight any more. That's all I was trying to be, a father in his kids' lives."
However, Wade still had other business to take care of as a result of his permanent split with his first wife.
In July 2013, a judge ruled that the longtime NBA star had to pay his ex-wife a $5 million divorce settlement. According to an excerpt from the original Chicago Sun-Times report on CBS Sports, the settlement also included a "non-disparage" agreement that stipulates that each party must refrain from making disparaging marks about the other.
Wade's attorney, James Pritikin, said the protection from disparaging remarks also covers his client's family members and Gabrielle Union, who Wade married in 2014.
Although Funches-Wade's attorney argued that his client never fully agreed to all the provisions in the settlement, Cook County Circuit Court Judge John Thomas Carr did not agree, and he ruled the settlement valid.
Wade still has a massive net worth despite his expensive divorce settlement
Despite having to pay a $5 million price to officially put an end to a prolonged divorce, Dwyane Wade still has plenty of money to purchase just about anything he wants.
According to Celebrity Net Worth, the 39-year-old has an estimated net worth of $170 million.
Besides his sizable amount of career earnings, Wade also increased his net worth with smart business decisions off the court.
After having his own line of shoes with Converse, he switched to Nike's Jordan Brand. But after his deal expired in 2012, Wade made a bold move to sign with Chinese athletic brand Li-Ning. In July 2018, the Miami Heat icon signed a lifetime contract with the company.
Meanwhile, his wife has an estimated net worth of $40 million.
Needless to say, Gabrielle Union and Dwyane Wade possess plenty of spending and philanthropic power.
All contract data courtesy of Spotrac. All statistics courtesy of Basketball Reference.