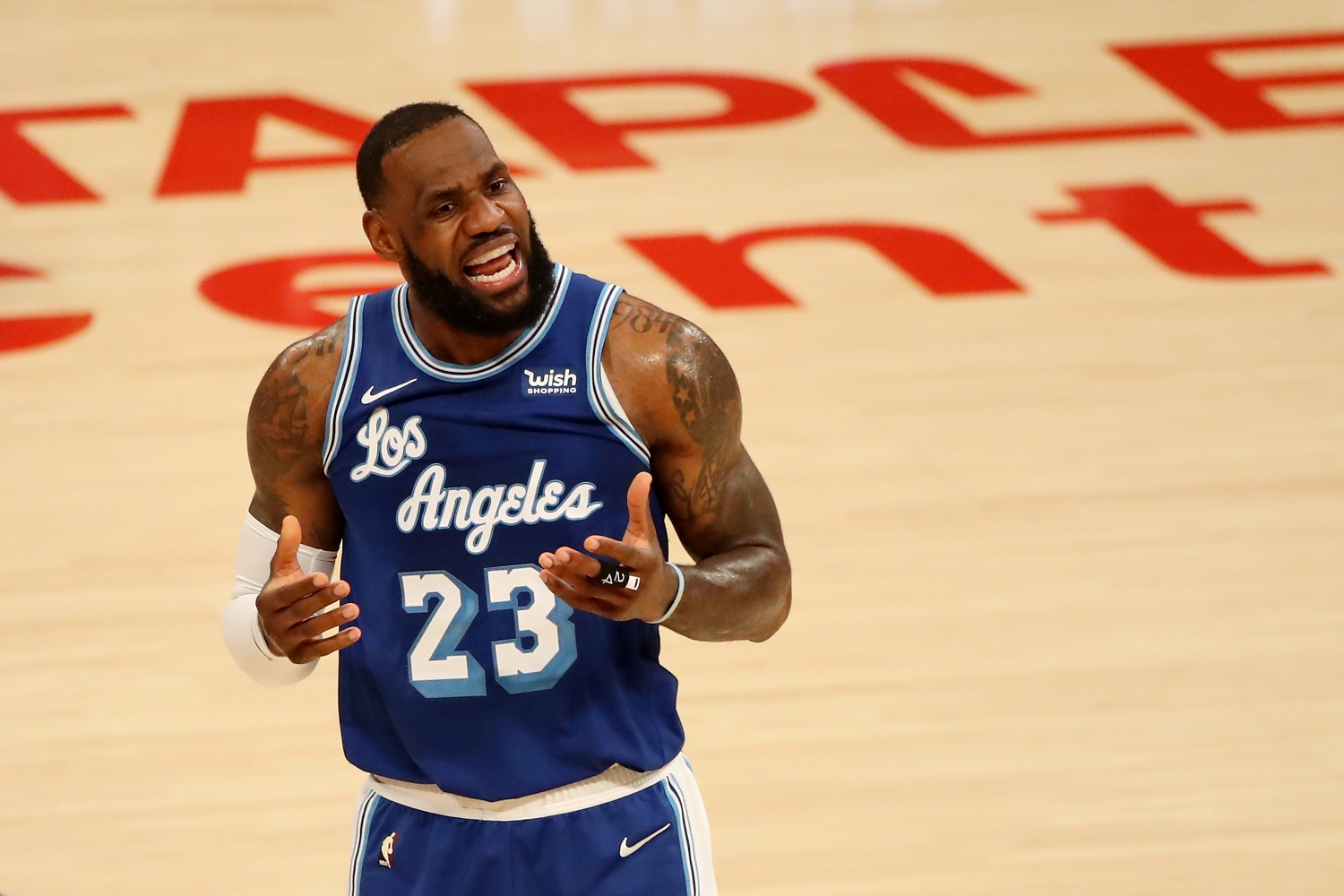 LeBron James Sends Surprisingly Encouraging Message About the Lakers' Worrisome Losing Streak
LeBron James sent a surprisingly encouraging message after the LA Lakers extended their losing streak to four games on Wednesday night.
The LA Lakers have lost their last four games, but that apparently means little in the grand scheme of things. Although the reigning NBA champions do not currently look capable of defending their crown, they have a strong leader with plenty of experience in fighting his way out of slumps.
In the aftermath of the Lakers' latest loss, LeBron James struck a surprisingly encouraging tone when discussing his team's current woes.
The Lakers continue to struggle without Anthony Davis in the lineup
After going 52-19 during an abbreviated regular season, the Lakers captured their 17th NBA title in franchise history. And after taking care of business with LeBron James and Anthony Davis, general manager Rob Pelinka appeared to have won the offseason by making a number of smart moves.
But after coasting through the early part of February, the Lakers have struggled mightily with Davis out of the lineup. The skilled big man remains sidelined with a calf strain. In addition, he has also been dealing with Achilles tendinosis in his right leg.
Not having one of the NBA's biggest stars available has drastically impacted the Lakers.
On Feb. 18, they lost by 11 points against the Brooklyn Nets, who didn't even have Kevin Durant in the lineup.
Two days later, the Miami Heat got some revenge by beating James and Co. by two points.
On Monday, the Lakers couldn't find a way to slow down the Washington Wizards. Russell Westbrook and Bradley Beal combined for 65 points in a 127-124 overtime victory.
LeBron James sends surprisingly encouraging message about LA's worrisome losing streak
On Wednesday, the Lakers once again failed to come out on top.
This time, however, they lost in embarrassing fashion.
Facing the red-hot Utah Jazz, LA looked thoroughly overmatched. Quin Snyder's team earned a 114-89 victory without needing Nikola Jokic to play a single minute.
Meanwhile, Frank Vogel's squad couldn't keep pace. LeBron James led LA in scoring with just 19 points. Kyle Kuzma only hit two shots on seven attempts. And Talen Horton-Tucker shot 25% from the field in an unimpressive performance.
Despite his team's four-game losing streak, James sent a surprisingly encouraging message during his post-game media availability.
"It's a tough stretch for us," he said. "You know this won't define who we will be for the rest of the season and for the long haul. That's for sure."
While objective observers might argue that LA has legitimate problems that could stand in the way of a repeat, James sees the situation in an entirely different light.
"Always the best teacher in life is experience," he explained. "You know, for us to be going through this right now, I think it's going to benefit our team tremendously."
Can the reigning NBA champions get back on track before the All-Star break?
LeBron James may have struck an encouraging tone after watching his team lose yet another game, but the aging star may not feel the same way by the time the All-Star break finally gets here.
The Lakers will face several tough opponents before the NBA puts a pause on its season.
On Friday, the Portland Trailblazers will attempt to extend LA's losing streak to five games. With a motivated Damian Lillard leading the way, it won't be surprising to see the Lakers' record drop to 22-12.
While the Golden State Warriors haven't exactly dominated, they still remain a tough out every night thanks to the presence of Steph Curry.
Plus, the fourth-seeded Phoenix Suns should have no trouble taking advantage of Anthony Davis' absence. Look for a young squad built around Devin Booker and Deandre Ayton to make life tough for LA's defense.
So while the Lakers' losing streak only stands at four games, that number could continue to grow before the All-Star break arrives.
All statistics courtesy of Basketball Reference.