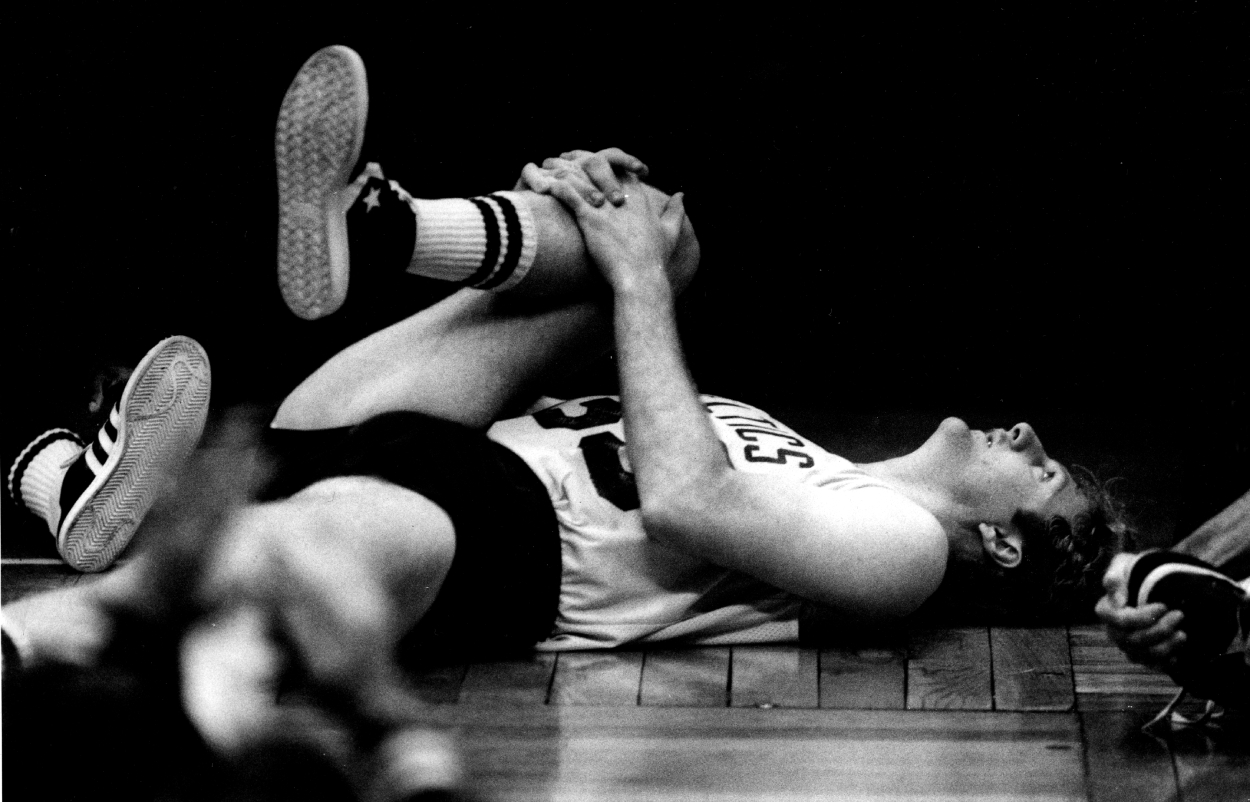 Even When Larry Bird Wasn't at His Best, the Boston Celtics Star Was Still No. 1: 'There's No Question That I'm Struggling'
Even when Larry Bird wasn't at his best, he proved he was still the best.
The 1985-86 season was a personal struggle for Larry Bird. He battled through a major shooting slump, and those back problems that eventually forced him into retirement began acting up. The Boston Celtics star was coming off two straight MVP-winning seasons, although the Celtics fell to the Los Angeles Lakers in the 1985 NBA Finals.
The Celtics were a more complete team in the 1985-86 season. Despite the pain, injuries, and slump, Bird and the Celtics managed to come out on top once again.
Larry Bird had a rough stretch during the 1985-86 season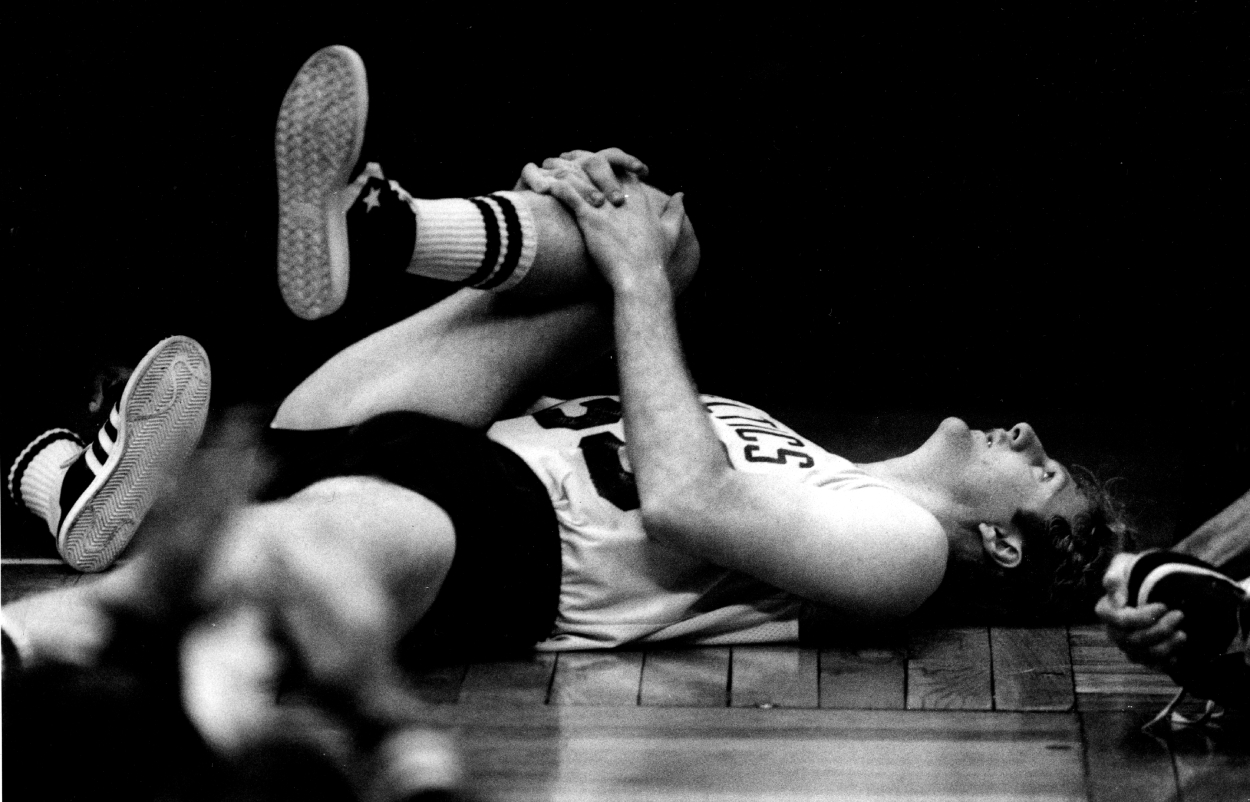 Twenty-five games into the 1985-86 NBA season, there was some concern for Bird and the Celtics. The problem had nothing to do with the Celtics' record since they were sitting at 20-5. Bird's back was bothering him and his game was suffering.
His scoring was down better than five points per game from the previous season. More alarming than that was how he was missing shots he normally would make. His back was the culprit.
"There's no question that I'm struggling," Bird said, according to the Sun Sentinel in December 1985. "I know I'm missing layups and baskets underneath that I normally hit. But I've had to work hard at my game. I don't have the skills that a lot of other players do.
"I have to go out and shoot that extra hour. I got to go out and run the extra hour. I have to go out and work on my foot movement. I can't jump like some other guys do. I can't run like some players. And if I miss 4-5 months of that, I'm behind some players no matter if I was MVP. I've got to work on every aspect of my game to stay at the top. I haven't been able to do that."
Larry Bird grew frustrated through the early part of the season but still managed to come out on top
Frustration set in on Bird, who had just won back-to-back MVP honors and had been to the last two NBA Finals, winning in 1984 and losing in '85.
"I realize when I'm not shooting or passing the ball well," Bird said then. "I don't need anybody to talk to me about those things. Everybody would like to go out there and play a perfect game. But I haven't done it, yet. The only thing I can do is work harder, try to give that extra effort, and get over the hump to the point where I am doing things to my capabilities.
"If I were averaging five rebounds, two assists, and 35 points, nobody would be saying anything. But since I'm not shooting the ball like I have in the past, everybody gets excited. I'm not moving as well because of some injuries. But I'm giving the effort, and I'm playing just about as well in the other aspects."
Despite the pain and the struggles, Bird played every game that year. Although he didn't repeat his scoring average of 28.7 points from the previous year, he bounced back from those early struggles to finish at 25.8. He toughed out the injuries and guided the Celtics to a 67-15 record. Boston knocked off the Houston Rockets in the NBA Finals for Bird's third championship. He also won his third straight MVP.
The 1985-86 Boston Celtics added much-needed depth to their roster
After winning the NBA title in 1984 and coming up short in 1985, the Celtics made a pair of key acquisitions to their bench, bringing in Bill Walton and Jerry Sichting. With Bird hampered by those early-season injuries, the bench stepped up. They were a much closer unit than they had been in years past.
"I'm just excited about being here this year," Bird said. "The guys have just been great. We've always had close teams, but this year we got out of the gate as a group early. In the past, if we went out and won a big game or won four or five in a row, we'd have a letdown. Not this team."
Although Bird was struggling at the moment, he knew his team would be there at the end. He has gone on record as saying he would put his '86 NBA Finals team up against anyone. He felt that way even while he was hurting and slumping.
"When it comes to the playoffs, teams will say, 'We can beat the Celtics if so-and-so has a bad game.' They know better than that," he said. "If we get them in the playoffs, we're going to beat the hell out of them. They might be close, but now teams that we beat by four points consider that a moral victory. They feel like they beat us. But until they get that win, they haven't beaten anybody."
Bird showed that even when he wasn't at his best, he was still the best.