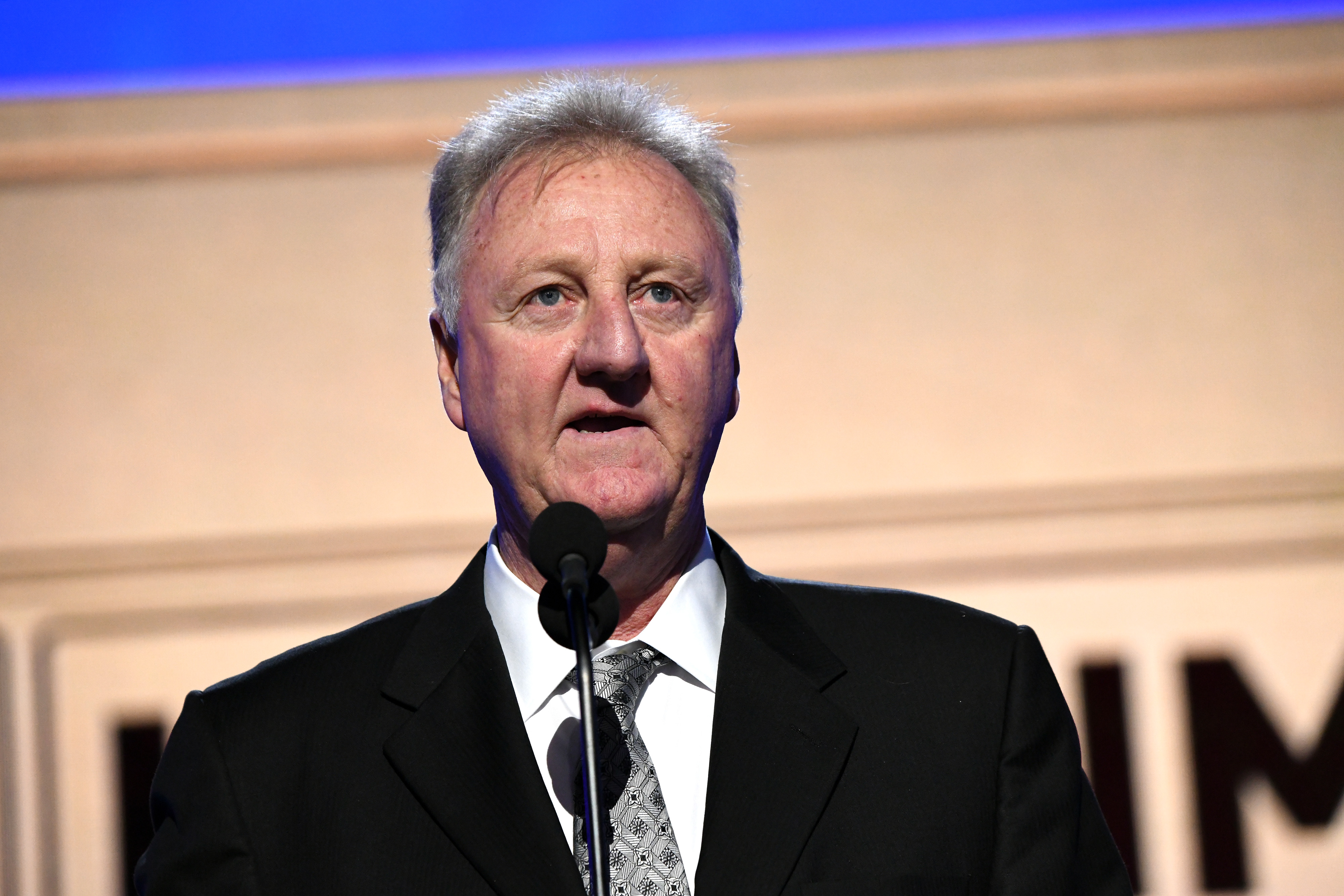 Larry Bird's Lookalike Is… a Tomato?
Former Boston Celtics star and NBA Hall of Famer Larry Bird is in the news because there is a tomato that sports a resemblance to him.
Let's face it, there aren't a whole lot of people who resemble Larry Bird. The former Boston Celtics star has a distinctive look and won't normally get crossed up with anyone else's physical appearance. But what about a tomato? Yes, there's a tomato out there that certainly has a resemblance to the NBA Hall of Famer.
Larry Bird's basketball career
Larry Bird made his NBA debut in 1979 as a member of the Boston Celtics. Bird was coming off a very impressive college season when he led the surprising Indiana State Sycamores to a berth in the NCAA title game. The Sycamores fell to Magic Johnson and Michigan State and Bird went on to enjoy a 13-year pro career.
Bird made an impact immediately, playing in all 82 games as a rookie. He averaged 21.3 points and 10.4 rebounds per game Bird went on to be named the NBA Rookie of the Year and he didn't stop there. In 12 of his 13 seasons in the NBA, he was an NBA All-Star.
Bird won three championships with the Celtics and also won three straight MVP awards. He finished his NBA career as one of the greatest players to ever play. His career averages were 24.3 points and 10 rebounds per game. Bird was inducted into the Naismith Memorial Basketball Hall of Fame in 1998.
Larry Bird's biggest rivals
From a team standpoint, the Boston Celtics biggest rivals during Larry Bird's era were the Detroit Pistons and the Los Angeles Lakers. The Pistons were probably the bigger of the two because they Celtics played them more often and there was genuine hatred between the two clubs.
Bird was not a fan of the Pistons, especially center Bill Laimbeer. Bird always felt Laimbeer was a dirty player. In an interview with Bill Simmons, Bird explained his hatred for Laimbeer that still lingers. "It's because he was a dirty player," Bird said. "He had to do what he had to do and I understand that, but you take like (former Piston) Ricky Mahorn, he'd hit you and you knew you were going to get hit. He didn't try to maim you. Bill tried to hurt you. He was one of them guys when you tried to shoot a jumper, he would try to slide his foot underneath your ankle so you'd twist your ankle."
Bird's individual rival was Magic Johnson. The rivalry began with that NCAA title game in 1979 and carried over into the NBA. According to Sports Illustrated, they met just 37 times (18 in the regular season and 19 during three NBA Finals), but Bird always had his eye on Magic. "The first thing I would do every morning during the season was look at the box scores to see what Magic did. I didn't care about anything else," Bird told SI.
Bird's lookalike is… a tomato?
It didn't take long for things to get rolling on social media about Larry Bird and a tomato. A picture of a tomato with a mini hat was posted and shared my many showing the resemblance of the fruit (or vegetable) to the former Boston Celtics star.
Most responses to the photo have said the tomato and Bird looks similar. "Everyone is saying this tomato looks like Larry Bird… It totally does," wrote one person on Twitter. Another one posted, "If you are wondering why Larry Bird is trending, don't worry. He's healthy and he hasn't said anything that will get him canceled. It's about this tomato's resemblance to him."
It didn't appear 2020 could get any weirder, but a tomato proved that wrong.