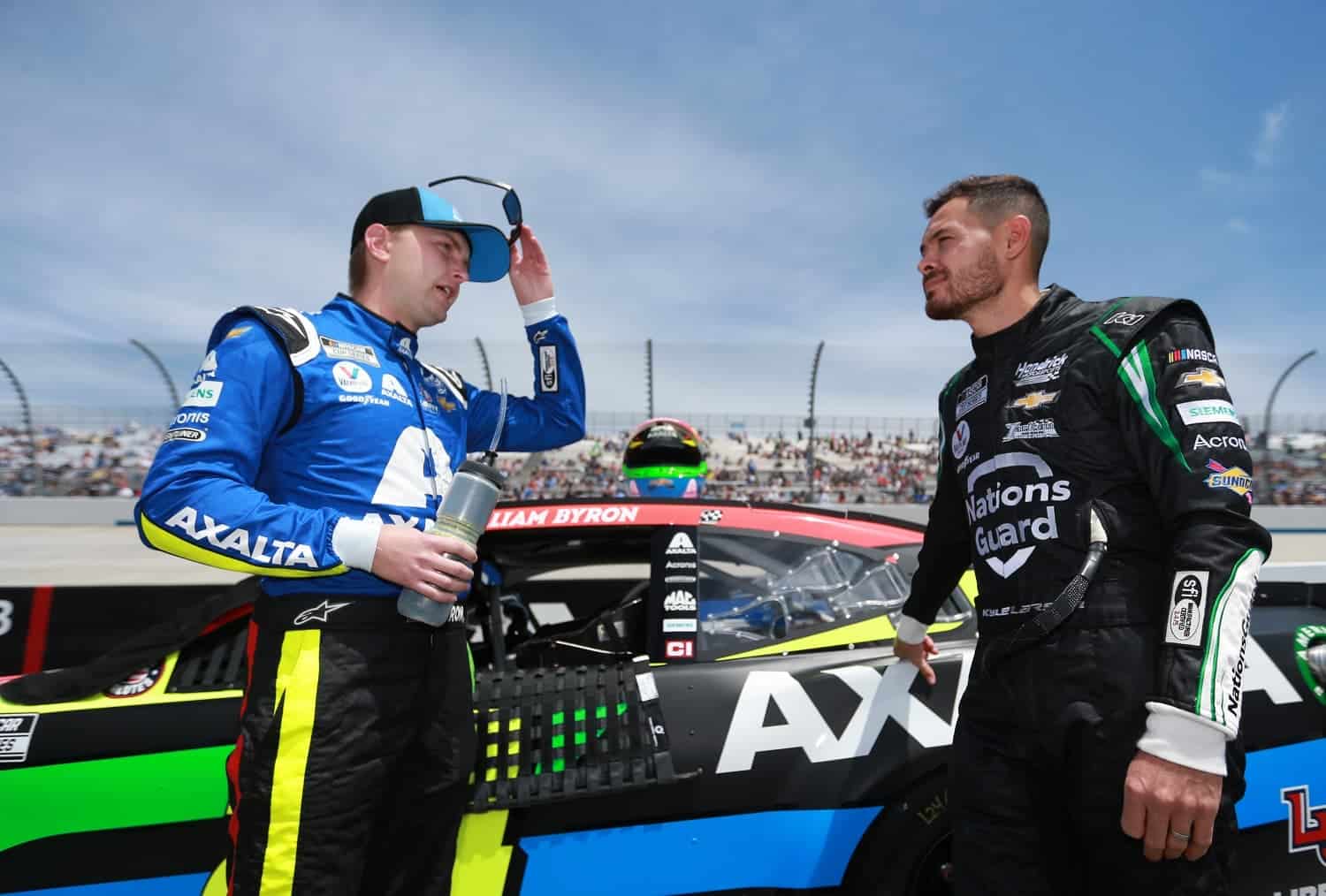 Who Was the Last NASCAR Cup Series Driver To Win 3 Consecutive Races?
William Byron is going after three consecutive victories, a feat last accomplished by teammate Kyle Larson.
While NASCAR hit the entire Hendrick Motorsports team hard with penalties on Wednesday, William Byron is positioned to overcome the blow. He's already won twice, wiping out the 10-point playoff penalty, and is three points to the good thanks to stage wins.
On Sunday, he goes to a track on which he won a year ago. Triumphing there again with a car full of NASCAR-approved parts might feel like poetic justice to the No. 24 Chevy team, though it would probably overshadow a significant personal achievement.
That's because there aren't a lot of Cup Series drivers who can say they've won three consecutive points races.
Who was the last driver to win three straight Cup series races?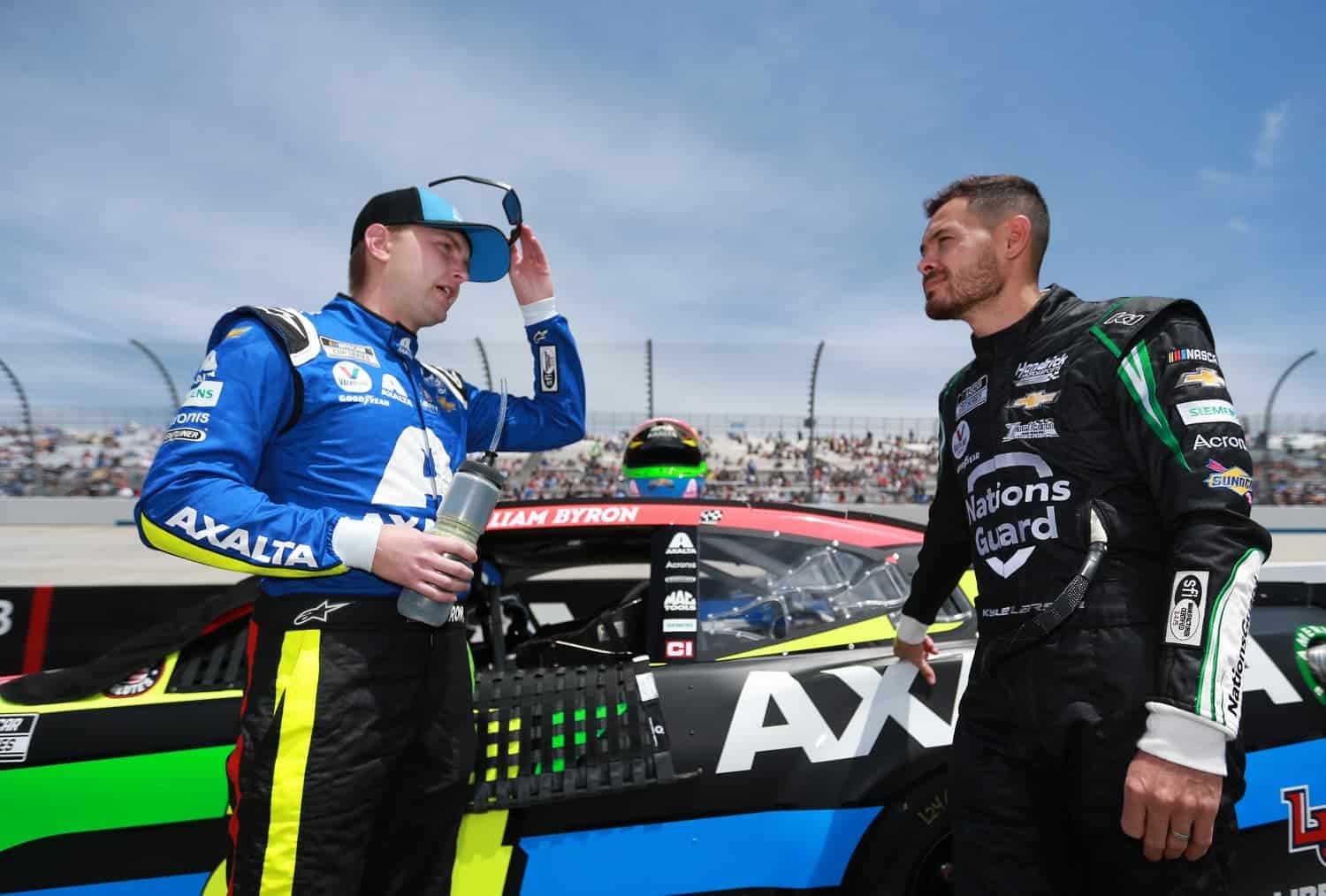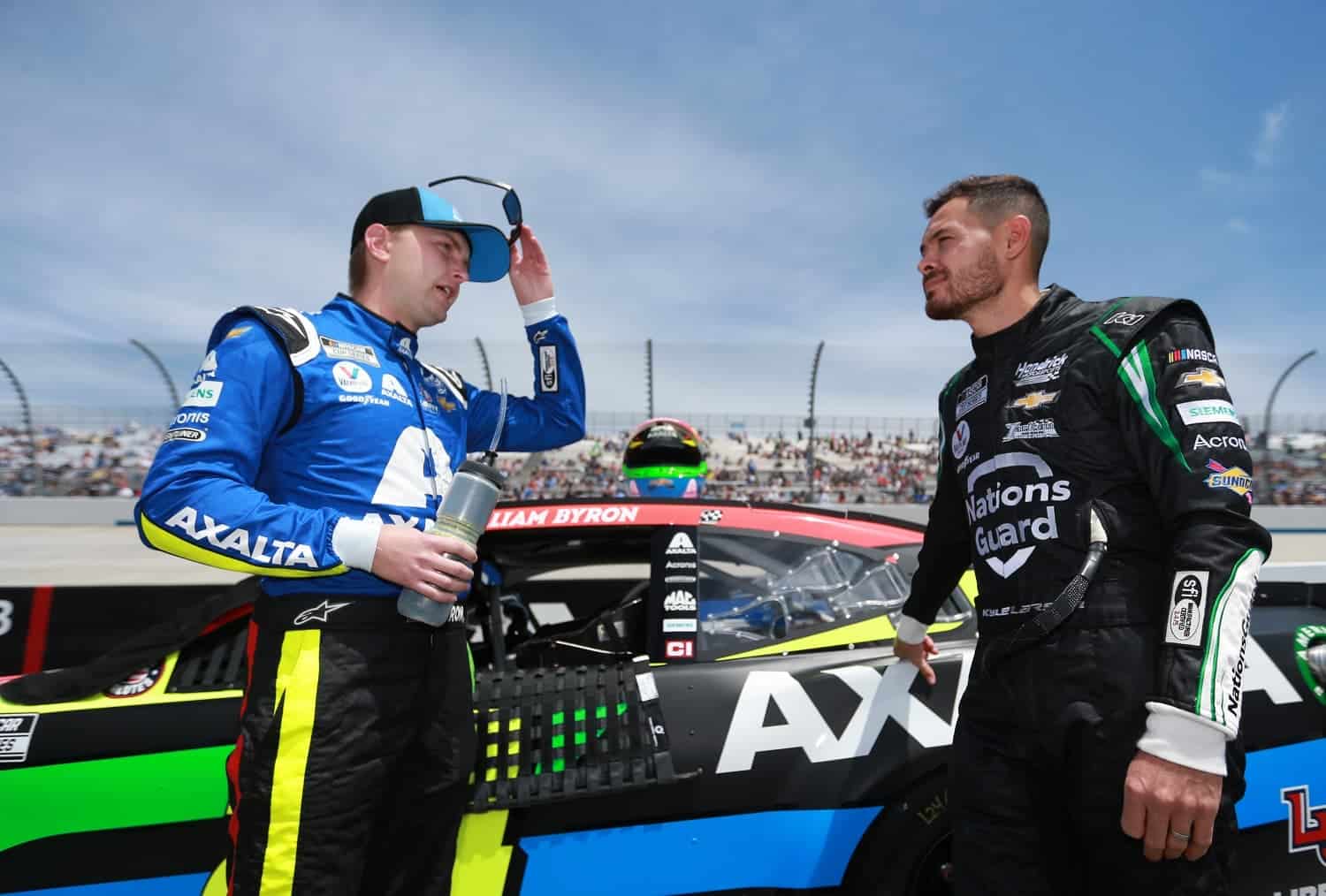 Having bagged victories at Las Vegas and Phoenix the past two Sundays, William Byron comes to Atlanta Motor Speedway looking to register a three-race winning streak.
With an average finish of 19.2 in five starts before management refurbished the track, Atlanta wasn't much fun for Byron. But the makeover turned AMS  into a superspeedway, and the 25-year-old North Carolinian led 61 of the last 64 laps to win there last spring. He led 41 laps midway through the summer race before the big Turn 2 wreck ended the day for Byron, Ricky Stenhouse Jr., and Ty Dillon.
The combination of success there last season and the momentum from the past two weeks makes Byron someone who must be watched in Sunday's Ambetter Health 400 on the 1.54-mile track. Should he pull it off, Byron will own a shared experience with Hendrick Motorsports teammate Kyle Larson, the last driver to pull off the feat.
In fact, Larson scored three consecutive victories twice during his 10-win 2021 season that culminated with the Cup Series championship.
In the spring, Larson's No. 5 Chevy rolled onto Victory lane at the Coca-Cola 600  at Charlotte, then on the Sonoma road course and at Nashville Speedway. For good measure, he also won the All-Star Race (not a points race) scheduled between the latter two events.
He scored his second hat trick of the season during the playoffs, rolling up wins on the Charlotte Roval to wrap up the second round and then Texas Motor Speedway and Kansas Speedway to kick off the semifinals.
Kevin Harvick can foil William Byron's ambitions
With Alex Bowman one of the Hendrick Motorsports drivers docked 100 points by NASCAR, Kevin Harvick is the new NASCAR Cup Series points leader through four races. Though he hasn't won yet, Harvick has finished in the top 10 in three of the four races and is heading to one of his better tracks.
Harvick scored his first career win at Atlanta Motor Speedway three weeks after replacing Dale Earnhardt in 2001 and triumphed again in 2018 and '20. He has totaled 16 top-10 finishes in 34 starts, including 12 since 2009.
That rates him as a threat to snap Byron's winning streak, which would be an interesting twist since the driver of the Stewart-Haas Racing No. 4 Ford pulled off the same three-peat – sort of – in 2018.
Harvick won eight times that season, beginning with Atlanta. Back then, though, AMS was the follow-up to the Daytona 500 before NASCAR's West Coast swing. After Atlanta, Harvick completed his run of three straight wins at Las Vegas and then Phoenix.
Four other active drivers have won three straight races
Atlanta figured into Jimmie Johnson's two longest Cup Series winning streaks. Johnson, back in NASCAR with a limited schedule for Legacy Motor Club, won at Charlotte, Martinsville, and Atlanta in 2004. Three years later, he pieced together the top series' most recent four-race streak at Martinsville, Atlanta, Texas, and Phoenix en route to a season championship.
Kyle Busch is the only other active driver with more than one three-race winning streak, having turned the feat on his way to the 2015 championship and again in 2018.
Rounding out the list of active drivers having won three consecutive races are Joey Logano (2015) and Brad Keselowski (2018).
Should William Byron complete the feat on Sunday, it could be a sign of great things ahead: Beginning with Rusty Wallace in 1993, every driver compiling a three-race winning streak has captured a season championship at some point in his career.
Got a question or observation about racing? Sportscasting's John Moriello does a mailbag column each Friday. Write to him at [email protected].