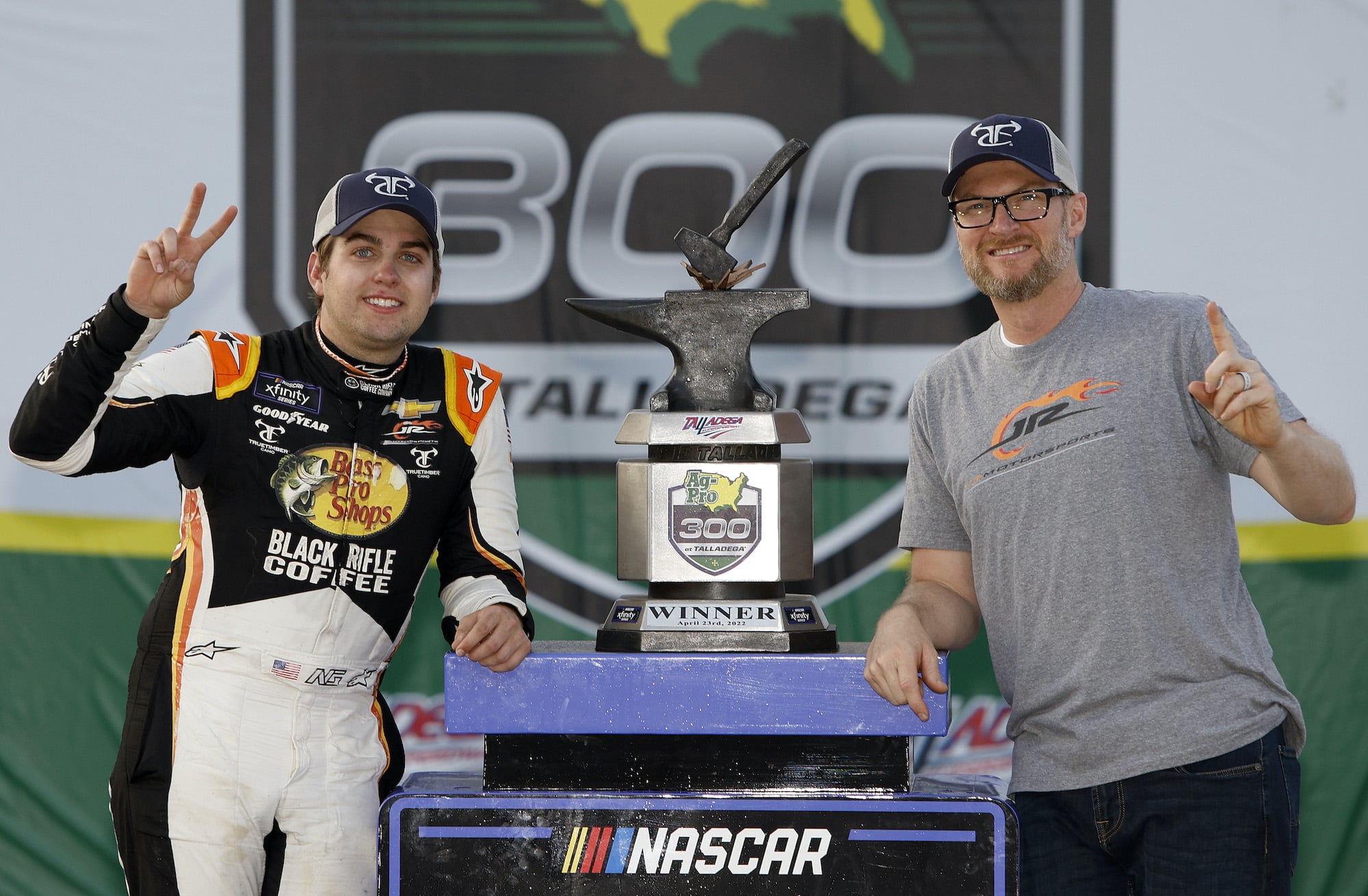 Why Latest Intriguing Move by Hendrick Motorsports Could Be Sign JR Motorsports Is Preparing for Jump to Cup Series
With JR Motorsports dominating the Xfinity Series recently, some are speculating an interesting move announced by Hendrick Motorsports could be a sign that JRM is making the move to Cup in the near future.
Dale Earnhardt Jr. has openly talked over the last year or so about the desire to take JR Motorsports up to the NASCAR Cup Series. He's provided both the pros and cons of why it might or might not happen. 
Earnhardt has been quiet recently about making the jump. However, a move this week by Hendrick Motorsports has fans speculating and hopeful that it might be happening sooner rather than later.   
Dale Earnhardt Jr. talked in past about moving JR Motorsports to Cup Series 
For years, Dale Earnhardt Jr. said JR Motorsports wasn't going Cup racing. In 2021, his tune changed, and he openly acknowledged that it was a possibility. Earlier this year before the start of the 2022 season, the NASCAR Hall of Famer visited with Dave Moody on SiriusXM NASCAR Radio and provided an update. 
"Well, it's just not going to happen for 2022," Earnhardt said. "We're open to any, and all sort of scenarios that could get us to that point, and I think the more that we talk about it, the more intrigued we are as a group at JR Motorsports to go Cup racing. I think as time passes, we get more and more interested in it. I think that's a good thing, and it just has to be the right fit. 
"We don't want to go there just to be there. We don't want to fail. We don't want to put ourselves in an unreasonable position financially to not succeed. There's a lot of things that have to fall into place, and a lot of dominoes got to fall correctly for us to get there, but if we could be there and we could make it happen, we want to be there. I feel like that's where it's at. We're talking to a lot of people. There's a lot of great ideas. There's a lot of scenarios that could work and might work, but we just have to see."
When the longtime NASCAR voice asked the owner what would have to change to make it happen, Earnhardt offered a candid response.
"I think that more than likely we're going to have to go into the Cup Series with a partner," he said. "And finding that partner that you're comfortable with. Somebody that you want to go win with. Somebody that you want to work with long-term. Something sustainable, that's important. And, that partner might not be somebody you know today."
Hendrick Motorsports announces Xfinity Series races
Rick Hendrick is the winningest owner in NASCAR Cup Series history with Hendrick Motorsports. He's also part owner of JR Motorsports. 
This week HMS announced that it will field the No. 17 car in three Xfinity Series road course races for the rest of 2022. Kyle Larson will pilot the car at Road America, Alex Bowman on the Indy road course, and William Byron at Watkins Glen. HMS last fielded an Xfinity car in 2009 with Tony Stewart at Daytona, and he won.
What makes the move interesting is JR Motorsports also has the No. 88 car, which could have been used in at least two of the races. Larson is already scheduled to run the car at Watkins Glen. 
With the announcement, some fans have speculated that it could be the first of several moves in a naturally-occurring alliance between the two organizations where Hendrick starts an Xfinity Series team with JRM providing support, and then Hendrick, as Earnhardt suggested, partners with JRM and helps the team transition to Cup. 
JR Motorsports has nothing left to prove in Xfinity
If there was ever an opportune time for Dale Earnhardt Jr. to consider JR Motorsports making the move, it's now. The organization is unquestionably at the top of its game and has been dominant in the Xfinity Series this year. 
Through 14 races, JRM has won five times, including four out of the last five races. And the victories haven't come on a last-lap pass. The team has been dominant, winning a series record 10 consecutive stages. 
Earnhardt's organization has proven itself at the Xfinity Series level. There's only way to go and the partnerships are already clearly in place for it to happen. The move by HMS could be the first domino to fall. 
Like Sportscasting on Facebook. Follow us on Twitter @sportscasting19 and subscribe to our YouTube channel.