Dale Earnhardt Jr. Candidly Admits Future of JR Motorsports Is Racing in the Cup Series: 'That's Where It's At'
For years, Dale Earnhardt Jr. refused to entertain discussions about JR Motorsports making the jump to Cup Series racing. Last year, his position dramatically changed, admitting that the organization was open to the possibilities. This week on SiriusXM NASCAR Radio, Junior was again asked about the subject and provided an interesting answer about how far along the team is in the process of making it happen. 
Dale Earnhardt Jr. and JR Motorsports regularly field top Xfinity Series teams
Dale Earnhardt Jr. has a special relationship with the Xfinity Series. He won a pair of championships with the series as a driver in 1998 and 1999. In 2006, with JR Motorsports, a team that he co-owns with sister Kelley and Rick Hendrick, he raced to a couple of victories for the organization, and set the table for what was to come.
Since then, the team has become an important part of the development process for some of NASCAR's top drivers, including Cup champions Brad Keselowski and Chase Elliott. Elliott won a championship for the organization in 2014. William Byron and Tyler Reddick won titles for JRM in 2017 and 2018, respectively.
Last year, Justin Allgaier and Noah Gragson both made the playoffs, with Gragson advancing to the Championship 4, where he finished third. 
Open to racing Cup Series in the future
Through the years, Dale Earnhardt Jr. had been unequivocal about where he stood on JR Motorsports making a move up to the Cup Series. It wasn't going to happen no matter what.
However, last year his stance not only softened, but it became quite evident that he was more than willing to explore the possibilities. The Next Gen car made him and the organization rethink their future in the sport.
"That's thinking pretty big all around," Earnhardt told racer.com. "But we used to say, 'Never. Never going into the Cup Series.' We love where we're at in the Xfinity Series; it's a great series to have a lot of fun in. You have days like today in the Xfinity Series, and we've got a great business model for that, but the new car forced us to sit down and have a conversation about whether we were missing the opportunity to go into the Cup Series in the future."
Admits future of JR Motorsports is in Cup Series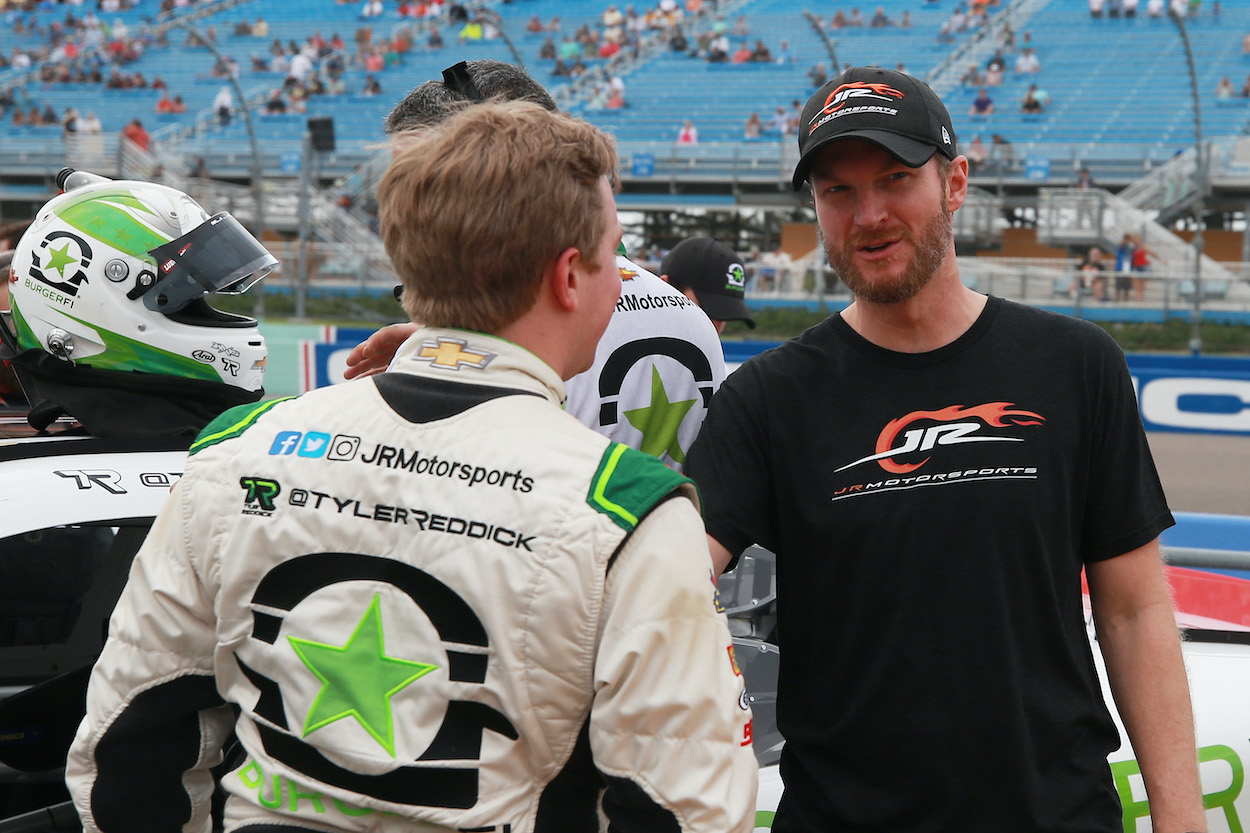 While last year might have appeared to be a good time to jump up to Cup with the introduction of the Next Gen car and its leveling of the playing field, the charter market was undeniably chaotic, with exploding prices and numerous charters changing hands. It didn't happen for Earnhardt and JR Motorsports. 
However, this week during an interview on SiriusXM NASCAR Radio with Dave Moody, Junior addressed the situation, and based on what he said, it's coming sooner rather than later.
"Well, it's just not going to happen for 2022," Earnhardt said. "We're open to any, and all sort of scenarios that could get us to that point, and I think the more that we talk about it, the more intrigued we are as a group at JR Motorsports to go Cup racing. I think as time passes, we get more and more interested in it. I think that's a good thing, and it just has to be the right fit. 
"We don't want to go there just to be there. We don't want to fail. We don't want to put ourselves in an unreasonable position financially to not succeed. There's a lot of things that have to fall into place, and a lot of dominoes got to fall correctly for us to get there, but if we could be there and we could make it happen, we want to be there. I feel like that's where it's at. We're talking to a lot of people. There's a lot of great ideas. There's a lot of scenarios that could work and might work, but we just have to see."
When Moody asked what would have to change to make it work, Earnhardt didn't hesitate in his response.
"I think that more than likely we're going to have to go into the Cup Series with a partner," he said. "And finding that partner that you're comfortable with. Somebody that you want to go win with. Somebody that you want to work with long-term. Something sustainable, that's important. And, that partner might not be somebody you know today."
Unsurprisingly, Dale Earnhardt Jr. doesn't just want to go Cup racing, but he expects to win like JR Motorsports has done in the Xfinity Series. And by the sounds of it, it's not a matter of if, but when he finds the right dance partner.
Could it be 2023? Time will tell.
Like Sportscasting on Facebook. Follow us on Twitter @sportscasting19. 
RELATED: Will Dale Earnhardt Jr. Be Looking for Work at Another Network in the Not-So-Distant Future?