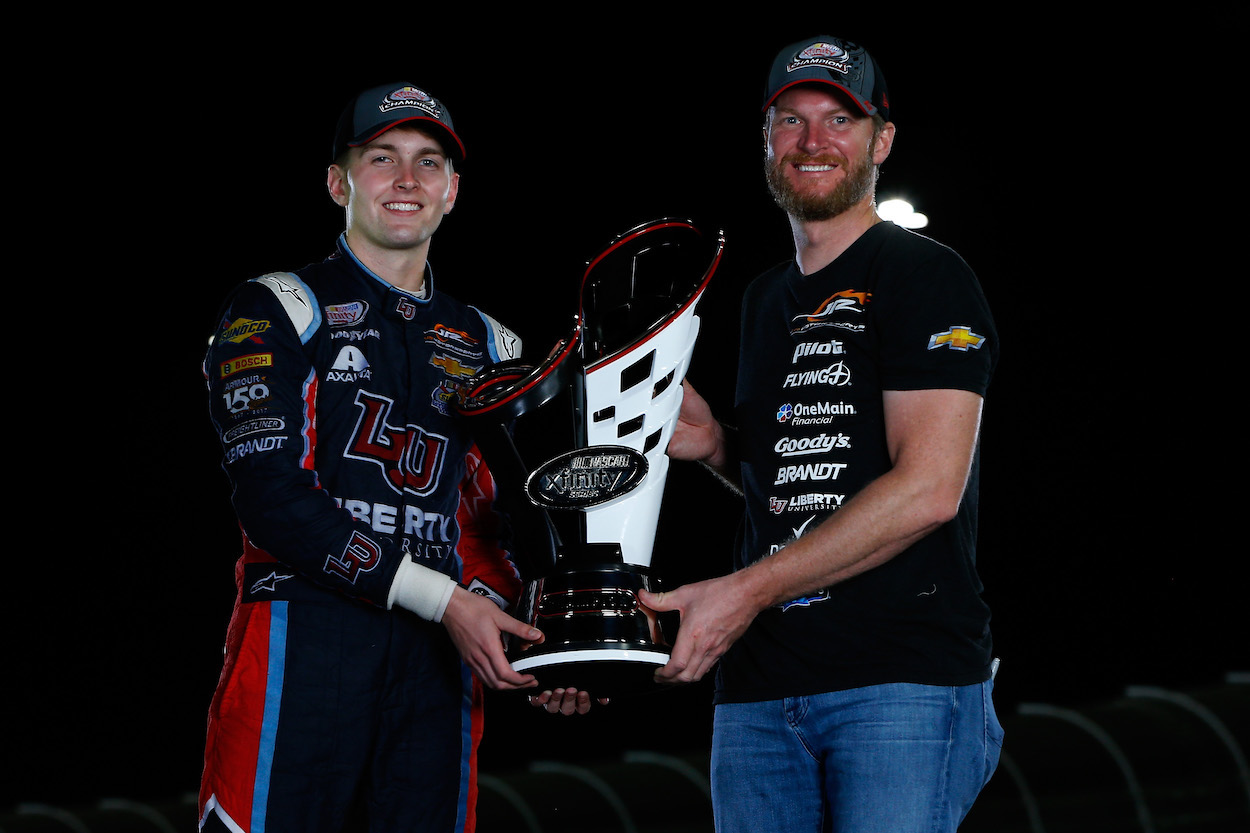 Dale Earnhardt Jr. Candidly Admits There's Just 1 Obstacle in Way of JR Motorsports Racing Cup Series in 2022
Dale Earnhardt Jr. has been successful as a team owner with the Xfinity Series. He's talked about moving to the Cup Series in 2022 and admitted recently there's just one hurdle standing in his way.
Dale Earnhardt Jr. is understandably a fan of the NASCAR Xfinity Series. He won a pair of championships as a driver in 1998 and 1999. Since 2014, he has claimed three Xfinity titles as co-owner of JR Motorsports.
However, in the last few months, Earnhardt has broached a subject that was once off-limits, indicating he'd be open to the possibility of his team moving up to the Cup Series with the Next Gen car in 2022. Based on a pair of interviews in the last week, Earnhardt is inching closer to pulling the trigger, but there's just one huge obstacle standing in his way.  
Dale Earnhardt Jr. open to moving to Cup Series in 2022
Through the years as an Xfinity Series team co-owner with JR Motorsports, Dale Earnhardt Jr. has regularly received questions about fielding a Cup Series team. When the Xfinity cars moved to the Car of Tomorrow chassis in 2008, Earnhardt suggested a move might be possible if the right opportunity came along. It never happened.
With the Cup Series transitioning to the Next Gen car in 2022, Earnhardt has once again suggested that the new car has, at a minimum, made the organization rethink the future.
"That's thinking pretty big all around," Earnhardt admitted to racer.com. "But we used to say, 'Never. Never going into the Cup Series.' We love where we're at in the Xfinity Series; it's a great series to have a lot of fun in. You have days like today in the Xfinity Series, and we've got a great business model for that, but the new car forced us to sit down and have a conversation about whether we were missing the opportunity to go into the Cup Series in the future." 
Dale Earnhardt Jr. admitted charter prices are big hurdle
Back in April when Earnhardt acknowledged that he was keeping his options open about possibly moving up to the Cup Series, he also said that the charter system presents its own set of challenges. This week Earnhardt echoed those same sentiments and provided some additional details on the "Ask Jr." segment of the Dale Jr. Download.
"The Cup charter conversation is crazy," Earnhardt admitted. "We learn something wild. We hear a new rumor every week. Kaulig — hearing they spent $10 million apiece on each of those charters. Don't know if that's true or not. I thought that the charter market was around $5 million, $7 million, and now you're hearing that it's north of $10 million for a charter. You don't know what to believe. That's way out of my range; I'll tell you that. JR Motorsports ain't going to be racing no Cup Series if that's what the charters are going for. I'll just be honest."
On Wednesday, during an appearance on SiriusXM NASCAR Radio, Earnhardt acknowledged that the price of charters is the only thing standing in his way. He also offered another interesting nugget of information about the varied cost of equipment for the different series. 
"It is the only roadblock," Earnhardt said of the charter prices. "The way they're talking about this new car, it's going to be more expensive to be in the Xfinity Series than it would be to be in the Cup Series. I don't see how that's really possible. You know, the numbers that you hear as far as what the new car in the Cup Series is going to cost and how much it should cost to run it sound very conservative and very positive, too good to be true. But, we'll have to wait and see. 
"Hopefully, they're right that this car is much less expensive to operate, and it's much easier to manage a business as an owner in the Cup Series and more profitable. I hope that that's correct. But, if that does happen, then the Xfinity Series is going to have to change. Because it will be much more expensive to play in that space than it would to even be in the Cup Series. That doesn't work. It might be almost even, across the board, to run Truck versus a Cup car in expense, from the numbers I'm hearing."
JR Motorsports consistently a top Xfinity Series team
If Dale Earnhardt Jr. does take JR Motorsports to Cup, it's been an excellent run with the Xfinity Series. After joining the Series in 2006, Earnhardt was a big part of the organization's initial success, driving to a couple of race wins in that first season. Since then, he's watched the organization make huge strides with numerous other drivers. 
JR Motorsports has had a huge impact on the careers of many top drivers in the Cup Series today, including Brad Keselowski and Chase Elliott. Elliott won the first Xfinity Series championship for the organization in 2014 before winning the Cup title last year with Hendrick Motorsports. 
The organization won back-to-back titles in 2017 and 2018 with William Byron and Tyler Reddick, respectively.
If Earnhardt does make the move, there's no reason to think he won't build a successful team at the Cup level. He's got a proven track record with Xfinity and it's a certainty many top drivers would want to sign with his organization and its top-level equipment.
The coming months should be very interesting.
Like Sportscasting on Facebook. Follow us on Twitter @sportscasting19.