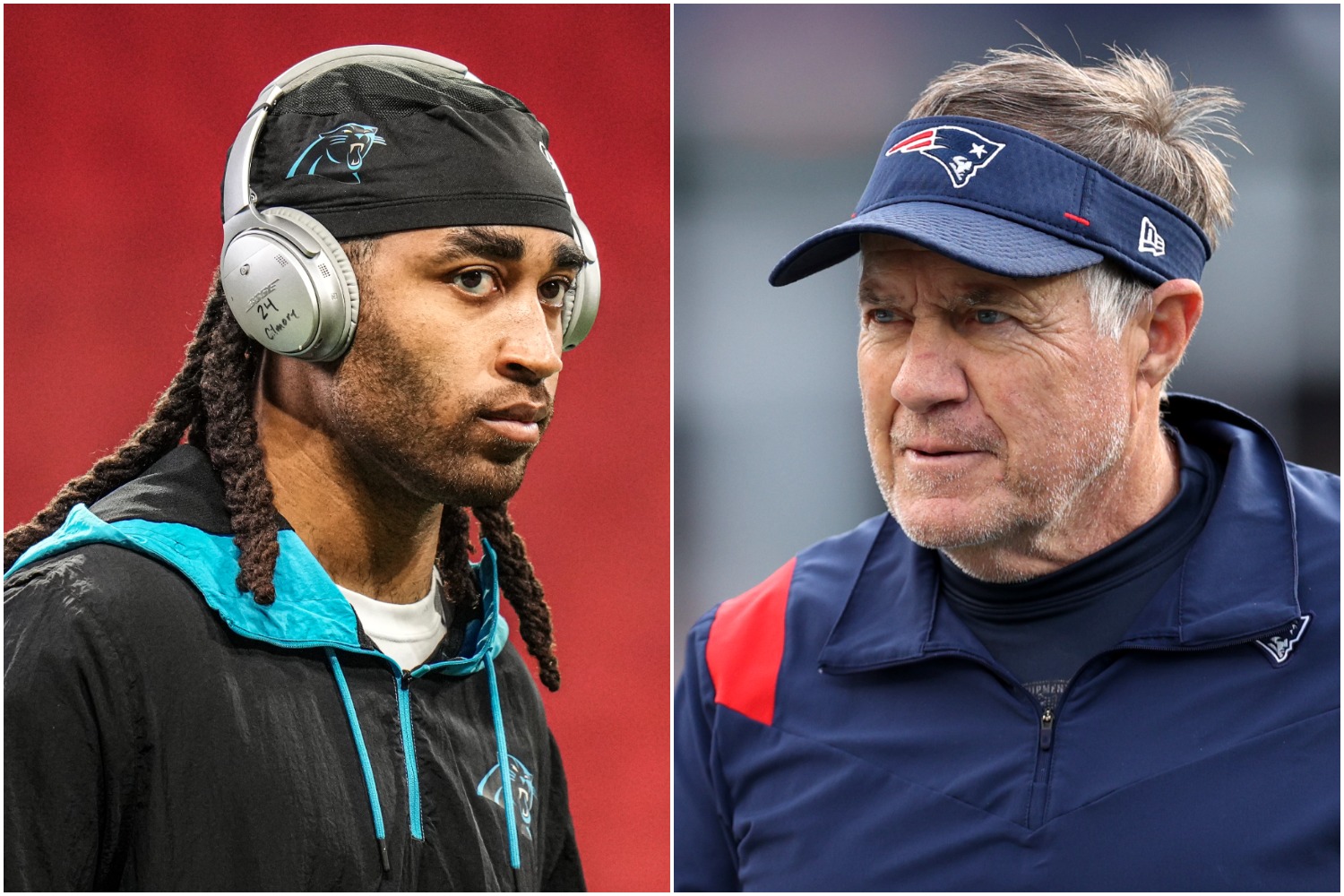 The Latest Update on Stephon Gilmore Doesn't Sound Promising For His Chances of Exacting Revenge Against Bill Belichick and the Patriots
Will Stephon Gilmore get revenge against Bill Belichick and the Patriots? The latest update on the Panthers corner makes the odds of that happening seem much lower.
Despite helping the New England Patriots secure a sixth Super Bowl victory, winning 2019 NFL Defensive Player of the Year honors, and justifying every penny of his five-year, $65 million free-agent contract, Stephon Gilmore still met a similar fate as many stars who shined playing for Bill Belichick. Like Richard Seymour, Logan Mankins, Chandler Jones, and Jamie Collins, the All-Pro cornerback went from calling Foxborough home to needing to search the real estate listings in another state because of contractual disputes.
While Gilmore didn't seem like a candidate to sign a multi-year extension, he also didn't seem like a candidate to fetch a third-day draft selection two years from now in a trade, either. However, to the dismay of Patriot Nation, Belichick sent his No. 1 cornerback to the Carolina Panthers for the shockingly low return of a 2023 sixth-round pick.
Luckily for Gilmore, he got a chance to return home and join a defense that features intriguing players on all three levels. And with his former team set to square off his current one on Sunday, there's no doubt he has revenge on his mind.
Although he may want to stick it to Belichick, Gilmore faces an uphill battle to accomplish that feat. In fact, the latest update on the talented defensive back doesn't sound particularly promising for his chances of making the Patriots pay for shipping him out of town for less than Sony Michel.
Coming off quad surgery to repair a partially torn quad, Gilmore essentially held out of training camp before starting the season on the physically unable to perform list. However, following the startling trade that shockingly netted New England only a future sixth-rounder, he returned to practice and received a promotion to the active roster. Carolina's new big-name corner made his debut in Week 8 against the Atlanta Falcons, coming up with a timely interception that preserved a much-needed win.
However, Gilmore only played 17 defensive snaps — a small number considering he rarely came off the field with the Patriots. That shows he isn't quite at 100% yet, which speaks volumes about the recovery process for his quad injury.
And while the 31-year-old should have an extra spring in his step thanks to an impending matchup against the Patriots, he doesn't sound likely to get revenge.
Panthers head coach Matt Rhule provided insight into the team's plan for Gilmore against New England. But even though it's been nearly a year since the ex-Patriots star suffered a partially torn quad, it's obvious he needs more time until he can handle a full-time role.
"I think plays just on third down is really kind of where we are right now," Rhule told reporters Thursday. "Then as we move down the line, maybe that will continue to grow. It will just depend on how he does health-wise."
Clearly, the second-year head coach doesn't plan on having the four-time Pro Bowler in the starting lineup anytime soon. And based on Rhule's comments, the Patriots should only have to face Gilmore in third-down situations.
That doesn't bode well for the corner's chances of getting revenge against the coach who signed the oft-burnt Jalen Mills to a four-year, $24 million contract but let money get in the way of keeping a player who can cover top-flight receivers.
On one hand, if the Patriots continue to run the ball effectively as they have in recent weeks, will Gilmore even get many opportunities to make plays? Damien Harris has looked fantastic, and he has the capability of grinding out tough yards and pulling off long runs.
Meanwhile, 6-foot, 227-pound rookie Rhamondre Stevenson brings an intriguing blend of size and power. If Josh McDaniels sticks with the ground game and keeps the Patriots in third-and-short situations, the Panthers may not need an extra cornerback.
Plus, Rhule already gave Belichick and his staff the advantage by confirming Gilmore is strictly a third-down player. If the Patriots only have to contend with him in those situations, they can simply avoid throwing the ball in his direction. Targeting a tight end or a running back matched up against a linebacker or safety would remove Gilmore from the equation entirely. Or, McDaniels could dial up a trick play (a major theme over the first half of the season) to put Gilmore in a disadvantage position.
Don't ignore the Belichick factor, either.
He has to understand the optics of the situation. He could certainly use help at cornerback, yet he recently traded away his best one for essentially nothing. The last thing Belichick needs is for Gilmore to pick off a Mac Jones pass and help the 4-4 Panthers defeat the 4-4 Patriots.
Remember, this is a coach who clearly took it upon himself to do everything possible in the preparation process to ruin Tom Brady's return to Gillette Stadium. The Patriots had a well-devised defensive strategy that gave the seven-time Super Bowl champion some challenges, and you can bet they will have a detailed scouting report and game plan for an important road matchup against Gilmore, too.
After all, if any team knows his limitations, it's certainly New England.
With a limited role and an opponent who knows his weaknesses, the Rock Hill native doesn't appear to be in a strong position to exact revenge when New England faces Carolina at Bank of America Stadium.
Then again, who envisioned Stephon Gilmore playing for the Carolina Panthers and Tom Brady, Rob Gronkowski, and Antonio Brown suiting up for the Tampa Bay Buccaneers in 2021?
Not even Bill Belichick could have predicted that.
Like Sportscasting on Facebook. Follow us on Twitter @sportscasting19.