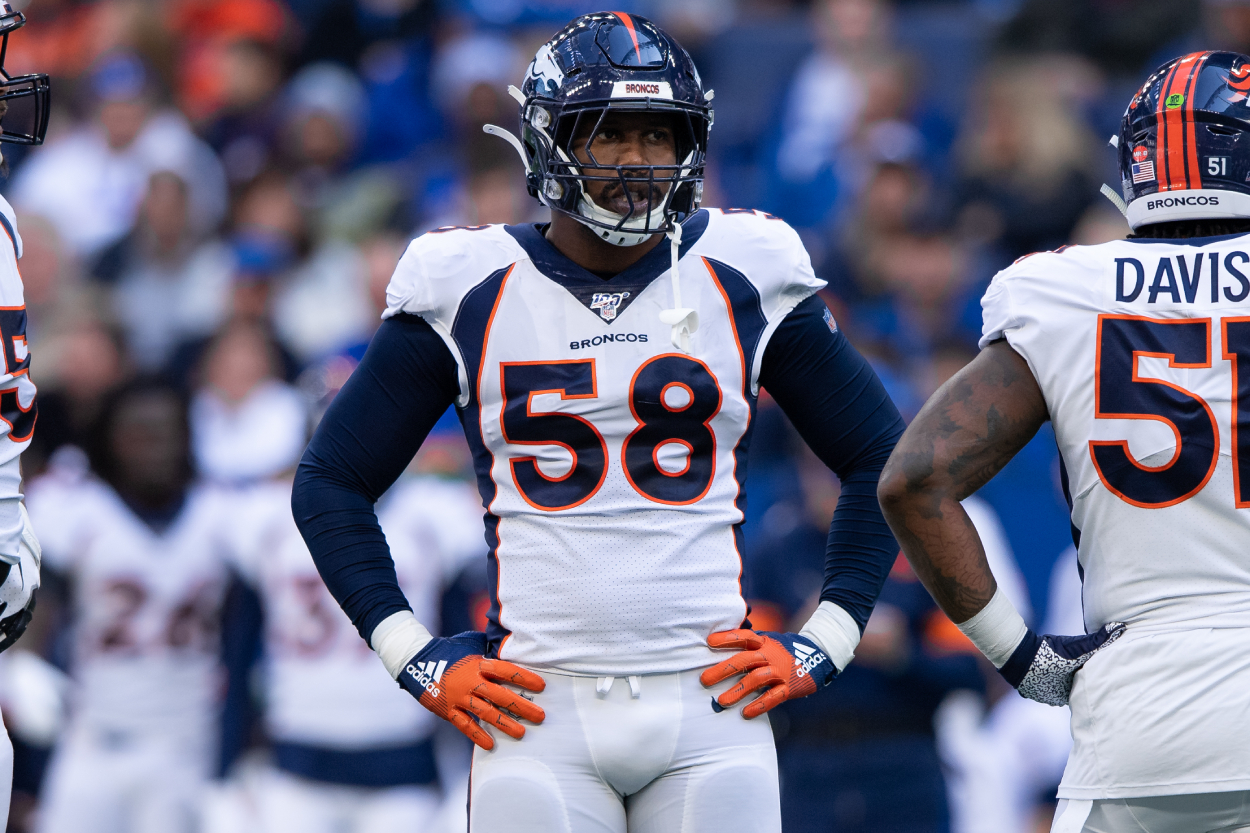 Latest Von Miller News May Alter the Broncos' $18 Million Decision
The Denver Broncos will have to make a decision on Von Miller in the very near future.
The Denver Broncos have a decision to make regarding their prized defensive star Von Miller. Miller, who missed all of last season with a torn ankle tendon, is in the final year of his record-setting $114.5 million contract extension. The latest news out of Denver throws a wrench into what the Broncos might be doing with Miller for the 2021 season.
Miller's devastating injury kept him out for 2020
Von Miller was just about to enter his 10th season in the NFL when he went down during a practice before the season opener. Miller suffered a "freak" ankle injury in a practice right before the start of the season. Miller had earned his sixth Pro Bowl after the 2019 season and he was primed to team up with Bradley Chubb to form a very strong pass-rushing tandem in Denver.
The injury took place on Sept. 8 and Miller had surgery three days later. He was placed on injured reserve a few days later, leaving the Broncos with a serious defensive hole. The Broncos were expecting big things from Miller after a very impressive offseason., according to head coach Vic Fangio.
"I was sad when it happened for a lot of reasons, mainly for Von," Fangio said to DenverBroncos.com. "Von has had a hell of an offseason. I kind of reiterated that to you guys many times. I didn't see him in the offseason, but I talked to him a number of times in the offseason. When you don't see someone with your own eyes, you're hesitant to believe or buy in, but I could just tell by the way we were talking and the things he was doing, that he had the mindset that he was going to come out and have a hell of a season. When we finally did get back together, it was true."
Miller plagued by recent off-the-field problems
In January, Von Miller was being investigated for interactions with his former girlfriend. According to The Washington Post, the incident included text messages allegedly sent from him that she shared on social media in early January.
On an Instagram story, Miller's ex-girlfriend, Megan Denise, shared an ultrasound image taken in early January and screenshots of text messages she said were from Miller. They read, "I'm honestly praying for a miscarriage," and, "I hate you! … You gon get yours! Believe that," The Washington Post Reported.
Denise went back to Instagram to clear up any questions surrounding Miller. "In light of recent media reports regarding my relationship with Von, I feel that I need to address a couple of things. First and foremost, at no point in our relationship was there any type of physical abuse or violence by Von, whatsoever," she wrote. "For anyone to say otherwise, or to speculate such, is wrong. With regards to my social media posts, a part was misconstrued and taken out of context. I do regret making a private situation public, and in doing so, bringing unwanted attention to both Von and myself."
The latest Von Miller update may alter Denver's plans
The Denver Broncos have a team option for the final year of Von Miller's contract. If the Broncos exercise the option before the March 16 deadline, $7 million of his $17.5 million salary is guaranteed. Should they elect to decline the option, Miller becomes a free agent and the Broncos save $18 million in cap space, according to The Washington Post.
Prosecutors in Colorado announced they will not be pursuing criminal charges against Miller. The Broncos have claimed they want Miller to return. "We want to bring Von back, and we're still working through that," Broncos GM George Paton told Denver media Friday. "I don't want to get into everything, but we want to bring him back. Obviously, the legal process and what he's going through, it's a serious situation."
If there are no pending charges against Miller and if he has shown he's back to full strength from his ankle injury, the Broncos will likely bring Miller back, saying goodbye to that $18 million cap savings.