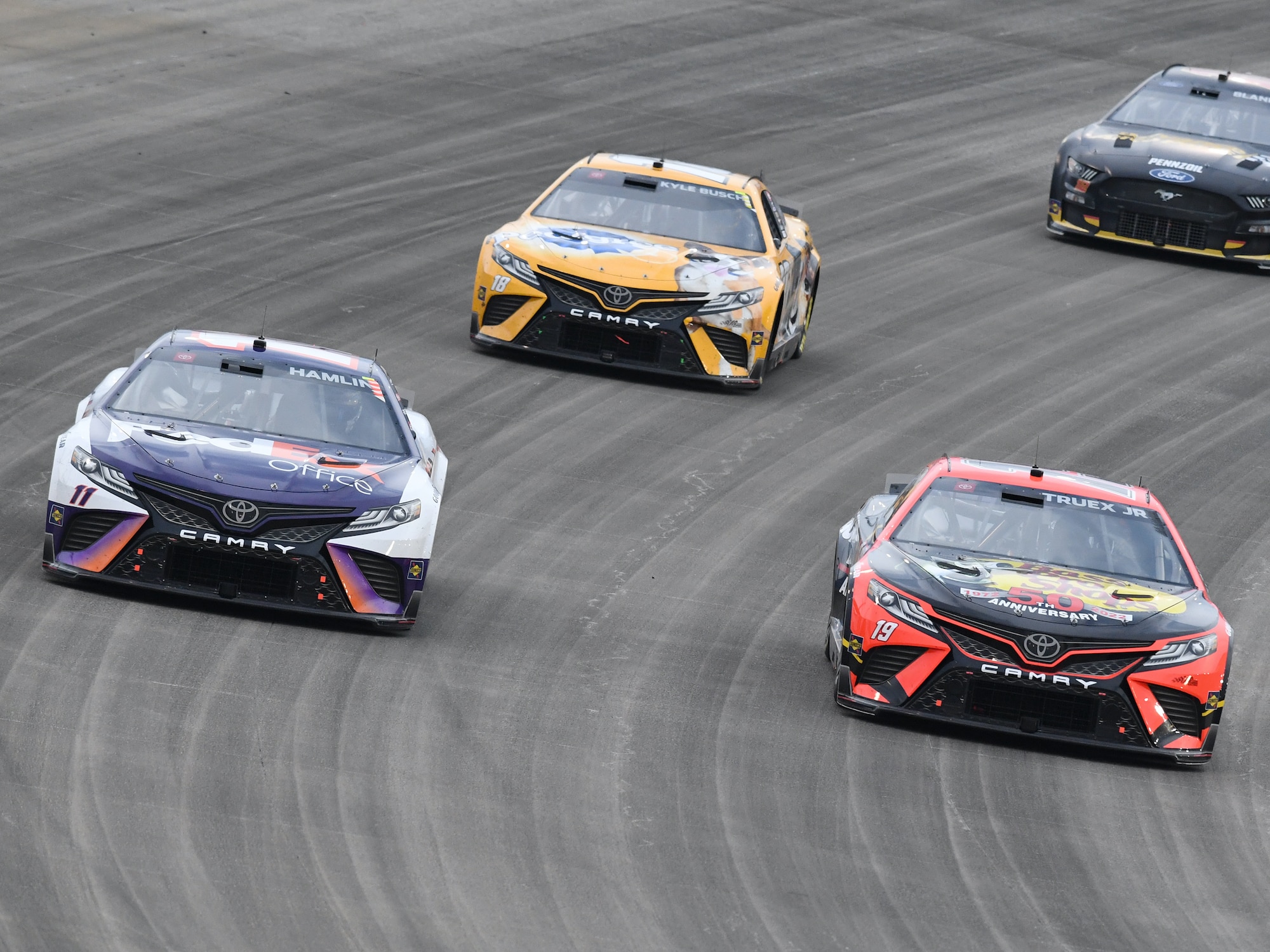 Leaked Documents Reveal NASCAR in Process of Going Electric as Soon as 2023
NASCAR made a big change in 2022 with the introduction of the Next Gen car. According to a new report, 2023 will continue that trend of change with the introduction of electric vehicles.
There's no denying NASCAR has introduced a lot of newness in the last 24 months, including the Next Gen car and the addition of new venues like Circuit of the Americas, Gateway, and the Clash at the Coliseum. And it doesn't appear to be slowing down anytime soon. 
This week officials announced a race through the streets of Chicago in 2023 that included a press conference with representatives from NASCAR and the city. That was the official big news of the week. There was also unofficial big news that came in the form of leaked documents that revealed plans to introduce an electric vehicle and accompanying exhibition series next year as well.  
Leaked documents confirm NASCAR introducing electric car in 2023
The introduction of the Next Gen car in 2022 has been one of the biggest changes in NASCAR's storied history. However, this is just the beginning based on leaked documents obtained by Kickin' the Tires. 
According to the website, NASCAR plans to debut a prototype electric vehicle during a demonstration race at next year's Clash. After this, the plan is to launch exhibition races in Q3 at six venues aligned with Cup Series races. Each event will feature two 30-minute races, one on Saturday and one on Sunday. 
If all goes well during the exhibition test period in 2023-24, the hope is for a potential competitive series beginning in 2025.   
NASCAR admits to exploring electric vehicles in past
While NASCAR didn't officially comment on the document, it does align with what officials have said in the past. Earlier this year, NASCAR Chief Operating Officer Steve O'Donnell acknowledged they were studying the potential of running an exhibition series with electric vehicles. 
"We are exploring some opportunities around an exhibition series in that space, and as everyone knows, there is a huge push across all of our OEM partners and potentially new OEM partners, so it is important for us to explore that space," O'Donnell said in a teleconference following his promotion. "I think there is a lot of interest from our current partners to be part of that but we look at NASCAR as a place where in an ideal world we'd be all things to all things to all people. 
"So, if you went to a NASCAR event weekend, you could see whatever type of technologies you wanted throughout a race weekend, so we will take a look at an electric series. If we are going to get into an electric space, I promise you it will be entertaining and it will be something that fits into our portfolio and something our fans will be proud of." 
Dale Earnhardt Jr. recently expressed feelings of many fans on electric vehicles
Last week during the "Ask Jr." segment of the Dale Jr. Download, Dale Earnhardt Jr. was asked about an identity crisis with the Xfinity Series and what he would do to address it. The NASCAR Hall of Famer provided a detailed answer that included how NASCAR is exploring electric cars, and also added how he and a lot of fans would feel about such a move. 
"The Xfinity Series, the Truck Series, and the Cup Series have to matter to the manufacturers," Earnhardt said. "The Truck Series matters to the manufacturers because, well, they're trucks. Cup Series matters because that's the elite top series, and they sell sedans. The Xfinity Series has kind of lost its purpose. What is its purpose to the manufacturer? 
"The pony car thing was cool for a while, but the manufacturers obviously aren't married to selling pony cars every year. They can sell them regardless. The Camaro, the Mustang, or whatever. I don't think that the Xfinity Series is having a huge impact on automotive sales in that market. There needs to be a bigger purpose for the manufacturers or some specific purpose for the manufacturers to want that Xfinity Series to be there. Whether it's a type of engine. Could be that. The electric car. None of us love the idea an electric series in stock car racing. I don't think any of us really love it."
It might not be something that fans love now, but as Earnhardt suggested, NASCAR has to appeal to the manufacturers, which are producing more electric vehicles each year. That's the trend of the automotive market and NASCAR is doing its best to reflect that shift. Whether fans like it or not, they will have to accept it because it's the future of cars on and off the race track.
Like Sportscasting on Facebook. Follow us on Twitter @sportscasting19 and subscribe to our YouTube channel.