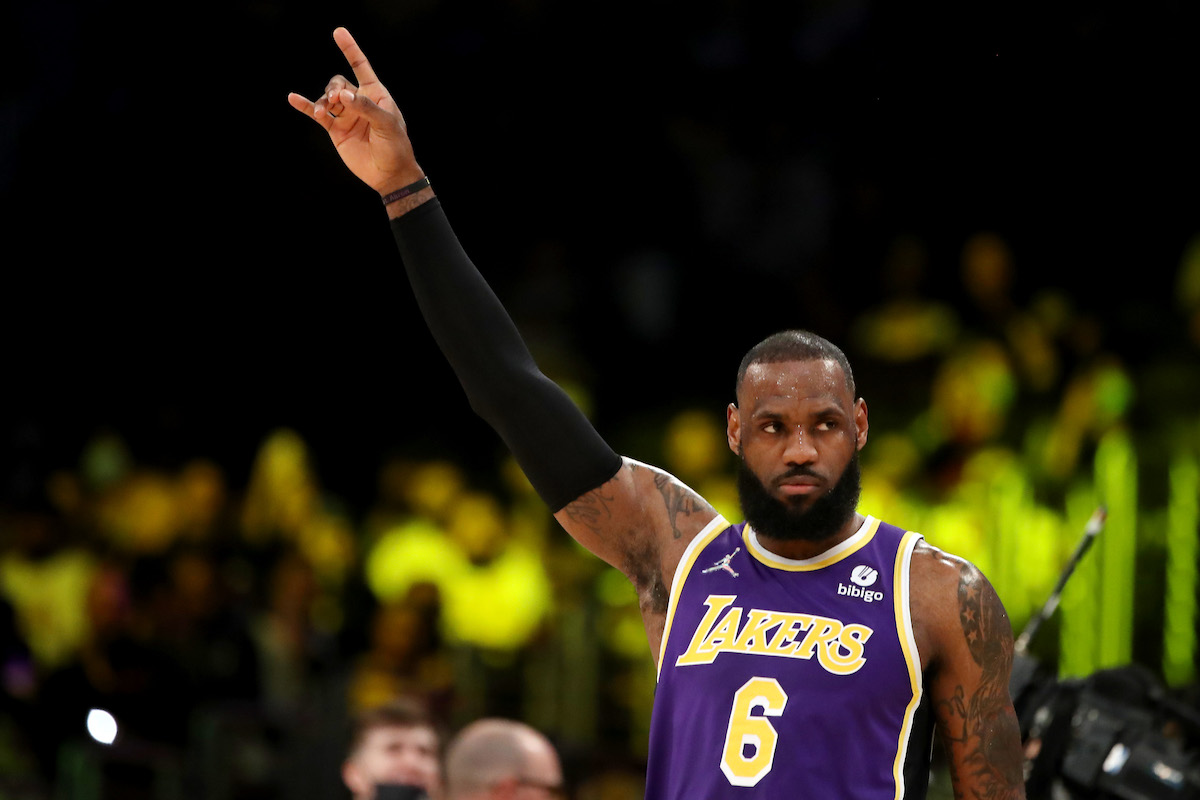 LeBron James Highlights: Lakers Star's Top 5 Games of 2021-22's 1st Half
LeBron James has submitted fantastic performance after fantastic performance during the 2021-22 season. But which stand out as his best?
LeBron James highlights and the NBA living legend himself often don't make sense.
The Los Angeles Lakers superstar continues to defy the expectations typically associated with players in their age-37 seasons. While the Purple and Gold are struggling to remain in the Western Conference playoff picture due to a failed Russell Westbrook integration, perpetual Anthony Davis injuries, and a supporting cast that has failed to make sense from the start, James has put together yet another fantastic individual campaign.
Averaging 29.1 points, 7.9 rebounds, 6.5 assists, 1.6 steals, and 1.0 blocks while slashing 52.2/35.3/74.8, he's left little doubt that he deserved the 18th All-Star nod of his career, which resulted in a memorable game-winner, and should feature on at least a few MVP ballots (not necessarily at the top) despite his team's victory-column struggles.
But which games from the season's opening half stand out as his best individual performances? We're measuring that objectively by taking his game score in each contest, multiplying it by an opponent difficulty modifier (determined by the average game score against that franchise throughout the 2021-22 season), and adding his individual plus/minus to get to the final adjusted score.
5. Nov. 28 against the Detroit Pistons: 43.63 adjusted score
Game Result: 110-106 victory
Individual Line: 33 points, 5 rebounds, 9 assists, 2 steals, 1 blocks
Score: 30.7 game score, 0.965 opponent difficulty modifier, 14 plus/minus
Might some extra motivation have been in play here?
This was the first time James and Isaiah Stewart shared the floor after their altercation seven days earlier led to suspensions for both players. The Los Angeles Lakers got the better of the Detroit Pistons the first time around, and the result was no different in the follow-up contest.
But was the motivation coming from the altercation or a triple-overtime loss to the Sacramento Kings two days earlier?
"We were mad as heck the other night after that Sac loss," James said, per ESPN. "We made it a point to come in today very focused on our game plan, learning from our mistakes, and we got better. Right there lets me know we're a team that cares and wants to get better."
Stewart was booed throughout the proceedings, and James drew nothing but adoration from the Lakers faithful as he exploded for 33 points and nine assists on 12-of-20 shooting from the field and a 4-of-9 showing from downtown.
4. Jan. 25 against the Brooklyn Nets: 43.98
Game Result: 106-96 victory
Individual Line: 33 points, 7 rebounds, 6 assists, 3 steals, 2 blocks
Score: 34.2 game score, 0.993 opponent difficulty modifier, 10 plus/minus
James has gotten up for the Brooklyn Nets each time they've met in 2021-22. First came a 39-point, nine-rebound, seven-assist performance in a seven-point Christmas Day loss to the supposed Eastern Conference power, and then came revenge in the form of a (slightly) diminished individual line but superior team performance.
That matters here since James' 34.2 game score while outscoring the Nets by 10 when he was on the floor in a victory narrowly outpaced a 34.6 game score while outscoring the Nets by nine when he was on the floor in a loss.
James set the tone with an alley-oop feed to Anthony Davis on the opening possession of the second meeting, and he didn't slow down from there. Going full-court in just five seconds to beat the first-quarter buzzer with a scooping, pseudo-hook-shot layup furthered the momentum, and a 12-point third quarter essentially put the Lakers into comfort mode during a sweat-free final period.
By the time he jumped a James Harden entry pass to James Johnson and took it all the way for a thunderous tomahawk jam with seven minutes left that expanded LA's lead to 13 points, he'd left little doubt he was submitting one of his signature 2021-22 performances. Not to mention his 18th consecutive game with at least 25 points as part of a streak that reached 23 heading into the All-Star break.
3. Dec. 7 against the Boston Celtics: 44.0
Game Result: 117-102 victory
Individual Line: 30 points, 4 rebounds, 5 assists, 0 steals, 0 blocks
Score: 23.6 game score, 1.102 opponent difficulty modifier, 18 plus/minus
You know you're in for something exciting whenever the Los Angeles Lakers and Boston Celtics meet in a continuation of their storied rivalry, and LeBron James provided the fireworks during this Dec. 7 edition.
Jayson Tatum's 14-point first quarter had the road team feeling good 12 minutes in, but the Lake Show responded with aplomb. An aggressive Russell Westbrook submitted one of his best lines in the Purple and Gold, and James used the attention his point guard grew to thrive everywhere else. He turned the ball over just three times and went 13-of-19 from the field, essentially maximizing the possession each time he touched the rock.
When James can get to the basket seemingly at will, the other team is in trouble. Such was the case during this 15-point victory as he knocked down a few early jumpers and then used the Celtics' hesitation about his perimeter exploits to become a dominant force attacking the interior.
2. Dec. 10 against the Oklahoma City Thunder: 50.34
Game Result: 116-95 victory
Individual Line: 33 points, 5 rebounds, 6 assists, 3 steals, 2 blocks
Score: 31.1 game score, 1.008 opponent difficulty modifier, 19 plus/minus
The Oklahoma City Thunder haven't been the toughest foe in 2021-22, though their opponent difficult modifier masks that fact. That's likely because they've been blown out frequently enough that star players can sit during the fourth quarter, allocating more minutes to players deep on the bench and driving down the average game score against them by virtue of an elevated denominator.
James fell into that pattern, scoring only two points in the final period, but he was just that dominant during the three quarters prior. In the game's first 36 minutes, the Akron, Ohio, native exploded for 31 points and four assists while shooting 12-of-17 from the field and 4-of-6 from long-range territory.
The highlight among many highlights? A backdoor cut past Mike Muscala that resulted in a slick feed from Carmelo Anthony and a dunk at the expense of a foolish contest from 6-foot-3 point guard Tre Mann.
1. Dec. 31 against the Portland Trail Blazers: 57.44
Game Result: 136-106 victory
Individual Line: 43 points, 14 rebounds, 4 assists, 2 steals, 2 blocks
Score: 40.8 game score, 0.967 opponent difficulty modifier, 18 plus/minus
James scored at least 30 points a staggering 24 times during the season's first half, but 43 stood out as the highest number and came at the expense of the Portland Trail Blazers during a game played without CJ McCollum, Jusuf Nurkic, Anfernee Simons, Robert Covington, and Anthony Davis.
The four-time MVP came out gunning, shooting 6-of-10 from the field en route to 15 points, seven rebounds, two assists, zero turnovers, and a 43-28 lead at the end of the first quarter. Opponents are typically doomed when he calmly steps into a no-doubt trey from the left wing on the opening possession of the game and then gains a switch and overpowers his adversary for an and-1 bucket later in the contest's first minute.
Of course, the party had really started the night before. James celebrated his 37th birthday one day prior, and this marked his first outing of the next chapter of his long-standing defiance of Father Time. Only Kareem Abdul-Jabbar, Kobe Bryant, Jamal Crawford, Michael Jordan, Karl Malone, and Dirk Nowitzki have joined him in the 40-point club at such an advanced age.
All stats, unless otherwise indicated, courtesy of Basketball Reference.