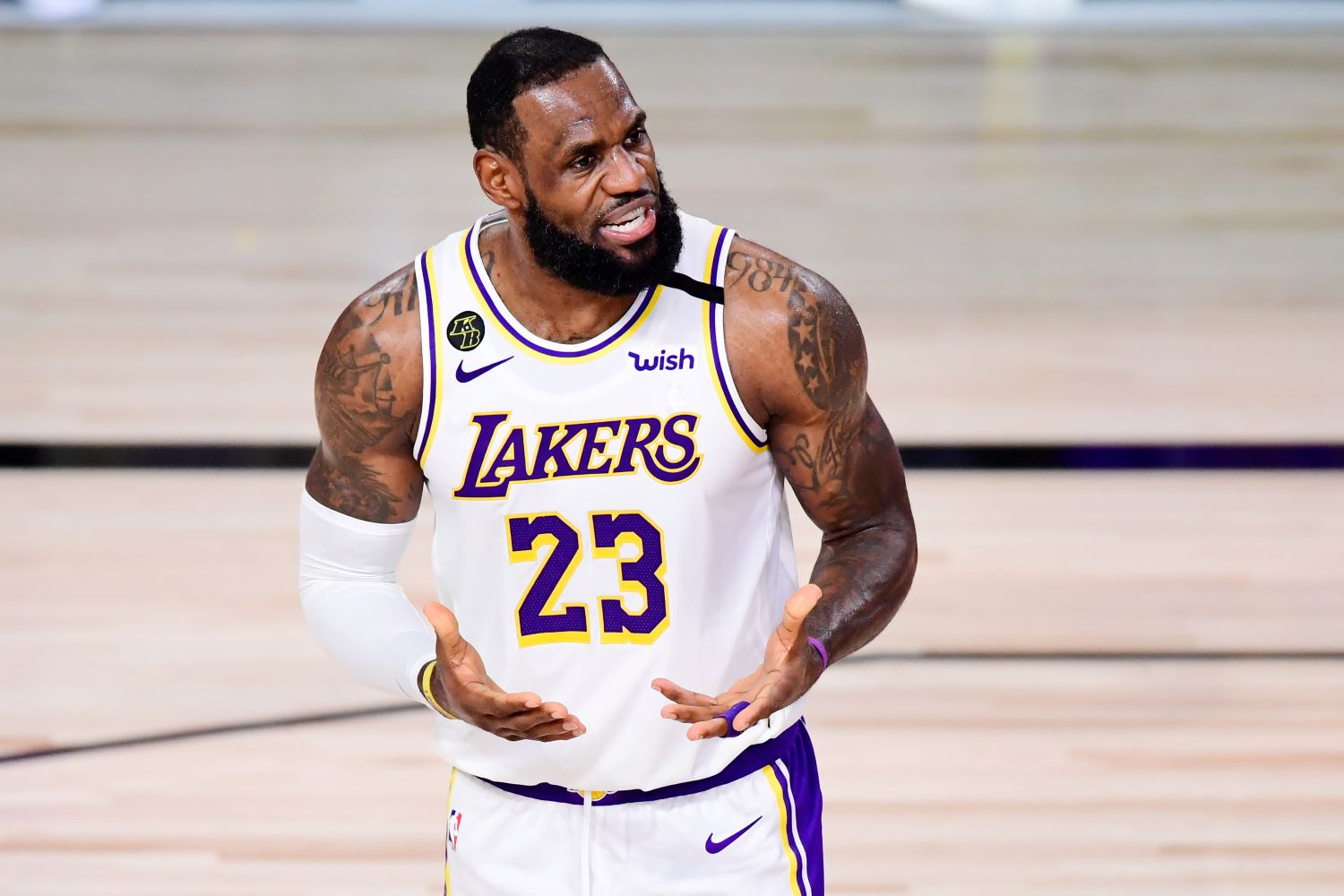 LeBron James Just Proved Why He'll Never Surpass Michael Jordan as the GOAT
LeBron James just proved why he will never surpass Michael Jordan as the GOAT with a social media post that shows his insecurity.
When LeBron James finally retires, it will mark the end of one of the most impressive careers in the history of professional sports. After all, he has accomplished just about everything possible since entering the NBA in 2003. Yet, even after leading the Los Angeles Lakers to their 17th title in franchise history, James just proved why he'll never surpass Michael Jordan as the GOAT.
LeBron James just added another NBA title to his legendary resume
LeBron James entered the NBA with the expectation that he could one day surpass Michael Jordan as the greatest player in league history. Seventeen years later, he certainly has put together a resume worthy of the GOAT title.
Of course, Jordan separated himself from every other all-time great by turning the Chicago Bulls into a dynasty. His Airness won six NBA titles and routinely delivered in the most pressure-packed moments.
Despite putting up prolific numbers, James couldn't turn the Cleveland Cavaliers into a championship squad. He infamously took his talents to South Beach and ended up winning back-to-back titles with the Miami Heat. A return to Cleveland allowed the Ohio native to finally bring a title to his hometown.
With his career winding down, James joined the Lakers, who assembled a veteran-laden roster around the four-time MVP. The duo of LeBron and Anthony Davis carried LA to its 17th title in franchise history by beating James' former team in six games.
James just proved why he will never surpass Jordan as the GOAT
Even after adding a fourth NBA title to his legendary resume, LeBron James still seems to think he's "disrespected" by fans and the media. In fact, the Lakers star took to Instagram to send a stern message to his critics. However, in doing so, he just proved why he will never surpass Michael Jordan as the GOAT.
In his caption, James wrote, "I know they'll make up another criteria that nobody else has ever had in the history of the game. But Guess what though, bring it on please!! Heavy is the head that holds the [crown emoji] they say. Let's get it!"
James' message illustrates the vast difference between his mindset and Jordan's. Given his lengthy list of accomplishments, the Lakers star shouldn't need to write a social media message to prove his worth.
Jordan became the GOAT due to his unmatched competitiveness and supreme self-confidence. The former Bulls star didn't need to send messages; he let his play do all the talking.
James certainly deserves credit for leading LA to another NBA title. Yet, it has become quite clear that he will never surpass Jordan due to his own insecurity. At this point in his career, he shouldn't have to resort to publicly demanding respect or playing a "revenge" angle that he seemingly made up himself. It seems downright silly that James believes he still needs to be shown respect given his status as the NBA's biggest star.
LeBron's legacy is still unfinished
At the end of the day, LeBron James and Michael Jordan changed the game of basketball in numerous ways. Even casual NBA fans will talk about both stars for generations to come. However, Jordan's six rings and unmatched swagger make him the greatest player of all time.
Still, James can add to his legacy before he retires. The 35-year-old should have at least a few more years left in the tank, which gives him a chance to secure at least another title or two.
Of course, that hinges on the Lakers' ability to keep their championship core intact. LA needs to sign Anthony Davis to a contract extension to keep the talented big man by James' side.
If those two continue to dominate opponents, the Lakers could very well hoist another championship banner before King James hangs 'em up. But even if he adds more rings to his collection, he will never surpass Michael Jordan as the GOAT.
Ultimately, LeBron James will be remembered as the best player of his generation whose own self-doubt and attitude prevented him from ever surpassing the man he has been compared to since high school.
Like Sportscasting on Facebook. Follow us on Twitter @sportscasting19.