LeBron James and Kobe Bryant Had an Unspoken Battle During the 2008 Olympics: 'It's Like 2 Alpha Dogs Being in the Same Room'
For several years, LeBron James and Kobe Bryant were the two best basketball players on the planet. The debate amongst hoops fans at the time was simple: Kobe or LeBron? Bryant was the Lakers' superstar during those years, while James was the Cavs' savior. They were both two warriors trying to get their teams to their top. However, a couple of times, James and Bryant were actually teammates. This occurred during the Olympics, as the two legends put on a show together overseas, specifically on the 2008 Redeem Team. While Kobe and LeBron helped the U.S. win the gold medal that year, they both supposedly had an unspoken battle with each other.
LeBron James and Kobe Bryant were the two best players in the world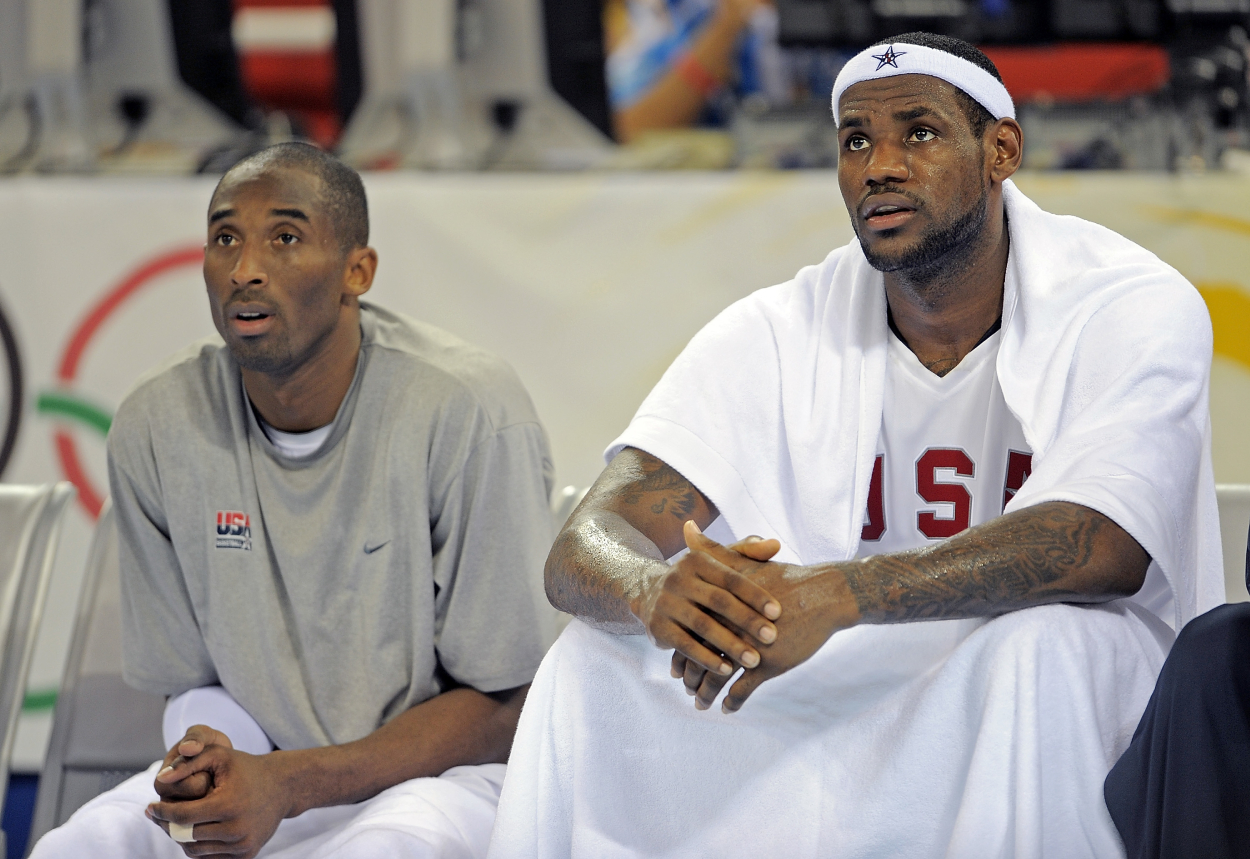 RELATED: Kobe Bryant's Former Lakers Teammate Called Him Weeks After His Death: 'It Took Me Some Time to Even Really Accept It'
In 2008, Bryant was right smack dab in the middle of his prime, and James was near the beginning of his. Bryant had just led the Lakers to the NBA Finals during the 2007-08 season. James, on the other hand, led the Cavs to the Finals the year before. Bryant also won the league MVP award during 2007-08, as he averaged 28.3 points, 6.3 rebounds, and 5.4 assists. James led the NBA in scoring that same year with 30 points per game, to go with 7.9 rebounds and 7.2 assists.
During that summer, though, the two stars actually teamed up and led the Redeem Team in the 2008 Olympics. The U.S. was absolutely stacked that year and dominated its competition, going 8-0 and winning the gold medal. Dwyane Wade led the team in scoring with 16 points per game, but James and Bryant played the most minutes on the squad. James also recorded 15.5 points, 5.3 rebounds, and 3.8 assists, while Bryant added 15 points per game and 2.8 rebounds.
The two future legends then left and continued dominating in the NBA after the Olympics. Bryant won the next two NBA championships, and James earned the league's next two MVP awards.
However, while they may have battled each other with the Lakers and Cavs during those NBA seasons, Bryant and James also had an unspoken battle against each other while on that 2008 Redeem Team.
The NBA legends had a silent battle during the Olympics
RELATED: LeBron James' Famous Rapper Friend Once Settled a Beef for Him by Releasing a Diss Track During an Intense Playoff Series
On the Redeem Team, Bryant and James played with Deron Williams. In an appearance on The Ringer's Real Ones podcast, Williams discussed what it was like playing with the two best players in the world that year.
"They were great friends, and their interaction was amazing," Williams said on the March 4 episode. "But it's hard not to see that (friendly competition). Because it's like two alpha dogs being in the same room. They want to assert their dominance."
James, though, went about things differently than Bryant and vice versa.
"LeBron is more playful, a little less serious, but works just as hard," Williams added. "Kob is more just about his business, and still let loose with us and still had fun with us, but it's just two different personalities. It was fun to see."
LeBron James and Kobe Bryant are two NBA legends
RELATED: LeBron James' Raw Emotions Made Doris Burke Do Something She Had Never Done on Live TV
Bryant and James also won the gold medal together during the 2012 Summer Olympics. However, in addition to their Team USA success, Kobe and LeBron proved to be two of the greatest basketball players ever.
Bryant concluded his career as an 18-time All-Star, five-time NBA champion, two-time NBA Finals MVP, and won the 2007-08 league MVP award. His 33,643 career points are also fourth in league history.
James, on the other hand, is in his 18th NBA season and is a 17-time All-Star, four-time NBA champion, four-time Finals MVP, and a four-time NBA MVP. The King is also third all-time in points with 35,283 and eighth in assists with 9,669.
Kobe and LeBron may have been the two best basketball players during the 2008 Olympics, but they also became two of the greatest players of all time. They are two NBA legends.
Stats courtesy of Basketball Reference