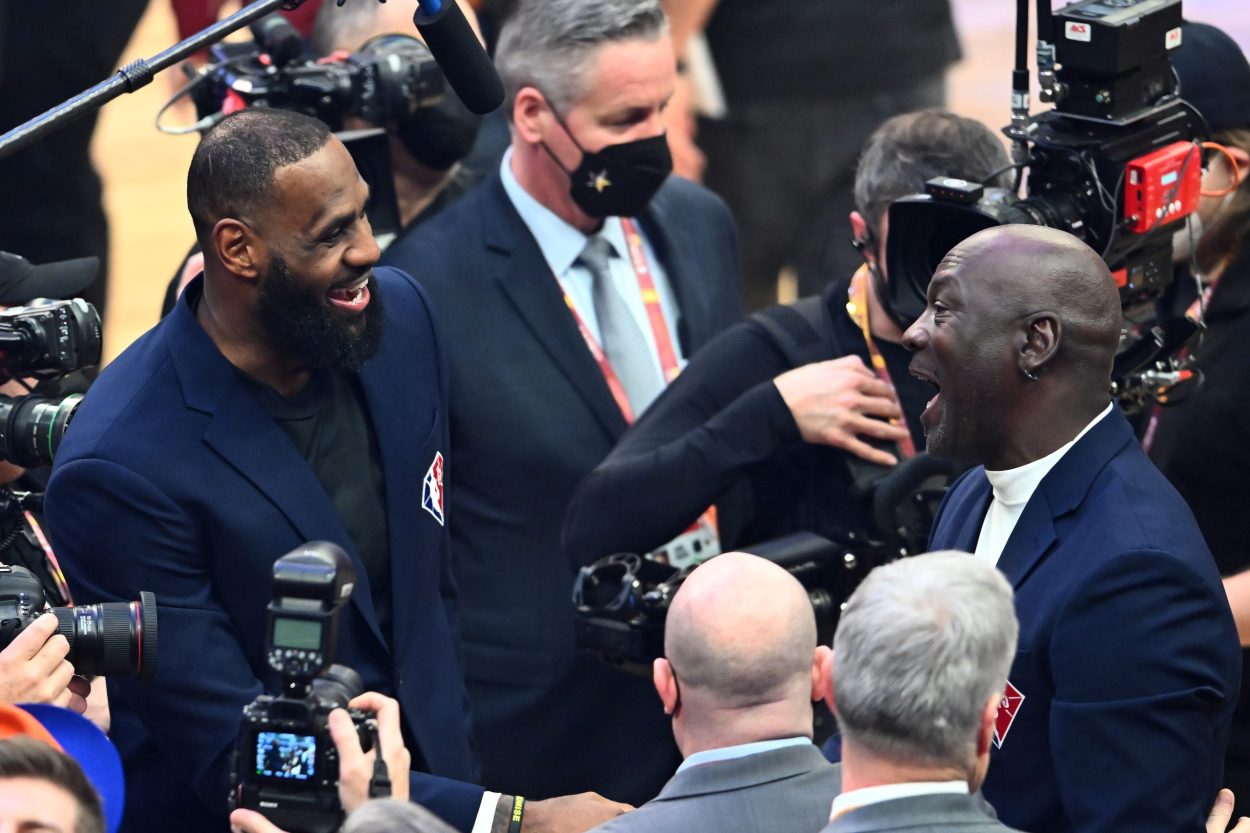 LeBron James 'Never Called' Michael Jordan After MJ Gave The King His Phone Number
Michael Jordan gave LeBron James his phone number. The King never gave his boyhood idol a ring.
LeBron James grew up idolizing Michael Jordan. The two are inexorably linked in the annals of NBA history. Yet, King James has consistently tried to blaze his own trail from Day 1.
James took the torch from Jordan and Kobe Bryant as the NBA's foremost ambassador. He shared a nice moment with MJ during All-Star Weekend and later spoke about Mike's influence on his life. Still, in terms of building a relationship and consistent interaction, there isn't much there.
Seasoned NBA reporter Jackie MacMullan explained on a recent episode of The Ringer NBA Show that His Airness once approached a young LBJ and offered him guidance as he took the first steps on his path to greatness. But LeBron never sought Mike's advice.
Michael Jordan and LeBron James are universally considered two of the best players in NBA history
When discussions of the "best player in NBA history" arise, fans and people in the basketball community (whether media or former players) typically refer to the same two names: Jordan and James.
His Airness took the growth that Larry Bird and Magic Johnson helped the NBA achieve in the 1980s and elevated the sport even further, largely transcending athletics as a global figure. The continued success of Jordan Brand (even during the pandemic) illustrates Jordan's impact on the culture.
James has had a similar impact since being anointed as "The Chosen One." He's been the Jordan-esque figure for many modern NBA stars and still represents the sport at the highest level at age 37.
Few men have captured the love and adoration of the masses like MJ and LBJ. Fewer still have exposed themselves to the amount of everyday scrutiny they go through.
Jordan allegedly gave James his contact information and offered to speak with LeBron whenever necessary to navigate said scrutiny. However, The King hit the ground running and never looked back.
James never called Jordan after MJ gave LBJ his phone number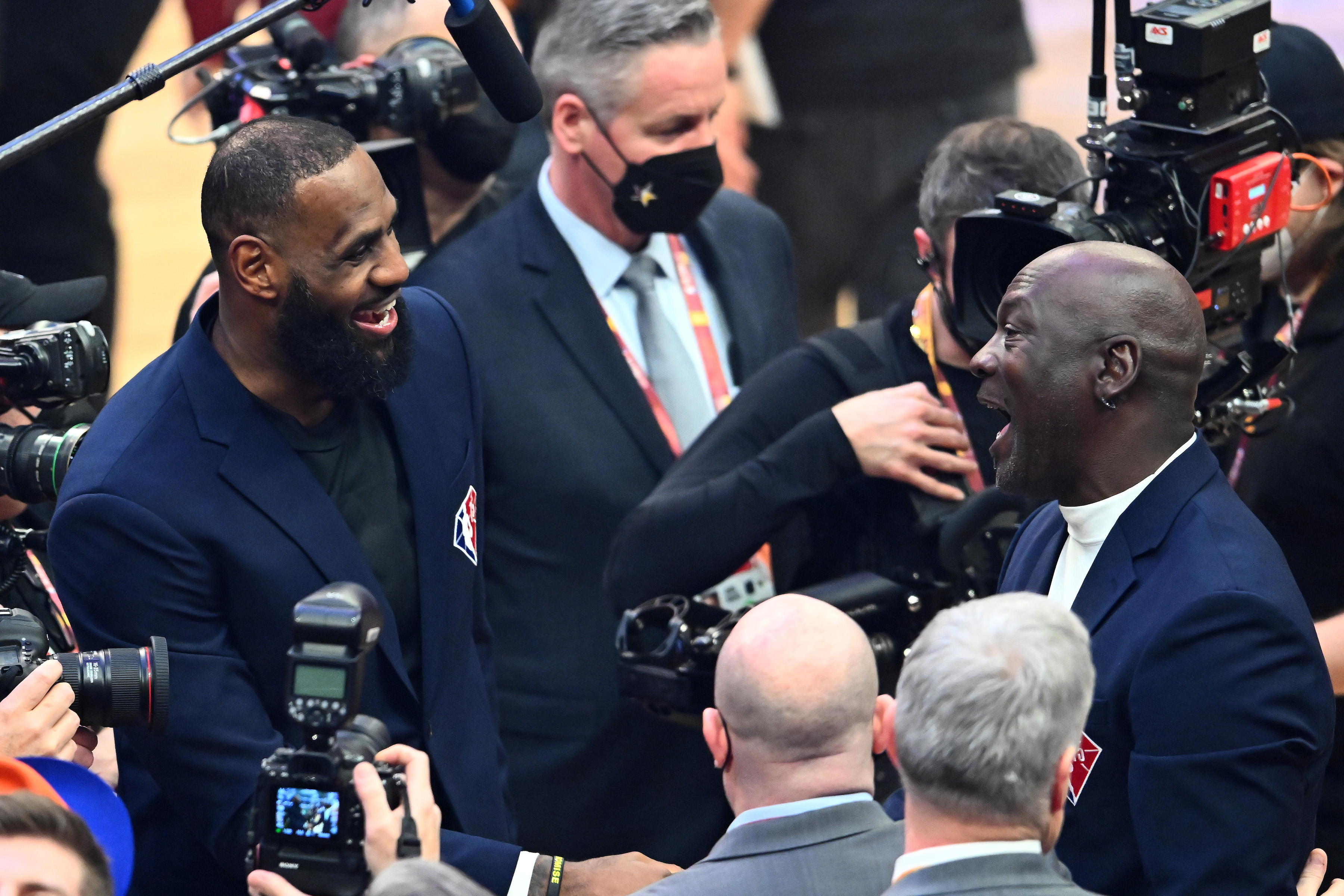 Given LeBron James' past idolization of Michael Jordan, one might imagine that he'd relish the chance to speak with his hero, especially given he was 18 years old when he came into the NBA. But that wasn't the case.
According to Jackie MacMullan (h/t The Ringer NBA Show), Jordan approached the young phenom and told James he'd always be available to speak should the St. Vincent-St. Mary star ever feel the need.
"Here's my number. If you need anything, just call."

–Jackie MacMullan summarizing an early encounter between Michael Jordan and LeBron James
Well, LeBron never took Mike up on that offer.
"And guess what? LeBron never did [call Jordan]."

–Jackie MacMullan
Interestingly, MacMullan said early in the episode that Jordan had the same mentality and sense of individualism when approached by Julius Erving early in his own career. As MacMullan suggested, the stories evoke a bit of a trend among all the great players in league history.
Indeed, James has had a wholly separate journey from Jordan. They are also two drastically different players. It's why the comparisons and GOAT arguments need to end.
Appreciating the distinctness of their legacies
LeBron James and Michael Jordan are two uniquely gifted and motivated individuals. They should be treated as such.
It seems like an annual occurrence that fans and the media try to pit James and Jordan against one another in NBA GOAT debates. For the most trivial reasons, as well. Why does this keep happening? Shouldn't everyone learn to appreciate the physical and intangible traits that make both men giants in the sport?
LeBron and Mike had wholly distinct experiences in different eras, though both rank among the most highly-motivated individuals ever to grace the hardwood. They play nothing alike and mastered different facets of the game.
Is it a bit surprising that a teenage James declined to call MJ, or that he never reached out upon his infamous move to South Beach or amid a tumultuous rookie season? Sure, given the associations between the two men, that makes for a reasonable conclusion.
However, MacMullan's stories more so highlight how the assumption of responsibility and motivation to build a legacy helped forge two of the greatest players in NBA history. Everyone who has had the privilege to watch both should feel so fortunate.