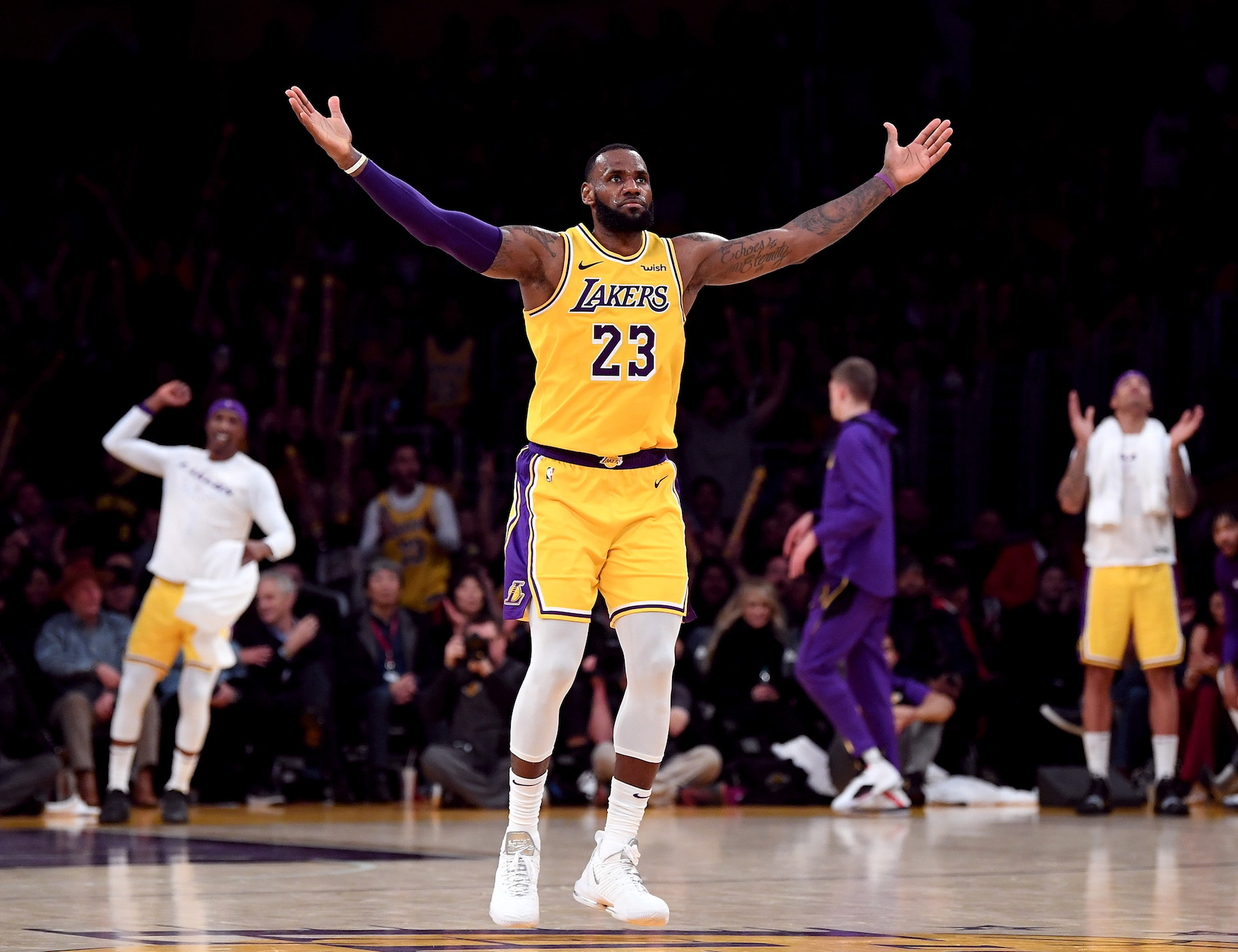 Lebron James Used $2.5 Million of His Fortune Paying Tribute to the Athlete He Considers the GOAT
During his time on the hardwood, LeBron James has built up quite a fortune. In 2016 he used some of that money to pay tribute to the GOAT.
While you'll never get sports fans to agree on who deserves to be called the GOAT, LeBron James has a legitimate shot at the title. During his time in the NBA, the current Los Angeles Lakers forward has established himself as a star, capable of lifting any team to relevance. King James, however, doesn't believe that he's worthy of the crown.
For all of James' success, he believes that one specific athlete is the true GOAT. Beyond showering that man with praise, King James has also used $2.5 million of his fortune to keep his legacy alive.
LeBron James has become a living basketball legend
While asking a basketball fan to compare LeBron James to Michael Jordan won't be a productive exercise, everyone can agree on one thing. GOAT or not, King James has had an impeccable career.
In the early 2000s, James burst onto the national stage. Despite the fact that he was a teenager suiting up for St. Vincent-St. Mary High Schoool, LeBron became a household name. After he entered into the 2003 NBA draft, his star only continued to rise.
James started his professional career with the Cleveland Cavaliers before infamously leaving town in The Decision. While his time in Miami might not have been as successful as he predicted, King James did win two NBA titles in Florida. He then returned to Ohio and brought a championship back to Cleveland.
While LeBron is yet to win another ring with the Lakers, his time in Hollywood has proved that he's still a star. Before the coronavirus placed the 2019-20 season on pause, he was averaging 25.7 points and a career-high 10.6 assists per outing.
Hailing Muhammad Ali as the GOAT
Somewhat surprisingly, LeBron James picks for the GOAT comes from outside the world of basketball. Instead of picking someone like Michael Jordan, King James highlighted Muhammad Ali's overall impact on both sports and society.
"As I got older and started to read about him and watch things about him, I started to realize what he did in the ring was secondary to what he meant outside of the ring—just his influence, what he stood for," LeBron explained after Ali's death, according to For The Win.
"The reason why he's the GOAT is not because of what he did in the ring, which was unbelievable. It's what he did outside of the ring, what he believed in, what he stood for, along with Jim Brown and Oscar Robertson, Lew Alcindor—obviously, who became Kareem [Abdul-Jabbar]—Bill Russell, Jackie Robinson," James continued. "Those guys stood for something. He's part of the reason why African-Americans today can do what we do in the sports world. We're free. They allow us to have access to anything we want. It's because of what they stood for, and Muhammad Ali was definitely the pioneer for that."
LeBron used $2.5 million to keep Muhammad Ali's legacy alive
Thanks to his basketball talent, endorsements, and investments, LeBron James has built up a $480 million net worth. In 2016, he used some of that money to help keep Muhammad Ali's legacy alive.
As documented in an AP Report that's still live on NBA.com, James donated $2.5 million "to support an exhibit honoring Muhammad Ali exhibit at the Smithsonian National Museum of African American History and Culture in Washington." Maverick Carter, James' friend and business partner, also made a donation to support the exhibit.
Their support of The Greatest didn't end there, though. James and Carter served as executive producers on "What's My Name | Muhammad Ali Part I," a documentary about the late boxer. The program aired on HBO, was well-received, and recently won a Sports Emmy.
Even if he's not your pick for the GOAT, LeBron James deserves his credit. Not only is he successful both on and off the court, but he's using his status to honor those who came before him.
Stats courtesy of Basketball-Reference