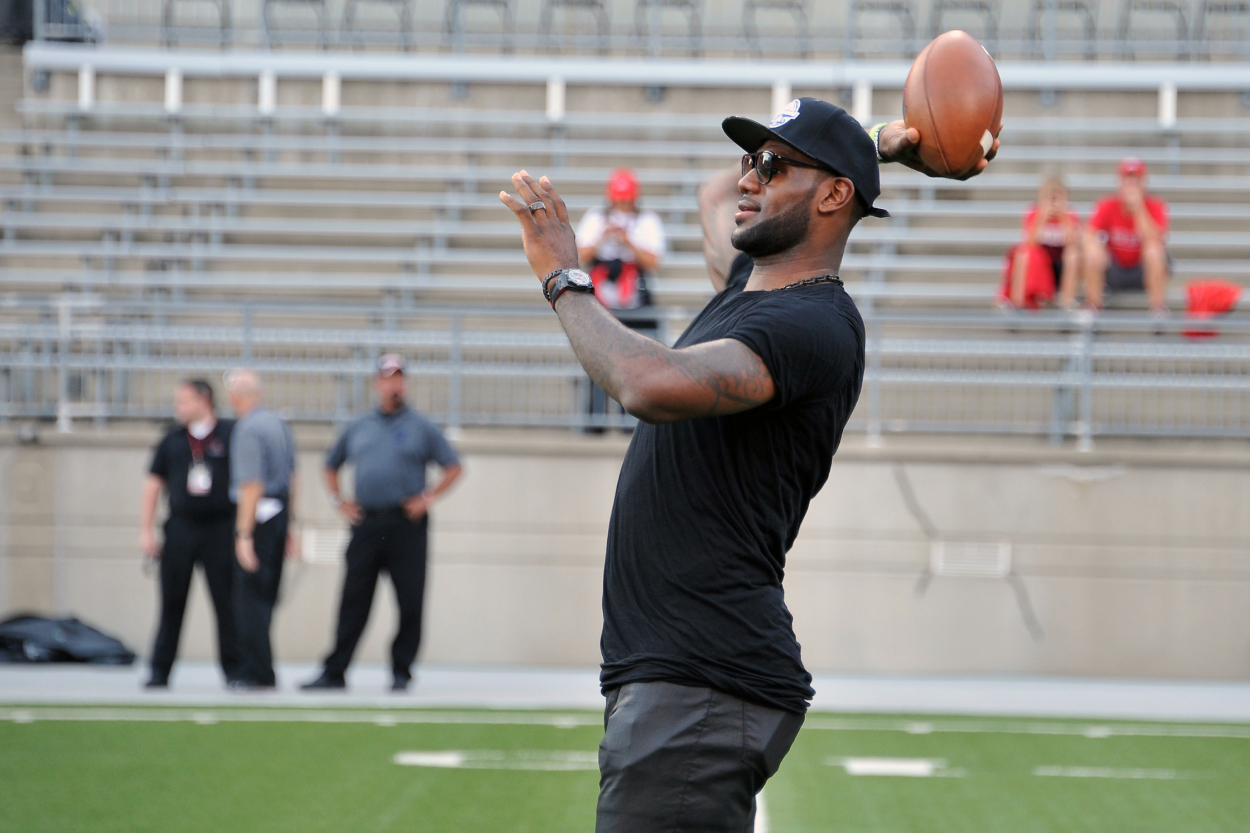 LeBron James Wasn't Going to Play High School Football as a Junior, but the Death of a Young Celebrity Changed Everything
The death of a young celebrity is what made LeBron James play a second full season of high school football.
Looking back, LeBron James took a serious chance in high school. Although he was a standout football player, it became evident James' future was in basketball. That didn't stop the highly-touted James from playing two full seasons of football at St. Vincent-St. Mary High School and becoming a big-time prospect in the sport.
It was widely regarded the current Los Angeles Lakers star could have had a future in the NFL. Notre Dame and several other big-time schools wanted him as a wide receiver. With a bright future in basketball ahead of him, James risked injury by playing football. He once said he only played his junior year because of the death of a celebrity.
How good was LeBron James at football?
James played his first full season of football as a sophomore and didn't disappoint. At 6-foot-6, James stood out and was a serious target at wide receiver. He finished the year with 42 receptions for 752 yards and 11 touchdowns, according to Bleacher Report. He earned all-state honors.
As a junior, James was the main target for platooning quarterbacks Willie McGee and Matt McDonald. He was a man among boys. When all else failed for the quarterbacks, it was find James and throw it in his direction.
"You look around the field and it doesn't matter if he's double-covered. It doesn't matter if he's triple-covered. That's where the ball is going," McDonald said in the 2017 B-R article.
McDonald said there was concern of James coming down with an injury that could spoil his chances as a sure-fire NBA career, but he also thought if anyone was getting injured, it would be those defending James.
"The biggest thing about him playing football was the worry that he would get hurt, but you would see him out there and it's like, he's not the guy that's going to get hurt. It's the guys he's going against," McDonald said. "It's at a point where he was so much better than everyone else that not even the big guys could hurt him."
LeBron James almost didn't play football his junior season, but the death of a celebrity changed his outlook
If it was up to James' mother, Gloria, James would never have suited up for football in his junior year. There was too much on the line. If he truly wanted to pursue a football career, he probably could have done so. Basketball, however, was his meal ticket.
James' basketball games had to be moved to the University of Akron's 5,100-seat James A. Rhodes Arena. Tickets were hard to come by. Season tickets were being sold. Everyone wanted to see the biggest high school star in the country.
Why jeopardize a multi-million-dollar career by playing football, Gloria thought. According to Sports Illustrated, she did not allow James to play football in his junior year. That all changed, however, when 22-year-old singer Aaliyah was killed in a plane crash in August of 2001.
James persuaded his mother to let him play football again after Aaliyah's death.
"You're not promised tomorrow," LeBron said then. "I had to be out on the field with my team."
James, however, didn't play football his senior year.
James clearly made the right move, but the opportunity for football was there
It's tough to argue that James made the right move by picking basketball over football. He's in every debate when it comes to talk of the NBA's GOAT. He's won four NBA titles and four MVPs. James is a 17-time NBA All-Star and is playing at a high level.
Back in his high school days, he had schools like Florida State, Ohio State, and Notre Dame after him for football. When he was in attendance at a Cleveland Cavaliers game, then-Browns head coach Butch Davis tried to sway him toward football.
"Hey, LeBron! How you doing?" Davis said, according to Sports Illustrated. "Want to be a wide receiver for us? Just for the red zone, how about that?"
James handled it all in stride. He finally put football on the back burner that senior year and the move clearly paid off.