Lions Rookie Aidan Hutchinson Takes Subtle Shot at Jaguars for Not Picking Him No. 1 in 2022 NFL Draft
In much of the pre-draft process leading up to the 2022 NFL Draft, Michigan pass-rusher Aidan Hutchinson was the consensus No. 1 pick. However, as draft day neared, Georgia defensive end Travon Walker climbed up draft boards and ultimately got the nod as the Jacksonville Jaguars No. 1 pick. That slight has stuck with Hutchinson, and ahead of his Week 13 matchup between his Detroit Lions and Walker's Jaguars, the Michigan native issued a subtle warning to the team that passed on him.
Aidan Hutchinson vs. Travon Walker in the 2022 NFL Draft
At 6-foot-7, 264 pounds with 32¼-inch arms and 10¼-inch hands, Aidan Hutchinson is not a small man, even by NFL defensive end standards. However, at 6-foot-5, 275 pounds, with 35½-inch arms and 10¾-inch hands, Travon Walker is bigger in the areas it traditionally matters most for NFL pass-rushers.
At the NFL combine, even with 11 pounds on Hutchinson, Walker ran a 4.51-second 40-yard dash and had an explosive 123-inch broad jump to his Michigan counterpart's 4.74 seconds and 117 inches.
Enamored with his physical traits, Jaguars general manager Trent Baalke and new head coach Doug Pederson decided to pass on Hutchinson and take Walker with the first overall pick.
This is understandable just looking at the physical specimen. However, it completely discounts production, which is where Hutchinson far outshined Walker.
In their final seasons in college, Hutchinson started 14 games, recorded 14 sacks, had 62 total tackles (16.5 for loss), broke up three passes, and forced two fumbles. On the other hand, Walker started one more game and produced 6.0 sacks, 37 tackles (7.5 for loss), and two pass breakups.
Despite the stark production difference, the Jaguars took Walker, Hutchinson slipped to No. 2 for the Lions, and while the Detroit DE is happy where he's at, he won't forget the slight.
The Lions rookie sends a message to the Jaguars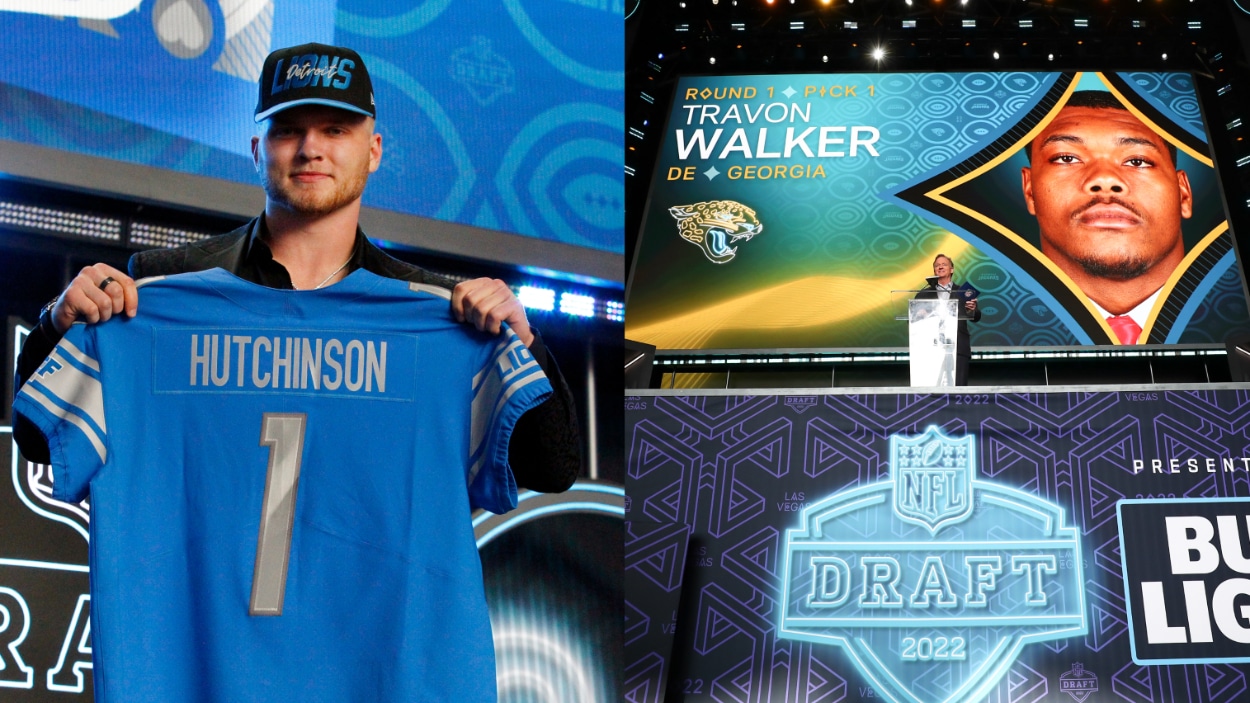 The Lions and Jaguars both come into their Week 13 meeting at 4-7, which is much better than either did last season. And their two rookie defenders have both shown flashes this year that give the teams hope for the future.
Ahead of this matchup, Aidan Hutchinson spoke with Dave Birkett of the Detroit Free Press about what it means to be playing the team that passed on him in the NFL Draft just over seven months ago.
Hutchinson told Birkett, "Thought I was going [No. 1 to Jacksonville] for about three months, and then a week before the draft, something changed."
"I guess my arms were just not quite long enough, but that hit a week before the draft," Hutchinson said. "I mean, we'll see if that inch or couple inches was the difference." The Lions defensive lineman also noted in the piece that the Jaguars passing on him "will stick with me forever."
Now, in Week 13, it sounds like Hutchinson is ready to show the Jaguars first-hand what they missed out on, even though he's already been doing that all season.
Aidan Hutchinson vs. Travon Walker in the 2022 NFL season
Travon Walker came out of the gate strong in 2022 as the No. 1 overall pick. In Week 1 vs. the Washington Commanders, Walker had four tackles, 1.0 sacks, and an interception. Not to be outdone, Aidan Hutchinson aptly followed that up with a six-tackle, 3.0-sack Week 2 performance vs. Carson Wentz and those same Commanders.
Since then, though, Hutchinson has started to distance himself from Walker.
As Walker — who was a down lineman at Georgia — learns the intricacies of playing as a 3-4 outside linebacker, he's only put up 37 tackles. 2.5 sacks, six QB hits, an interception, and two passes defended this season.
In Detroit, Hutchinson's season stats so far are 31 tackles, 5.5 sacks, 10 QB hits, two interceptions, a fumble recovery, and two passes defended. Of those stats, both interceptions, a sack, and the fumble recovery came in the last few games, earning him NFC Defensive Rookie of the Week honors for November.
Through 12 weeks, he's also the current favorite to win the Defensive rookie of the Year Award, an honor only Ndamukong Suh (2009), Bubba Baker (1978), and Lem Barney (1967) have won as Lions.