LIV Golf Report: Brooks Koepka Feeling 'Buyer's Remorse' About His $100 Million Decision
LIV Golf may be tearing the golf world apart bit by bit, but the players at least seem to be enjoying themselves. I mean, why wouldn't they be with hundreds of millions of dollars being thrown their way?
Well, one star LIV Golf member is reportedly regretting his decision after just one season with the rival tour. According to veteran golf writer Alan Shipnuck, Brooks Koepka may already be feeling some "buyer's remorse" about his decision to ditch the PGA Tour. Unfortunately for the four-time major winner, it might be a bit too late to have that realization.
Brooks Koepka reportedly regrets his decision to join LIV Golf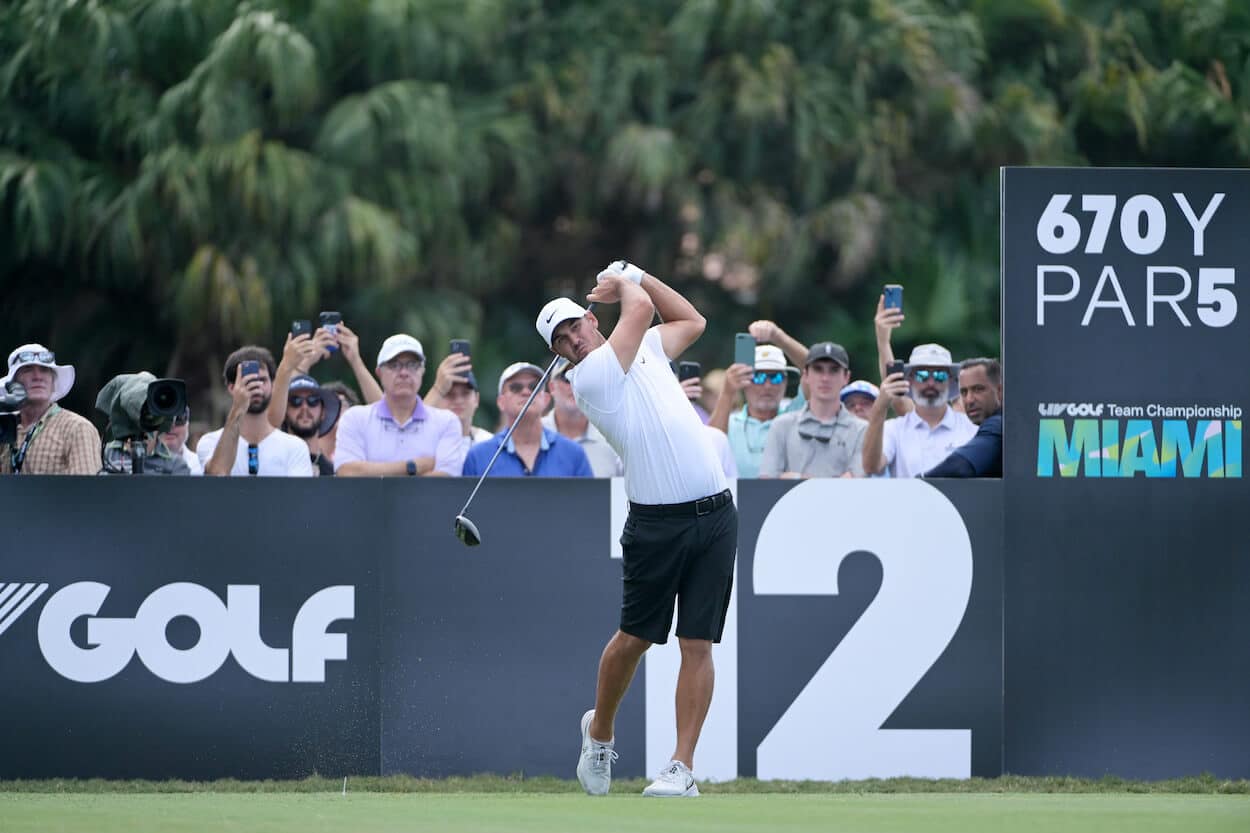 When Koepka bailed on the PGA Tour to join LIV Golf last June, he offered a believable reason for doing so. The 32-year-old, who's battled multiple injuries since his last major championship victory in 2019, claimed the lighter schedule would help him get back to his old self.
"What I've had to go through the last two years on my knees, the pain, the rehab, all this stuff, we realized you need a little bit more time off," Koepka said last year, per BBC. "I'd be the first one to say it's not been an easy last couple years. I think having a little more break, a little more time at home to make sure I'm 100% before I go play in an event and don't feel like I'm forced to play right away."
That makes sense, sure, but it's not as if the PGA Tour was forcing him to play 20 events per year. And let's not pretend his reported $100 million offer had nothing to do with it.
Well, not even one year after he jumped ship from the PGA Tour, Koepka is reportedly regretting his decision. In Alan Shipnuck's recent mailbag column on The Fire Pit Collective, the esteemed golf writer brought to light a revealing tidbit about Koepka's mindset today.
"I'm hearing a lot of rumblings that Brooks Koepka has buyer's remorse," Shipnuck writes. "The guy has one of the biggest egos in golf, and as the PGA Tour creates ever-increasing buzz with its elevated events and even the state-sanctioned TGL, Koepka has to feel like he's on the outside looking in."
To counter LIV Golf's endless buckets of Saudi cash, the PGA Tour raised purses across the 2022-23 schedule. The players are already benefitting from the change. Jon Rahm, who's never banked more than $7.7 million in on-course earnings in a single season, has already earned $9.8 million this year in just six starts.
Would the PGA Tour be interested in bringing Brooks Koepka back?
On Netflix's new documentary series, Full Swing, Koepka admitted he misses the feel of the WM Phoenix Open because of the raucous crowds and the feel of a big-time sporting event. It wouldn't be totally shocking if the eight-time winner eventually tried to weasel his back back to the PGA Tour, but would that even be possible?
Well, on one hand, the PGA Tour banned every LIV Golf member the second they hit their opening tee shot on the rival tour. The PGA Tour might look weak if it started bringing back players who realized the grass isn't always greener.
On the other hand, the PGA Tour stealing back one of the star defectors would be the perfect middle finger to LIV Golf. It could also mark the first domino in a string of events that could eventually derail the Saudi-backed league.
LIV Golf better take control of this situation soon, because it can't afford to lose one of its star players so soon.