Lonzo Ball Might Not Be an All-Star, but He's on Pace to Make NBA History
The Chicago Bulls figure to have at least two All-Stars headed to Cleveland next month, though Lonzo Ball might not join the troupe.
DeMar DeRozan is currently the leading vote-getter among backcourt players in the Eastern Conference as debate rages about his MVP candidacy. Meanwhile, Zach LaVine is scoring as efficiently as any player in the NBA.
Ball, too, has played a significant role in Chicago's ascendance to the top of the East. While he may not have the counting numbers boasted by some of his contemporaries, the eldest Ball brother is on pace to make NBA history. His multifaceted contributions speak for themselves regarding his status as a winning player for the Bulls.
Lonzo Ball sets the tone for the Bulls on both ends and make things easier on DeMar DeRozan and Zach LaVine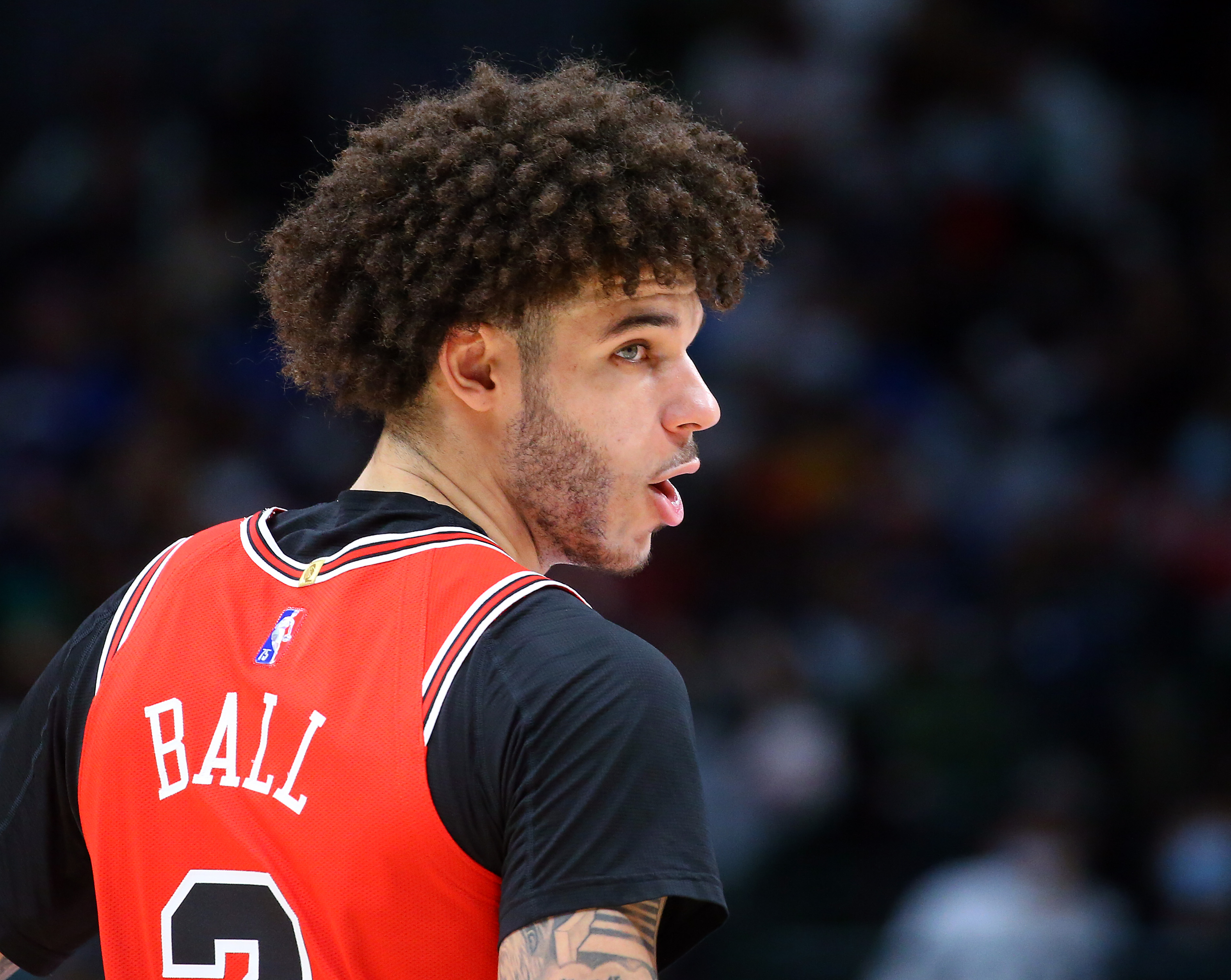 DeMar DeRozan and Zach LaVine put up the prolific scoring numbers for the Bulls. But it's Lonzo Ball who provides the critical spacing and defines Chicago's offense with his unselfish attitude.
Ball has always been a pass-first guard who loves moving the rock and making plays in the open floor. He sparks the Bulls with his pace and willingness to snatch a rebound and kickstart the team in transition. The former UCLA star's perimeter shooting is all the more critical.
Ball is shooting a career-high 41.8% from beyond the arc. His knack for providing spacing opens up the rest of the floor for DeRozan and LaVine to attack spots and either collapse defenses or get favorable matchups in isolation.
The 24-year-old means every bit as much to team defense. Ball is a tremendous playmaker, averaging 1.9 steals per contest. He's also a general disruptor, ranking sixth in the NBA in deflections per game and third in loose balls recovered per game, per NBA.com. Both traits make a difference for DeRozan and LaVine, neither of whom are the strongest individual defenders.
Chicago's star players understand the importance of Ball's role. DeRozan included Zo in the Bulls' "Big Four." Indeed, the Chino Hills native might stand alone in the record books when all is said and done.
Ball is on pace to make NBA history
A line of 12.9 points, 5.5 rebounds, and 5.1 assists per game doesn't look overly glamorous. However, it's the extension of Ball's production that could result in him making NBA history this season.
Ball is on pace (h/t Will Gottlieb) to become the first player in league history to average at least five assists, five rebounds, one steal, and one block while making at least three triples per game over the course of a full season. He's averaging just under 1.0 blocks at present but, with 29 swats through 32 games, could certainly get back on track in that category.
The Bulls point guard missed several games because of COVID-19 and struggled in his first game back last week against the Orlando Magic. But he made six 3-pointers in a win over the Washington Wizards and flew all over the court in a loss to the Dallas Mavericks on Sunday. The time off did not inhibit his activity level.
Ball does not get the same acclaim as DeRozan or LaVine. Nevertheless, he's been exactly the player the Bulls needed him to be from the start of the season.
Only a matter of time before his first All-Star appearance
Lonzo Ball has yet to make an All-Star team in his career. That wait could continue through this February, but it's only a matter of time before he earns that kind of recognition.
Ball has improved his 3-point percentage each and every season of his career. He's shown exceptional guarding and playmaking ability on the defensive end in addition to stuffing the stat sheet as a rebounder and assist man.
Two factors should lead to an All-Star berth. For starters, Ball needs to improve his finishing and midrange scoring ability. He has traditionally shot just over 60% rim and is under 30% in the 3-to-10-foot range this season. Additionally, Ball figures to produce more offensively with a higher usage rate.
Granted, it's unlikely Ball's usage rate sees much of an uptick with DeRozan and LaVine demanding the ball and continuing to forge a lethal partnership. Still, Zo understands his role and might go into the history books come season's end.
Stats courtesy of Basketball Reference unless otherwise noted.