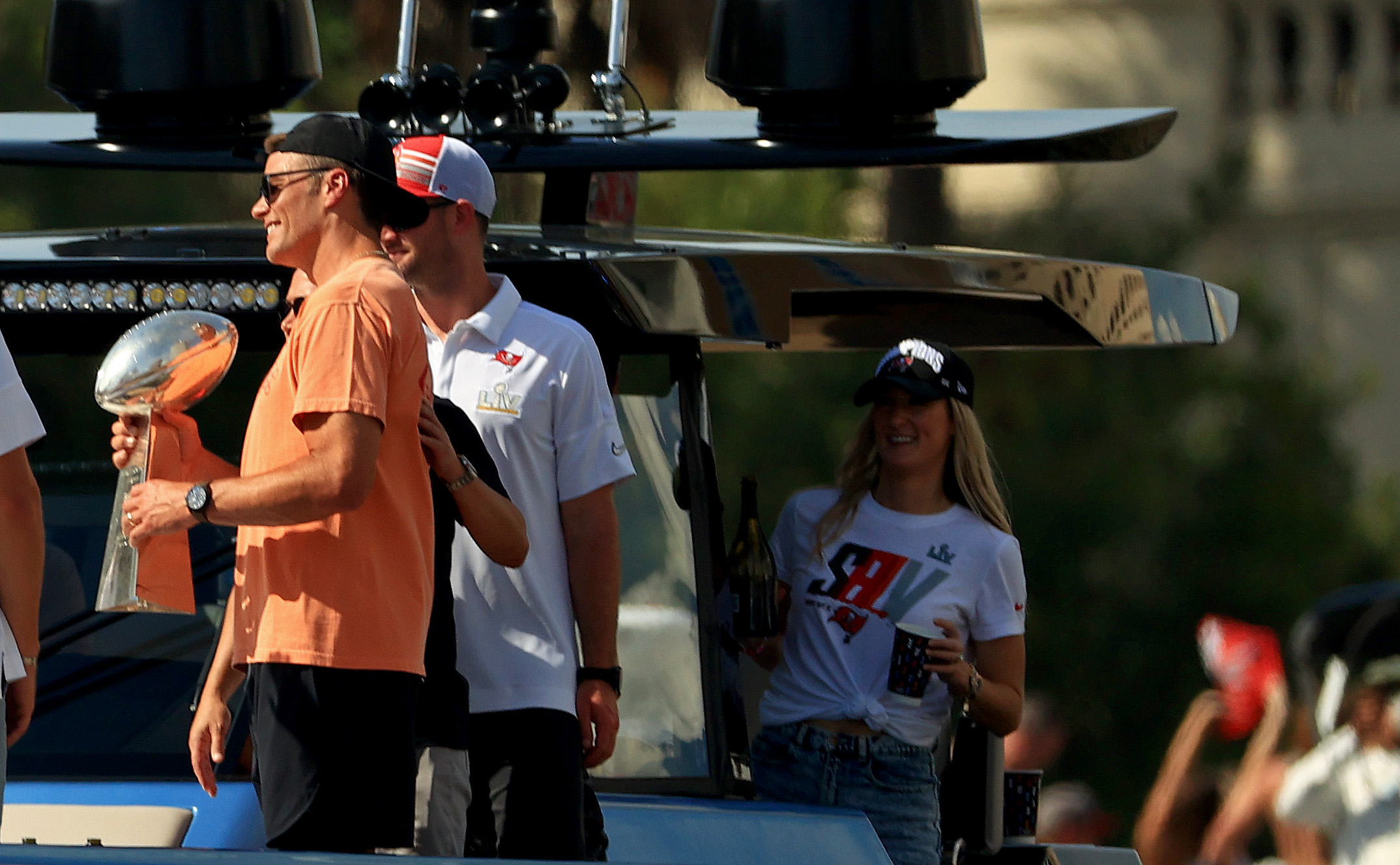 Lorraine Grohs, the Woman Demanding a Tom Brady Apology, Still Getting Blasted on Social Media
Lorraine Grohs, the Florida woman demanding an apology from Tom Brady for throwing the Lombardi Trophy, is still taking hits on social media.
Lorraine Grohs has done her best to rain on the Super Bowl Parade of the Tampa Bay Buccaneers. Grohs is the Florida woman who has demanded an apology from Tom Brady for his tossing of the Lombardi Trophy from one boat to another during the celebration. While Grohs has been in the news for her stance on Brady's trophy-throwing abilities, she continues to get mocked on social media.
Tom Brady had a little too much fun at the Super Bowl parade
Tom Brady made some big throws during a lopsided win over the Kansas City Chiefs in Super Bowl 55. It was his throw during the Super Bowl parade, however, that really had people talking. Brady completed a short pass to tight end Cameron Brate during the celebration. Brate was in a different boat than Brady and it was the Lombardi Trophy, not a football, that was thrown.
"If I had dropped that? I think I would've had to retire," Brate said to the Tampa Bay Times. "That was amazing. He pointed it at me. We talked about it earlier. It was a great throw. I mean, what do you expect from Tom Brady. A great throw."
Brady clearly had a little too much to drink during the celebration and made fun of himself on Twitter. Brady posted a video showing himself staggering at the parade and had some fun with it on Twitter. He wrote, "Noting to see her…just litTle avoCado tequila."
While the Buccaneers were having fun, Lorraine Grohs was cringing
Lorraine Grohs was horrified when she saw the Lombardi Trophy thrown from one boat to another during the Tampa Bay Buccaneers' Super Bowl parade. Grohs is the daughter of Greg Grohs, master silversmith at Tiffany and Company for 27 years. Greg Grohs helped create the first Lombardi Trophy.
Lorraine Grohs went public with her complaints about Tom Brady tossing the trophy to Cameron Brate. She was not a happy camper. "It just upset me that this trophy was disgraced and disrespected by being thrown as if it was a real football," she said to Fox 4 Southwest Florida. "I have a big history of this trophy being made by my father and it's such an honor and I know all the craftsmen that made it when my dad was there also at Tiffany's and it takes a lot of hard work."
She went so far as to say she wanted an apology from Brady himself. "I personally would like an apology, not just to me and my family and the other silversmiths but to the fans, all the football fans, and the other team players," she said.
Lorraine Grohs still taking some heat on social media
Lorraine Grohs went overboard and social media is letting her know it. Yes, she supports her father and the hard work he's put into his job. Good thing Greg Grohs wasn't a member of the print media and had to deal with some of his articles lining bird cages. If Lorraine Grohs wants to be upset, she has the right to be, but to ask for an apology from Brady is taking it to another level.
Lorraine Grohs took drama too far. She said she couldn't sleep for not one, but TWO days, because of Tom Brady's throw, according to one verified Twitter post. Lorraine Grohs keeps taking the hits on social media. One Twitter user wrote, "Unfortunately, her name is Lorraine Grohs but Karen Silversmith is first-ballot Hall of Fame."
A week after the parade, Grohs' comments are still generating memes. Lorraine Grohs has certainly gotten much more than her 15 minutes of fame.