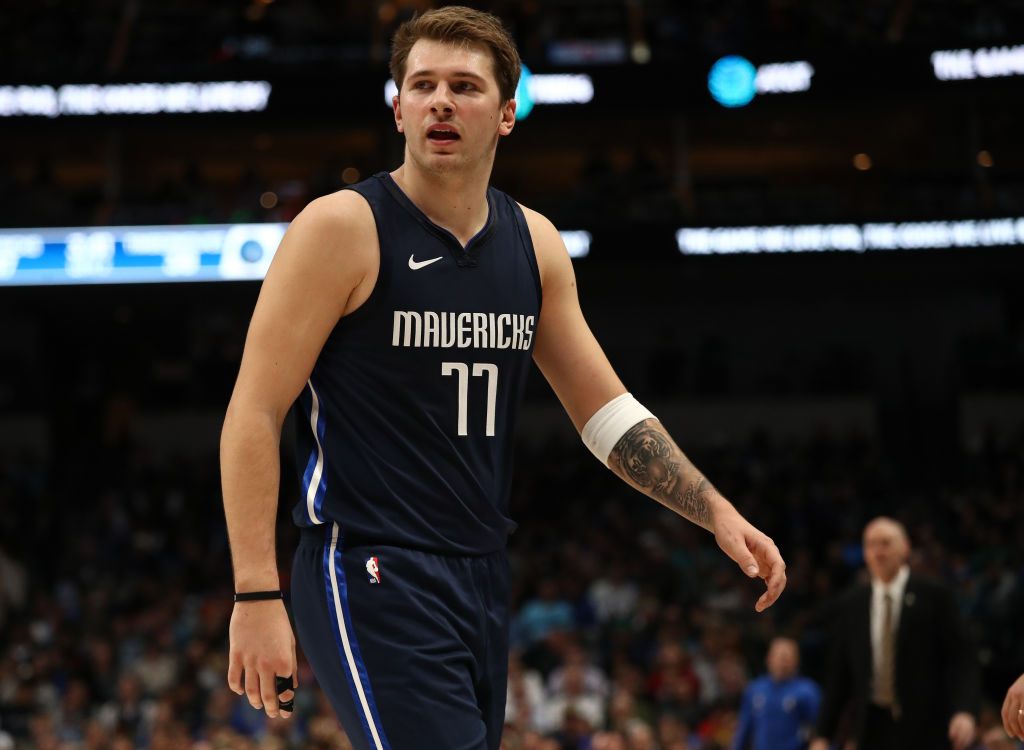 Luca Doncic Still Needs to Improve This Aspect of His Game
Dallas Mavericks forward Luka Doncic is already dominating the NBA, but there's still one aspect of his game that needs improvement.
Ever since coming to North America, Luka Doncic has dominated the NBA. Last season, the forward captured the Rookie of the Year award, but he didn't rest on his laurels; this year, he's taken his game to the next level, posting triple-doubles and breaking records with relative ease. After less than two years in the association, he's already being mentioned with the likes of LeBron James and Michael Jordan.
That's not to say that he's already a perfect player, though. In fact, there's one main area where Doncic himself wants to improve.
Luka Doncic's impressive rise to stardom with the Dallas Mavericks
While Luka Doncic hasn't been in the NBA for a long time, he had quite a full basketball career before ever crossing the Atlantic.
Doncic first hit the hardwood with his hometown club, Union Olpimija; from the beginning, his talent was evident, and he was bumped up to practice with the organization's older players. At age 13, Doncic signed with Real Madrid and moved to the Spanish capital. Before long, he was starting for the senior squad.
After starring in the 2018 EuroLeague campaign, Doncic made a move to North America. He entered the NBA draft and was selected by the Atlanta Hawks; he never suited up for the franchise, however, as they promptly traded him to the Dallas Mavericks. Head coach Rick Carlisle said the rookie could be a franchise player, and Doncic has proved him right; the forward averaged just over 21 points per game and took home Rookie of the Year honors. This season, his stats have only gotten better.
Luka Doncic can still improve his on-court emotions
While success usually comes naturally to Luka Doncic, the forward has been struggling in one specific area. When he feels things aren't going his way, the young star often takes his frustration out on the officials; that's led to him collecting a few technical fouls in recent games.
While Doncic acknowledged he needs to keep a cooler head, he explained that his outbursts are coming more from a desire to win than anything else. "I'm passionate for the game," the forward explained. "I want to win, and I just sometimes get out of control, because I want to win the whole time. I'm competitive. You can ask my family. Even if it's not basketball, if it's anything, I'm so competitive. But, yeah, I've got to work on that for sure."
"I know how to [approach officials], but like I say, I'm passionate," he continued. "I know a lot of times I'm wrong. Persons are wrong sometimes, and I've just got to learn to calm myself down and go to the next play."
Learning that discretion is the better part of valor
There's nothing wrong with being competitive; no Dallas Mavericks fan would want Luka Doncic stepping on the court with anything less than a complete dedication to winning. At some point, however, discretion becomes the better part of valor.
Doncic has already emerged as one of the NBA's elite offensive talents. While he's virtually unguardable, the young forward is capable of taking himself out of the action, both emotionally and literally; he can't score if on the bench trying to cool down. At some point, Doncic will have to realize that arguing will never change a call. If anything, it will embolden the opposition to try to rough him up and disrupt his offensive flow.
No one doubts Luka Doncic's talent; if he becomes unflappable under pressure, he'll be truly unstoppable.