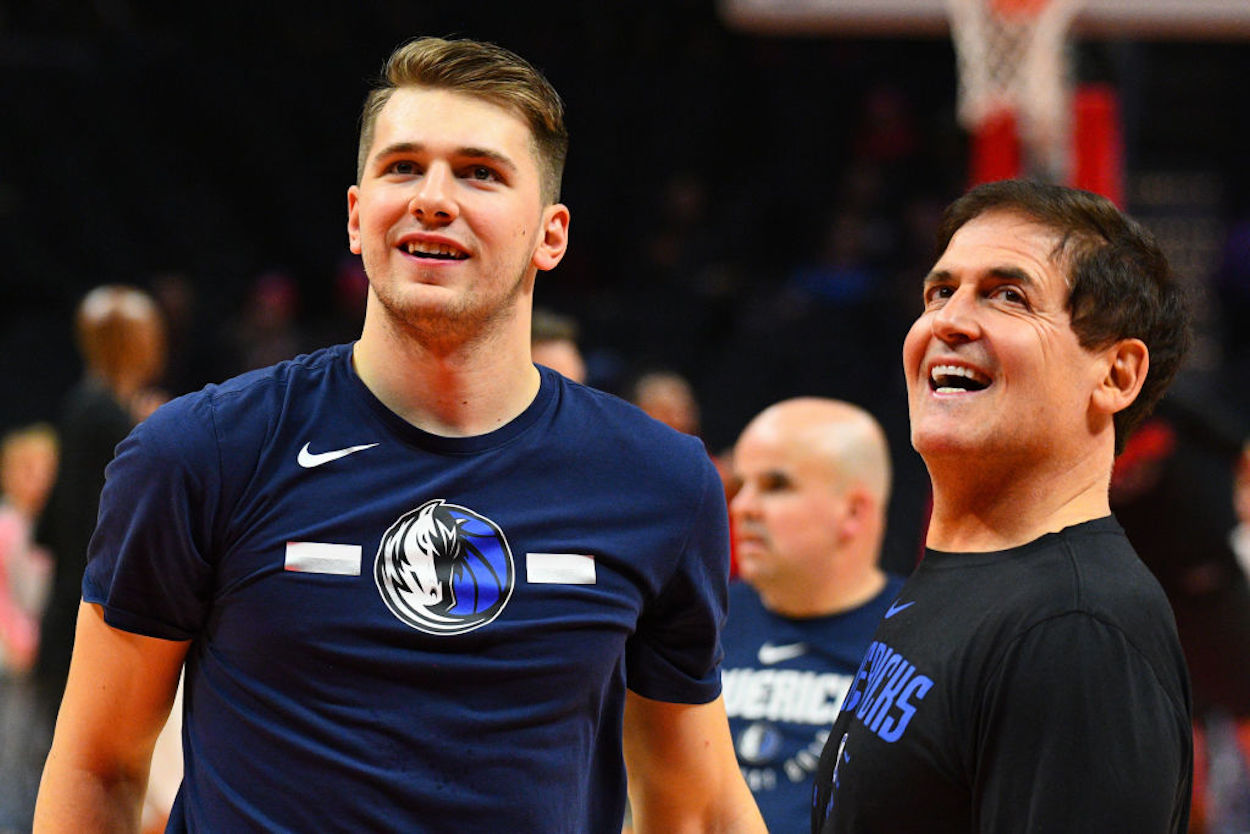 Luka Doncic Changed the Course of Dallas Mavericks' History With a Single 3-Point Performance at Age 17
If not for a three-point performance as a teenager, Luka Doncic might not have ever made his way to the Dallas Mavericks.
For better or worse, the modern NBA is a star-driven league. Thankfully for everyone in Dallas, the Mavs have one of the best around on their roster in the form of Luka Doncic. Barring his calf injury, the big Slovenian can win just about every game single-handedly. That's an invaluable ace to be holding during the postseason.
Luka's road to Big D, however, started with an otherwise meaningless scrimmage. If not for that outing, Mark Cuban might not have pulled the trigger on the draft-day trade that has shaped the course of modern NBA history.
Mark Cuban saw a clip of Luka Doncic scrimmaging against the Thunder and knew he was the one
As most basketball fans know, Luka Donic made a name for himself in Europe before crossing the Atlantic and joining the Association. During his time with Real Madrid, though, he did get the chance to face some NBA competition.
During the 2016 preseason, the Oklahoma City Thunder traveled to Spain to face Real Madrid and Barcelona. In the opening contest, a seventeen-year-old Doncic hit the floor. While he didn't post the most impressive stat line — Mavs Moneyball noted that he finished the game with three points, five rebounds, and four assists — he still showed enough poise and potential to impress Dallas' top dog.
"I watched a video of him playing against the Thunder and Russell Westbrook when he was 17," Mark Cuban recalled on The Dan Patrick Show. "And so then it was a question of, 'OK, will we be able to draft him? Where will our draft slot be?' And we had the third-worst record and ended up with the fifth pick. The Mavs have never moved up from our slot ever in the history of the franchise."
The Dallas brass, however, knew they needed to make something happen. They couldn't pass up on what Cuban (and presumably their scouts) had seen.
"From there, it was 'How are we gonna figure this out?' because we really want the kid," the Mavs governor added.
They, of course, did figure it out and managed to pull off a draft-day trade to bring Doncic to Dallas.
Doncic has, of course, lived up to the hype
Making a big call on draft night has the potential to completely change the course of a franchise. Think, for example, of how different things could have been if the Portland Trail Blazers didn't select Sam Bowie. Thankfully for Mark Cuban and company, their faith in Doncic has been paid off.
Although the big man couldn't get Dallas back into the postseason during his first North American campaign, it wasn't for lack of trying. Luka averaged 21.2 points, 7.8 rebounds, and 6.0 assists per outing that season, earning 2019 Rookie of the Year honors.
Since then, Luka has only improved. At the risk of trotting out the cliched "unicorn" label, he's proved to be an incredibly unique talent. He might not seem like the most athletic man on the court, but his blend of size and skill allows him to score from the paint and the perimeter. He can pull down rebounds like a center, drop dimes like a guard, and, to top it all off, plays with an audacious level of confidence. When someone isn't afraid to hoist up one-legged fade-aways from three-point range — and has the ability to drain them — what can a defender really do?
While you could cynically argue that Doncic needs to get past the first round of the playoffs to truly make an impact, that doesn't change the fact that his time in Dallas has shaped the modern NBA. From the Mavs' perspective, having an all-world player affects their roster construction and shifts the organizational philosophy; things are simply different if you're building around Kristaps Porzingis instead of Luka.
Looking at a broader scope, there are plenty of potential butterfly effects to trace. If Doncic were in the East, maybe Giannis Antetokounmpo and the Bucks wouldn't have won a title. With a 6-foot-7 star on their roster instead of Young, Atlanta probably wouldn't have drafted Jaxson Hayes and Onyeka Okongwu. The list can go on and on.
And to think, it all started with a three-point performance during a meaningless preseason game. Who knows, maybe if Luka Doncic dropped 25 that night, he'd be seeing out his contract in Sacramento.
Thankfully for Mark Cuban, though, everything fell into place.