Mac Jones, Devin McCourty Have Different Plans for the Bills Mafia
The New England Patriots are riding a six-game win streak but face their toughest test of this stretch Monday night. The Pats make their way to Buffalo for a Monday Night Football game against the rival Bills. New England is bracing for a hostile environment with the Bills Mafia leading the charge. Rookie quarterback Mac Jones and veteran defensive back Devin McCourty are planning to handle the Mafia in different ways.
Mac Jones has the New England Patriots heading in the right direction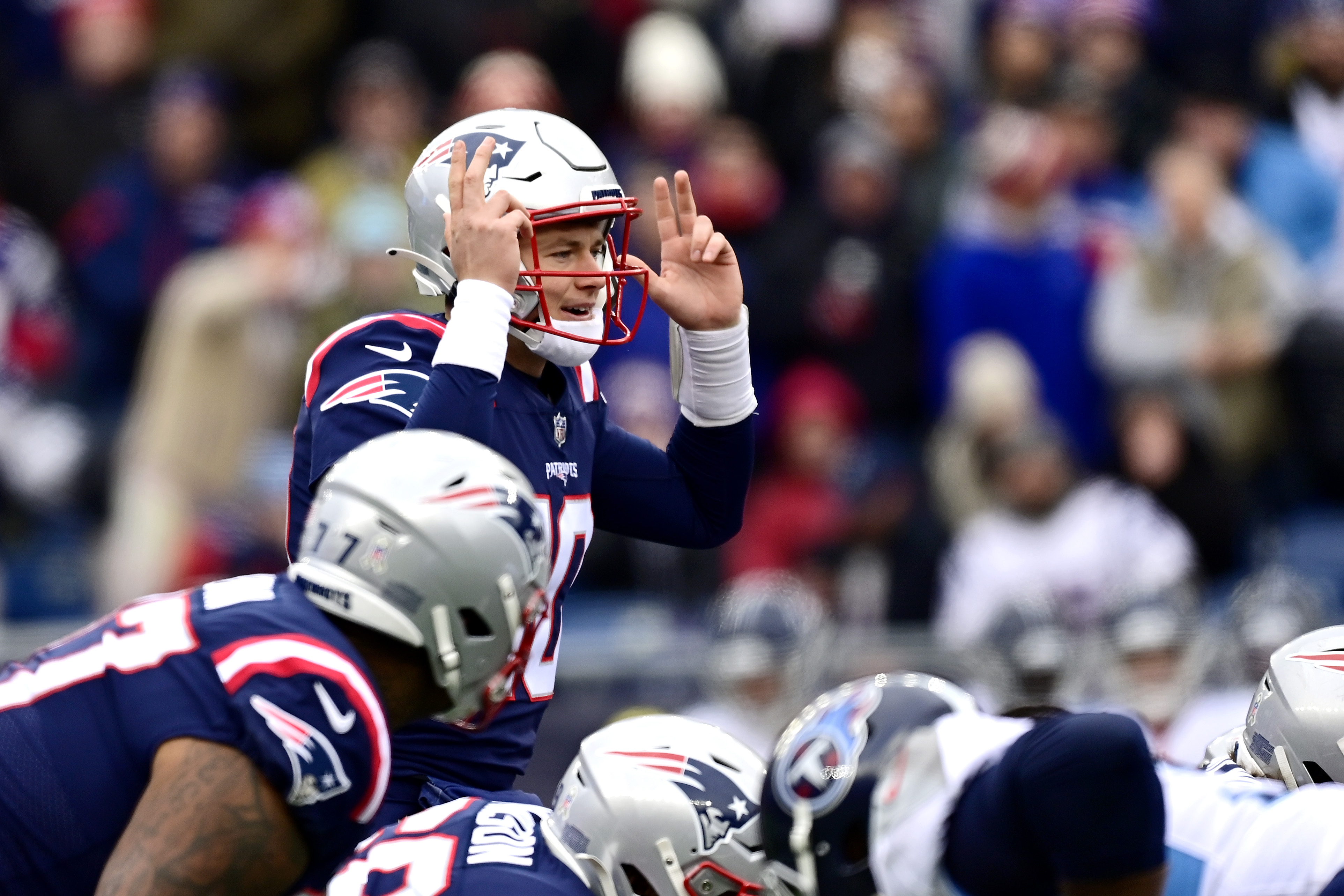 Very few expected Jones and the Patriots to be where they are through 12 games. After a shaky start that saw them at 2-4, New England has rattled off six straight wins with their young QB at the helm.
Jones, the fifth quarterback selected in the 2021 NFL draft, has been exactly what head coach Bill Belichick needs — steady and accurate. He's not wowing anyone with off-the-chart numbers, but he's winning.
Jones has 16 touchdown passes and eight interceptions in his 12 starts. He's thrown for 2,850 yards, averaging 7.5 yards per attempt. He's completed better than 70% of those passes.
"What Mac Jones is doing right now is ahead of the game," said NFL Hall of Famer Kurt Warner, per The New York Post. "And If Mac Jones does this the rest of his career, he will have a very successful NFL career. … He will be a guy that goes to the playoffs a lot in my opinion, and it's still yet to be determined if he can be a championship quarterback.
"I have seen enough if he doesn't get any better to say he will survive in this league for a long time. If he's able to continue to grow and get better, I would think on the horizon you would say you've got a quarterback that can compete for championships."
Mac Jones and the Patriots brace for a hostile environment with the Bills Mafia
Monday's game with the Bills will be Jones' biggest test so far this year. The Bills are the toughest opponent the Patriots will have played on the road. It's a battle that will have serious playoff implications as the teams fight for the division title.
Not only are the Bills good, but it should be a frigid night on the road. And then there's the Bills Mafia.
The Bills Mafia is a passionate group that bleeds Buffalo Blue. They'll bust through tables and run through fire for their team. It's a loud, intimidating group that Jones hasn't experienced yet in the NFL.
Although he hasn't seen it first hand, Jones knows the energy level will be at an all-time high when the Patriots arrive in Buffalo. Jones said he won't get caught up in the Mafia hype.
"I think it's great energy but I don't ever try to watch or anything," Jones said to WEEI in Boston. "I just look at my phone or just sit there," Jones said. "But I guess some people can look at it and enjoy it. But it is fun wherever you're playing just to sometimes get a peek at the city and see everybody.
"I know they're a great fan base. They have a lot of passion. They bring a lot of energy to the games and even before the games. I've seen a lot of crazy videos and stuff." 
While Jones plans to ignore the Bills Mafia, teammate Devin McCourty will embrace the environment
McCourty is in his 12th season with the Patriots and has seen it all. The three-time Super Bowl champion knows exactly what to expect when his team arrives in Buffalo. He's looking forward to it.
"You've gotta think twice how loud you want to yell as a Patriot fan when you're in the stands in Buffalo," McCourty said, per WEEI. "There's going to be a lot of rowdy Buffalo fans. Not just during the game, when our busses roll in three and a half hours before the game. There's going to be middle fingers. We're going to get everything. I think as a competitor, you like that.
"There's going to be boos and I think as a competitor you like that. You like going on the road in a hostile environment. It bonds our team together. We know when we go out there Monday night, it's just us. It's going to be whoever is wearing a Patriots logo — and there might be a few fans there that we probably won't be able to hear — but (when) you go on the road it's supposed to be just you and your group, and you have to go perform with that."
Jones and McCourty clearly have different plans on how to handle the hostility, but what about Patriots coach Bill Belichick? What are his thoughts on the Bills Mafia?
"They definitely don't like me," Belichick said to WEEI.