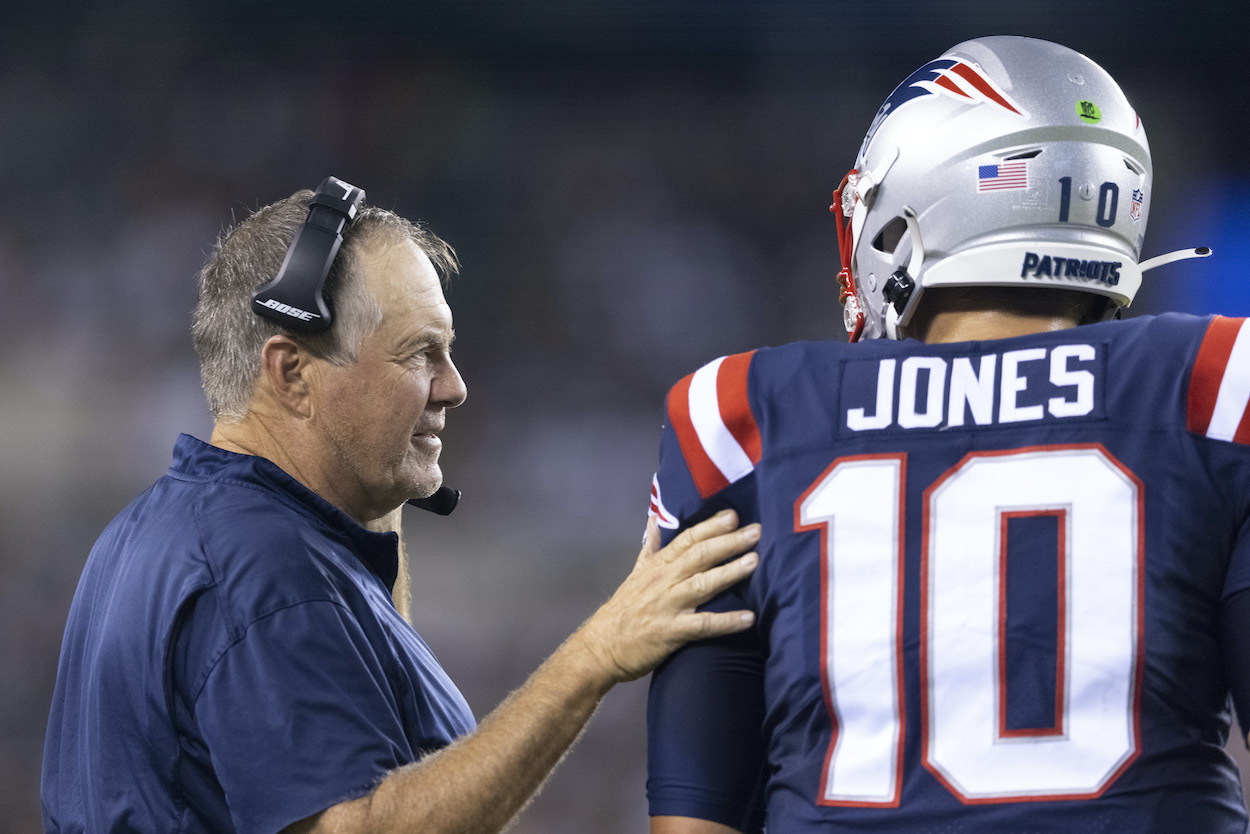 Bill Belichick Reveals What's Impressed Him the Most About Rookie Patriots QB Mac Jones: 'He Really Does It at a High Level'
Bill Belichick has been impressed by Mac Jones' leadership and resiliency so far this season.
It's not easy for a rookie quarterback to start right away in the NFL. The step up in competition from college to the pros is significant, and defensive coordinators are going to do everything in their power to make youngsters uncomfortable in the pocket.
New England Patriots rookie QB Mac Jones has embraced that challenge to start his career, and he's performed pretty well through his first five starts. After the Patriots' comeback victory over the Houston Texans on Sunday, head coach Bill Belichick opened up about his young signal-caller and revealed what has impressed him the most so far.
Mac Jones' up-and-down start to his rookie season
When the Patriots drafted Jones with the 15th overall pick this summer, the Alabama product knew he had a chance to start in Week 1. Cam Newton was still on the roster at the time, and he had high hopes heading into his second season in New England after battling COVID-19 last year. But Jones outplayed Newton in the preseason, so Belichick decided to hand him the keys to the franchise right away.
Jones had a respectable debut against the Miami Dolphins in Week 1, throwing for 281 yards and a touchdown while completing 74.4% of his passes. He followed that up with a mediocre performance against the New York Jets in which he went 22-30 for 186 yards through the air with no touchdowns. To the delight of Belichick, Jones hadn't committed a turnover in either of his first two NFL starts, but that changed in Week 3.
Against the New Orleans Saints at home, Jones completed 30 of his 51 attempts for 270 yards and a touchdown, but he also threw three interceptions in the loss. The following week, he threw another interception against the Tampa Bay Buccaneers but arguably outplayed Tom Brady all night. Jones gave the Pats a chance to win the game with a last-minute drive, but Nick Folk clanked the go-ahead field goal attempt off the left upright.
The rookie got back in the win column this past weekend with a game-winning drive against the Texans to cap off a 12-point comeback. Considering he was working behind an offensive line comprised of four backups, it was an impressive performance for the 23-year-old.
Through five games, Jones has completed 71.1% of his passes for 1,243 yards, five touchdowns, and five interceptions. The future is bright in New England.
Bill Belichick reveales what's impressed him the most about Mac Jones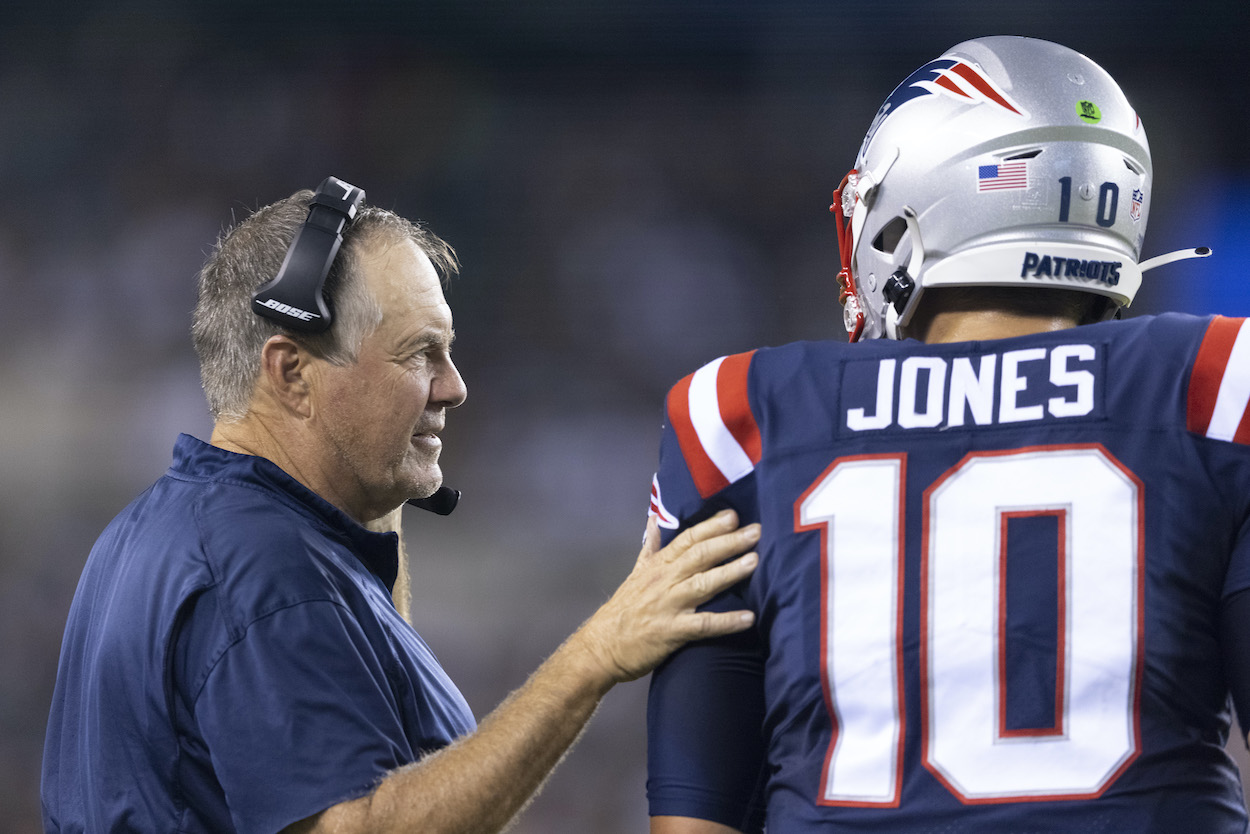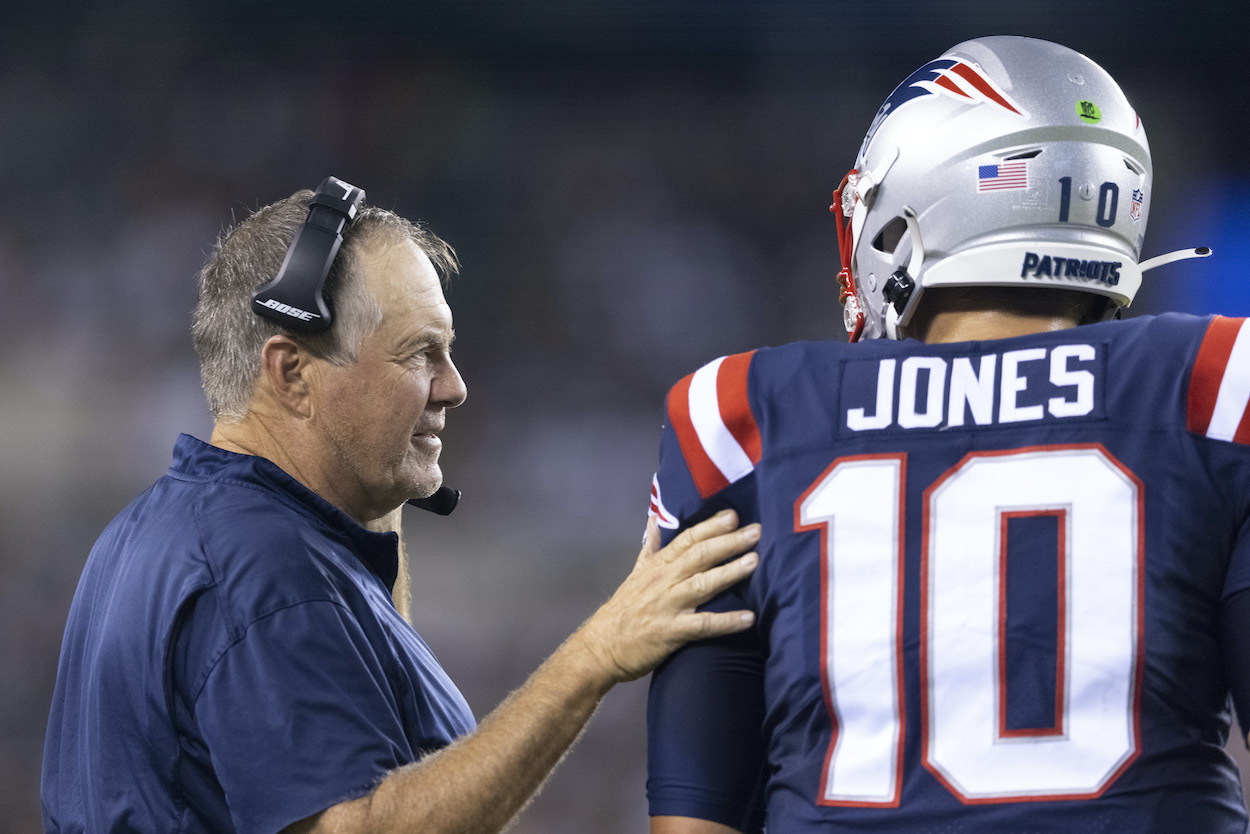 Belichick knows better than anyone how much pressure is on Jones' shoulders. Brady led the Patriots to six Super Bowl victories in his historic New England career, and now Jones is expected to follow in his footsteps and lead the Pats back to glory.
That's not going to happen overnight, but Belichick has been happy with what he's seen thus far. After Sunday's win, the head coach revealed what's impressed him most about Jones' first five starts.
Mac gave it to us the whole day. I thought he made a lot of good decisions. There were some checks that he had to make that he made throughout the day. That last drive, the third-down conversion to Hunter (Henry), and we had a couple of good runs in there. But Mac's been good for us all year in terms of his leadership, his resilience. Always counting on him to do the right thing. He really does it at a high level. It's impressive.

Bill Belichick
Belichick normally doesn't gush about specific players to the media, so that must tell you how he feels about his new franchise quarterback.
A tough road ahead
The Patriots entered the 2021-22 season with a renewed confidence after finally snagging their Brady replacement, but it hasn't been the start anyone in the organization wanted. New England needed some fourth-quarter heroics from Jones to squeak by Davis Mills and the Texans on Sunday, but the team still sits at 2-3 through five weeks.
It doesn't get any easier from here, either. The Pats have a date with the high-flying Dallas Cowboys next Sunday, and they have to play the Los Angeles Chargers, the Carolina Panthers, and the Cleveland Browns in three of the following four weeks. Oh, and the Buffalo Bills look like the best team in the AFC and lock to win the division this year.
Belichick will most likely miss the playoffs for the second straight season, but he just hopes to watch Jones develop into a star for years to come.
All stats courtesy of Pro Football Reference.
Like Sportscasting on Facebook. Follow us on Twitter @sportscasting19.