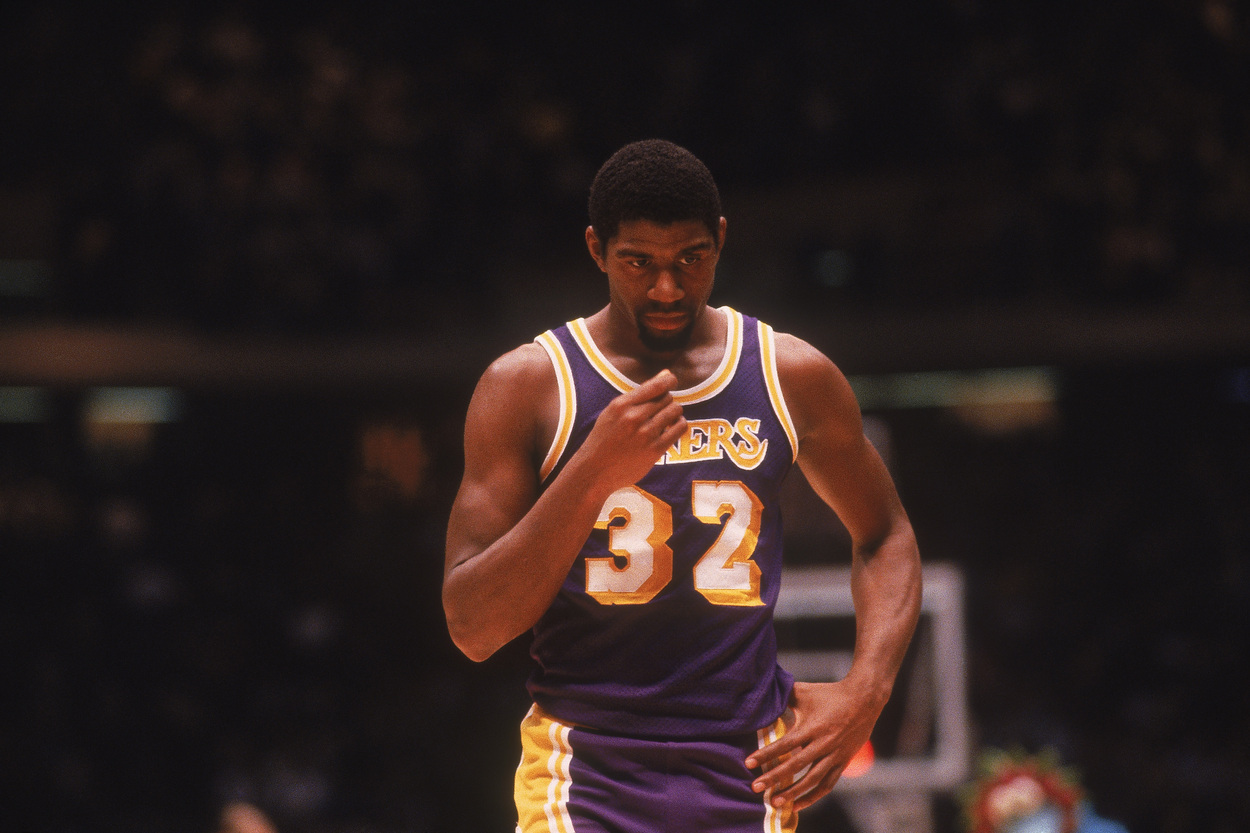 Magic Johnson Publicly Called for the Lakers to Trade Him Unless They Met His 1 Demand
The Los Angeles Lakers would've lost Magic Johnson early in his career if they chose to side with their current coach instead.
Magic Johnson, to his core, embodied the Los Angeles Lakers. The Hall of Fame point guard brought a level of showmanship and pizazz that was perfectly suited for the glitz and glam of Hollywood. Imagining him in any other uniform is downright wrong and borderline offensive.
Johnson wore the Purple and Gold for all 13 of his professional seasons. But very early on in his career, the relationship between him and the Lakers was tested. In fact, well before Magic became an LA icon, he nearly forced his way out of SoCal in a trade that would have obliterated NBA history as we know it.
It's a good thing the Lakers did the one thing they needed to do in order to convince Magic to stay.
Magic Johnson had a problem with Lakers head coach Paul Westhead
It didn't take long for Magic to make his mark on the Lakers. The 6-foot-9 rookie averaged 18.0 points, 7.7 rebounds, and 7.3 assists in 1979-80. The former Michigan State Spartan would then lead LA to a championship, earning Finals MVP after a brilliant performance at center to close out the series.
Johnson's coach that season was Paul Westhead. Westhead took over for Jack McKinney just 14 games into the season and helped guide Magic, Kareem Abdul-Jabbar, and Norm Nixon to a title. Understandably, the interim tag was lifted on Westhead after the season.
But that's when the good times ended in Tinseltown.
In Magic's second season and Westhead's first as the official head coach, LA got away from much of the "Showtime" style that made it so successful a year earlier. As Jeff Pearlman explained in his book Showtime: Magic, Kareem, Riley, and the Los Angeles Lakers Dynasty of the 1980s, Westhead enforced a controlled style that limited any ounce of creativity or freedom.
"No longer, he explained to the speechless players, would there be the same freelance, go-with-your-gut offensive opportunities," Pearlman wrote. "The Lakers would continue to run, but always with a certain level of controlled stagnation. Thought replaced instinct. Programmed evaluation trumped rapid-fire response."
While a more-controlled offense would benefit a post player like Kareem, it basically placed the training wheels on Magic. The affable star went from having full command of the offense to following a regimented system ill-suited for his style.
Magic asked Jerry Buss to fire Westhead before demanding a trade
Early on in Magic's third season, the guard was visibly upset about LA's offensive game plan. After a 26-point loss to the San Antonio Spurs, Johnson admitted to teammate Michael Cooper that he wasn't having fun and that a change was needed. That conversation prompted the disgruntled star to call Lakers owner Jerry Buss and ask him to fire Westhead.
"That was the moment when I found Magic had more power than anybody on the team," Cooper said years later courtesy of Showtime. "He called that night and everything in the history of the Los Angeles Lakers changed. All it took was one call."
However, Buss initially didn't give in. Although he and Magic were incredibly close, the Lakers began a lengthy winning streak after Johnson's initial call. But the wins didn't quell the tension between Johnson and Westhead.
About a week after Magic's phone call, the Lakers defeated the Utah Jazz to earn their fifth victory in a row, improving their overall record to 7-4. But the story after the game was Johnson, who after getting into it with Westhead announced to the media that he was done in LA (h/t: Showtime).
There was an awkward moment of nothingness, the literal calm before an unprecedented storm. "I can't play here anymore," Johnson said. "I want to leave. I want to be traded. I can't deal with it no more. I've got to go and ask [Buss] to trade me."

"Are you serious?" [LA Herald-Examiner's Rich] Levin asked.

"Definitely," said Johnson. "I haven't been happy all season. I've got to go."

Jeff Pearlman
Needless to say, the message was received by Buss. The next afternoon, LA's owner fired Westhead. Although in actuality, it was Magic who delivered the kiss of death to the championship-winning coach.
Magic Johnson's trade demand was childish, but 'Showtime' would have never existed without it
It's almost impossible for a superstar to demand a trade and look like the good guy in a situation. Johnson is certainly no exception, as his tantrum ultimately resulted in Westhead losing his job.
However, everything that followed Magic's trade demand definitively worked out in LA's favor.
After Westhead was let go, assistant Pat Riley took over as the team's head coach. Riley, who had only ever coached under Westhead, immediately reverted to the old run-and-gun style that once again made Magic the focal point. The end result was another championship, the Lakers' second in three seasons.
With Riley in charge, Magic and the "Showtime" Lakers made the NBA Finals seven times between 1982 and 1989. LA won four championships following Westhead's title in 1980, giving the Purple and Gold banners eight through 11.
Speaking of Westhead, the former coach never came close to replicating his success in LA. The Philadelphia native coached the Chicago Bulls for one forgettable season in 1982-83 and the Denver Nuggets for two miserable years from 1990-92. He would then go on to serve as an assistant coach for three more franchises for no more than two seasons each.
Did Westhead get a fair shake? Probably not. And there's no denying that Magic handled his frustration poorly. However, the Lakers under Westhead wouldn't end up becoming the dynasty they did. And Magic would've been showcasing his Hall of Fame talents elsewhere.
All statistics courtesy of Basketball Reference.