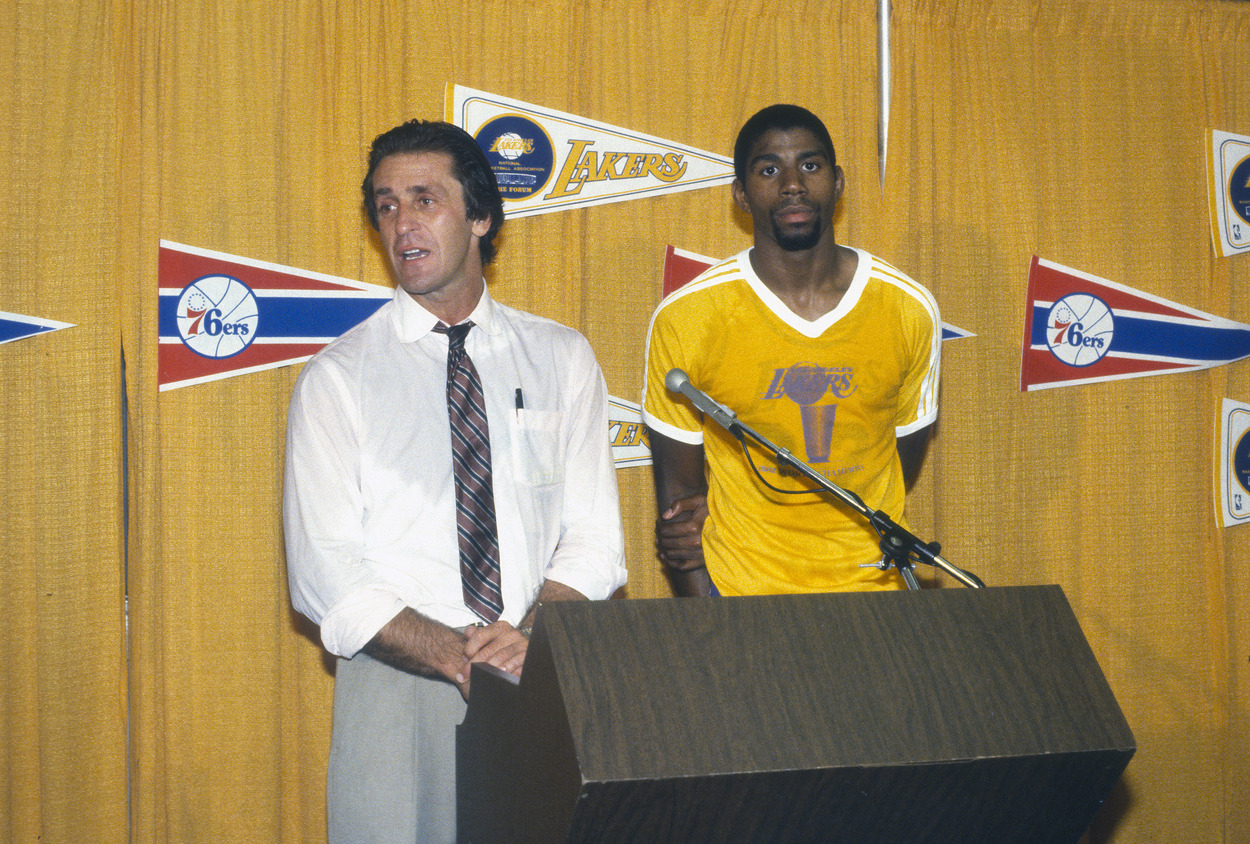 Pat Riley's 1st Day as Lakers Head Coach Was the Definition of Awkward
The Los Angeles Lakers botched Pat Riley's first day on the job and placed their new head coach in an uncomfortable spot.
For all the highlights of Magic Johnson's flashy passes and Kareem Abdul-Jabbar's devastating skyhook, Pat Riley was just as crucial in developing the "Showtime" Los Angeles Lakers as his superstar players.
Riley, he of the slicked-back hair and thousand-dollar Armani suits, would up coaching LA from 1981 through 1990. The Hall of Fame coach led the Purple and Gold to four NBA titles, the last of which was in '88.
Clearly, Riley's Lakers career was a major success. Though his worst moment on the job might have been the day he was announced as LA's head coach.
The Lakers had an eventful coaching carousel before Pat Riley got the job
For a team with Johnson and Abdul-Jabbar, there was a shocking amount of coaching upheaval in LA between 1979 and 1981.
After Jerry West left the bench to serve as a front office consultant, the Lakers tabbed Jack McKinney as their head coach in the spring of 1979. McKinney, who's viewed by some as the true architect of LA's fast-paced style, went 10-4 before suffering head injuries from a bicycle accident. Paul Westhead, his right-hand man, then stepped into the head coach role and led LA to an NBA title that very season.
During Westhead's interim season, much of his gameplan mirrored McKinney's original blueprint. However, he changed his coaching style in 1980-81, his first full season as head coach, much to the chagrin of Johnson.
LA entered the 1981-82 campaign fresh off of a first-round exit, leaving Westhead in thin ice. The breaking point finally came after Magic publically requested a trade, leaving the Lakers no choice but to release Westhead from his duties just 11 games into the season.
Here's where Riley comes in. The New York native was serving as one of LA's broadcasters since 1977, one year after his final season as a player. After McKinney's accident, Westhead managed to convince Pat to join him as an assistant coach, where he went on to serve in each of the next three seasons.
The LA coaching carousel officially stopped running once Riley took over for his former boss Westhead. But there was some chaos right after accepting the promotion.
Riley's first official day as the Lakers' head coach was uncomfortable, to say the least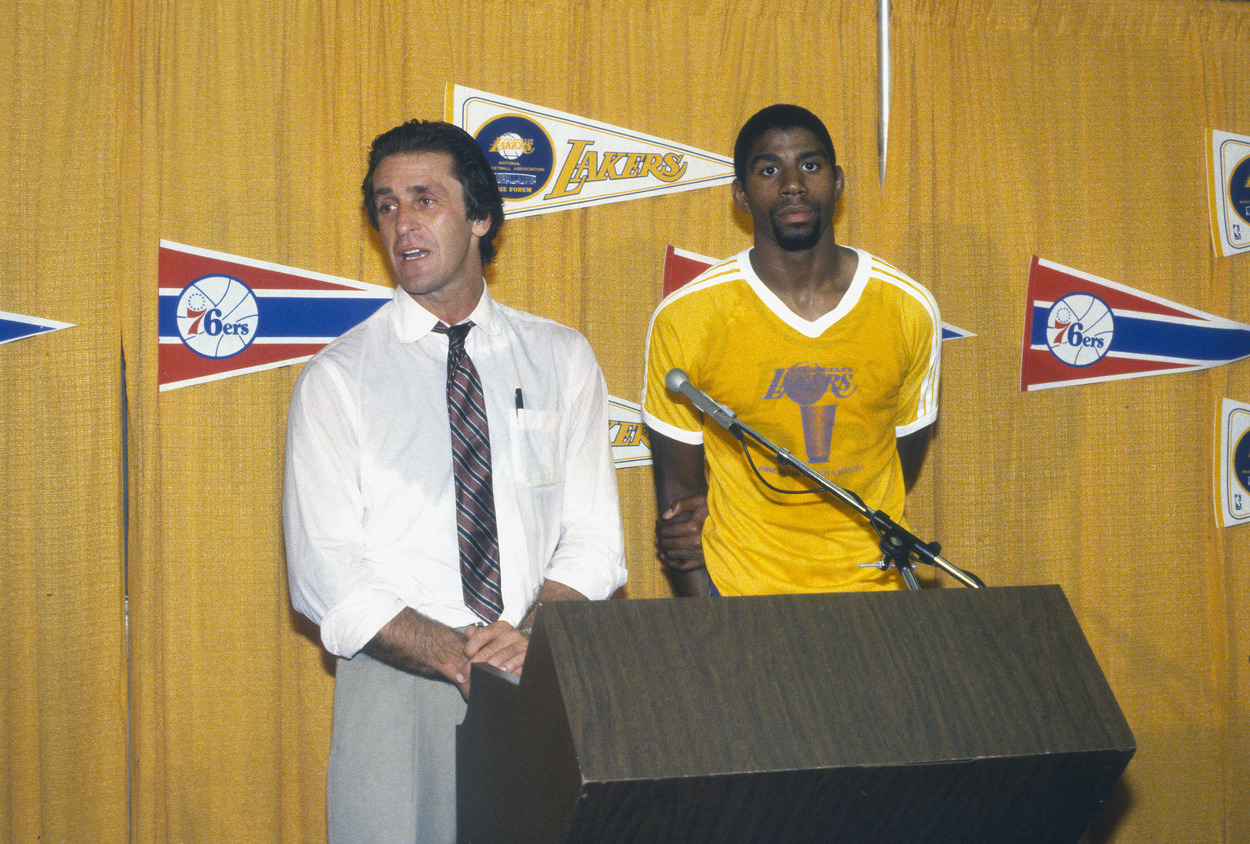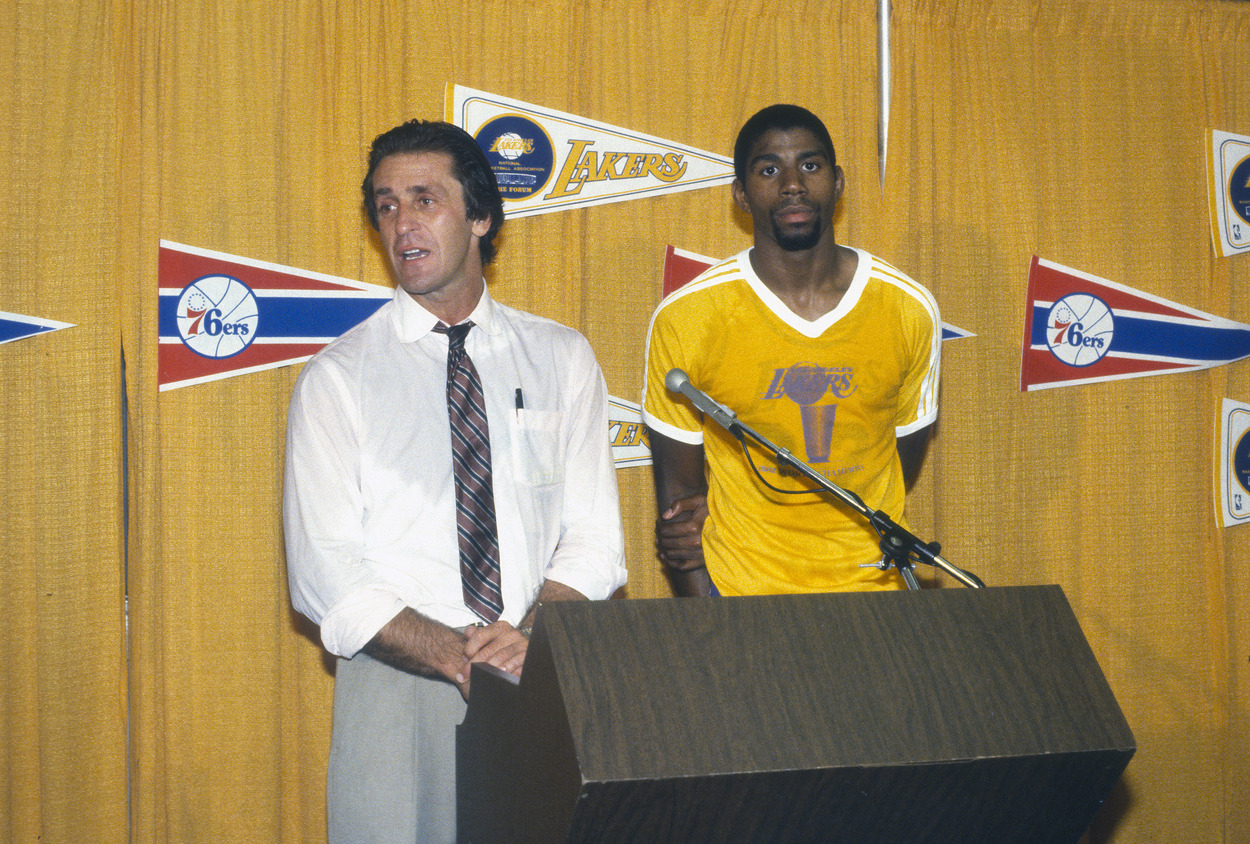 Although it stung to see Westhead get the boot, Riley was understandably excited about becoming a head coach for the first time. Especially for a prestigious team like the Lakers who were ready to win immediately.
Though that excitement quickly turned to confusion and embarrassment as soon as team owner Jerry Buss addressed the media.
Buss, who bought the team in 1979, stood before the horde of reporters to announce LA's head coaching plans. The young Riley would stay on staff as the defensive head coach, while West would return to the bench and run the offense.
The news was a shock to everyone … including Riley and West.
After firing Westhead, Buss approached his Hall of Fame consultant about coming back to coach. The Logo wasn't a fan of coaching as is, but agreed to help Riley out however he could. Though what LA's eccentric owner heard was something along the lines of, "Yes, I'll be the co-head coach!"
As Buss stumbled his way through answering basic questions like, "Who will decide the starting lineup?", West jumped in and attempted to clear up any confusion (h/t: Showtime: Magic, Kareem, Riley, and the Los Angeles Lakers Dynasty of the 1980s).
WEST: First of all, I'd like to clear up one thing: I'm going to be working for Pat Riley.

QUESTION: With or for, Jerry?

WEST: With and for. And I think my responsibility is to him because I feel in my heart that he is the head coach. And hopefully my position here won't be a long-range position.

Jeff Pearlman
After the massive miscommunication blunder was cleared up, West approached Pat privately to once again assure him that he is the head coach, regardless of what Buss initially stated.
"You're the head coach of this team," Mr. Clutch told Riley courtesy of Jeff Pearlman's Showtime. "You're the only f****** head coach."
Riley — not West — coached the Lakers to a title in 1981-82
Whatever Buss wanted to call the duo, Riley and West were both on the bench throughout the majority of the 1981-82 campaign. But it's obvious who the person running the show was, and it wasn't the 14-time All-Star.
After Westhead seemed to get away from the "Showtime" style that previously made the Lakers successful, Riley made sure to bring it back right away. He empowered Johnson to play how he wanted, rather than boxing him into a specific system the way Westhead eventually did.
The results, of course, spoke for themselves. Just like his previous boss, Riley led LA to a title after taking over early in the season. He'd go on to win three others — in 1985, '87, and '88 — before stepping down at the turn of the new decade.
West, meanwhile, was granted his wish of a short-term stint on the bench. The Logo became LA's general manager in 1982, where he'd successfully serve for the next 18 years.
It's safe to say Riley and West made much more sense as head coach and general manager than co-head coaches.
All statistics courtesy of Basketball Reference.