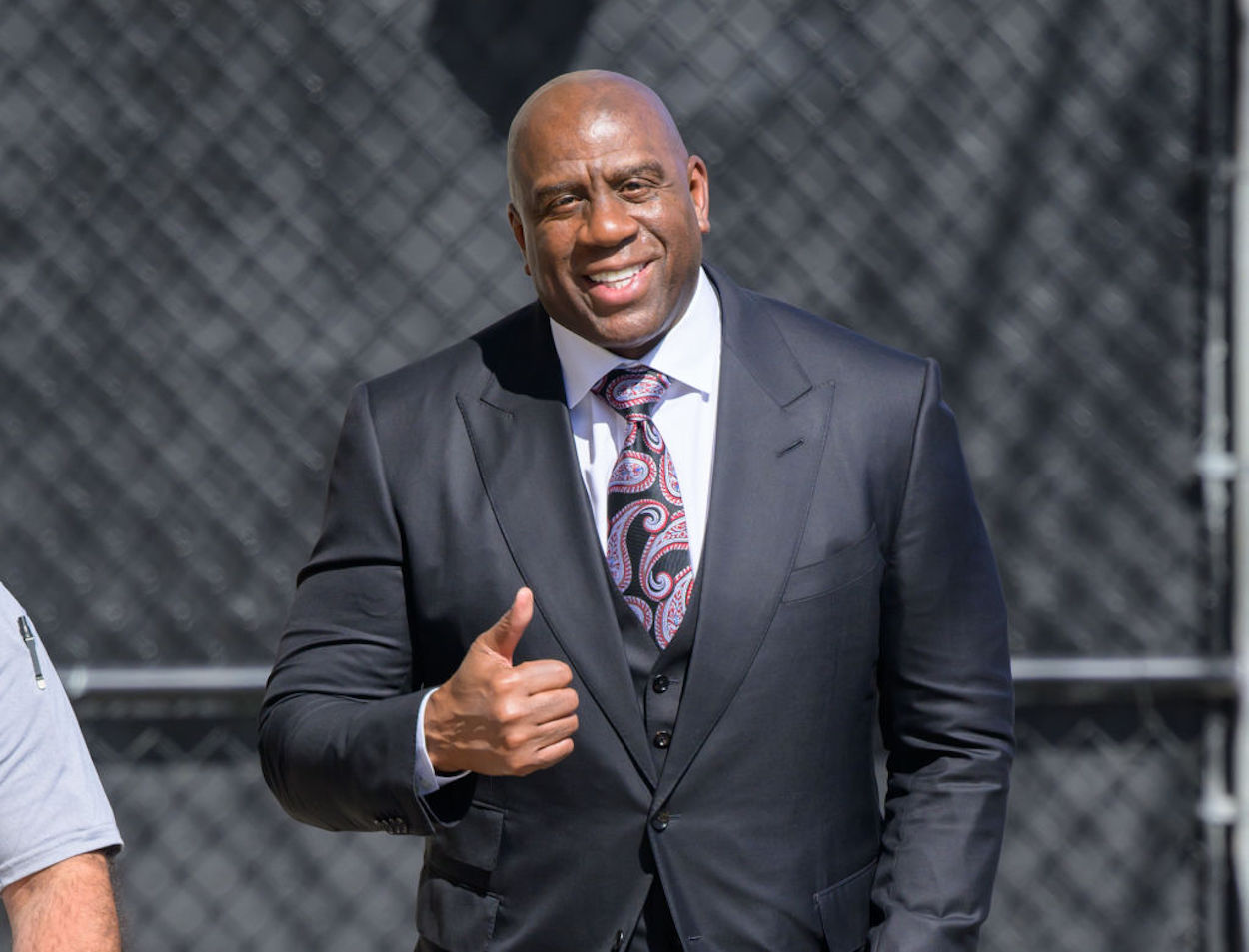 Magic Johnson Reveals How a Lansing Businessman Changed His 'Entire Life'
For all of his natural talent, Magic Johnson owes part of his success to a mentor or two back in Michigan.
When you hear the name Magic Johnson, you probably imagine him dishing out behind-the-back passes for the Los Angeles Lakers. While that's undeniably part of his image, the guard has done so much more in life. Beyond his efforts to destigmatize HIV, the living legend has made waves in the business world, dabbling in everything from sports ownership to Starbucks.
Those business ventures, however, wouldn't have been possible without some invaluable assists.
While that might sound groundbreaking — everyone, even Magic, needs some help on occasion — it does provide a valuable perspective. In an era of "shut up and dribble," professional athletes are more than entertainers. They're fully formed people who can do plenty of work beyond the court.
Magic Johnson remembers how a local businessman (or two) changed his life
Thanks to his raw basketball talents, Magic Johnson would have earned enough money to put himself in a solid financial position. Thanks to an influential acquaintance or two, though, he was able to take things to the next level.
"A Black man in Lansing, Michigan actually changed my life because, at first, it was just all NBA," the Lakers legend told TSN's Kayla Grey. "I just wanted to make it to the NBA. And when he showed me that we could become businessmen as well and that he owned a lot of businesses, I said, 'Hey, I want to do that as well.' So, I wanted to play in the NBA, and, after that, I want to become a businessman."
While it's not clear when Johnson had that revelation, it's safe to say he accomplished the goal. Beyond his decorated basketball career, the guard has built up an impressive business portfolio. As documented in a 2021 Forbes story, "he or his companies owned or own over 100 Starbucks locations, dozens of Burger King franchises, movie theaters, restaurants, a substantial stake in a large PepsiCo bottling facility and numerous major urban real estate purchases and developments." He's also stayed connected to sports, owning (and later selling) a stake in the Lakers before moving on to the LA Dodgers, LA Sparks, and the MLS' LAFC.
Even with that success, though, Magic hasn't forgotten the man (or men) who changed his life.
"I was so happy when we premiered [They Call Me Magic] here in Los Angeles," Johnson continued. "He flew out. And I was able to say 'thank you' to him. Because two guys, Joel Ferguson and Greg Eaton, they changed my whole life. And that's why I'm sitting here as a CEO. That's probably why, one of the reasons I had the life that I had, is because I had great mentors in my life."
Magic's story becomes even more prescient in an era of 'shut up and dribble'
If you're a long-time sports fan, you've probably heard the phrases "stick to sports" and "shut up and dribble" thrown around. Magic Johnson's story, however, shows the shortcomings of those perspectives.
On the most basic level, limiting athletes to sports cuts off plenty of opportunities to do good. Sticking with Magic, a 2014 CNN piece reported that he raised more than $20 million for charity and provided almost $4 million in scholarships through his foundation. He also used MJ Enterprises to serve "diverse communities, bringing high-quality businesses to minority areas typically under served by larger corporations." Even if those numbers have somewhat changed over the years, that's still a great deal of positive work that would be cut off if the guard was content to simply play basketball.
The same can be said for more contemporary examples. Take LeBron James, the man who was infamously told to "shut up and dribble." Even if you don't care for the guard from a sporting or political perspective, isn't it still a net positive that he uses some of his fortune to give back?
Beyond that, though, the second part of Magic's quote is particularly striking. He comments about having positive role models or, to use his exact phrasing, mentors, are something we can all understand.
If you're reading this post, I'm going to take the liberty of assuming you're a sports fan. That probably means you had at least one childhood hero, whether it was Magic Johnson, Larry Bird, or anyone else. As the cliche goes, you wanted to be just like them when you grew up.
While most of us probably can't become professional athletes, that doesn't mean we can't learn from those stars. Maybe Spencer Dinwiddie is the catalyst for getting someone interested in the world of business. Perhaps hearing Steve Kerr or Gregg Popovich speak about politics will resonate with someone who loves the Warriors or Spurs. Moe Harkless might not be a game-changing player, but maybe he helps someone realize that art is for everyone, not just European men from hundreds of years ago.
That might sound a bit close to Pollyanna, 'everyone gets a trophy' talk, but let's reduce things down to a logistical perspective.
As Magic Johnson and so many others have confirmed, professional athletes are real people with their own diverse interests. They also have a massive platform and a chance to influence others. At the minimum, we shouldn't be telling them what they are and are not able to do. In a best-case scenario, though, they can use those interests to positively affect the world around them.