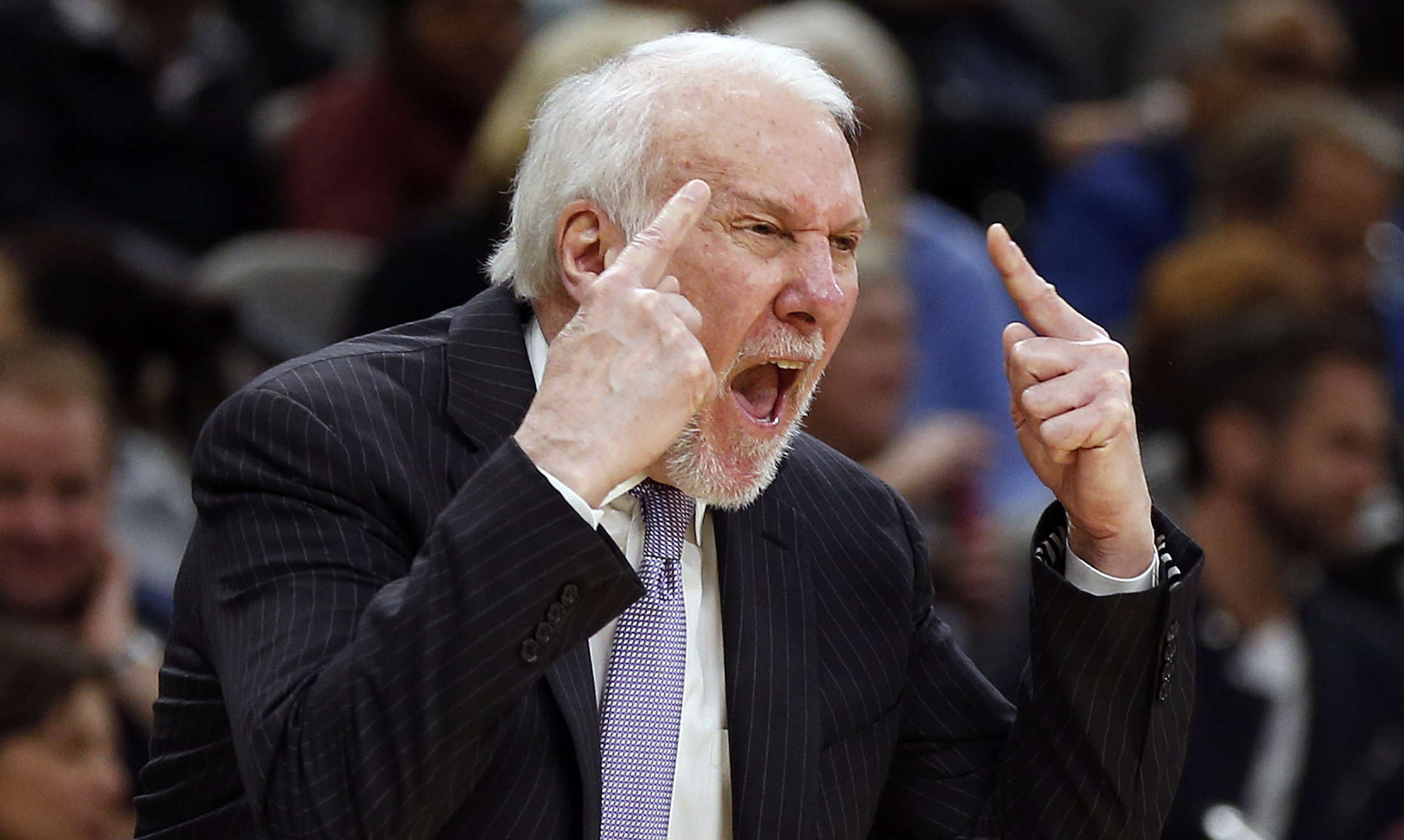 Gregg Popovich Moved On From Donald Trump to Put 2 More Republican Politicians On Blast
Gregg Popovich knows a thing or two about leadership. He doesn't believe Donald Trump or Texas' Republican leaders are living up performing up to his standard.
If you've ever watched his sideline interviews, you probably know that Gregg Popovich isn't always warm and fuzzy. With five NBA championships under his belt, the San Antonio Spurs boss doesn't feel the need to pull any punches. Away from the hardwood, he isn't afraid of letting people like Donald Trump know how he really feels.
While Popovich is never afraid of putting the president on blast, he's recently focused attention on a different politician. This time, someone from his adopted home state of Texas is squarely in the coach's sights.
Gregg Popovich has built up quite a coaching resume
When you think of the San Antonio Spurs, Gregg Popovich has to be one of the first names that come to mind. The coach, however, didn't begin his coaching career in Texas.
Popovich's basketball career began at the Air Force Academy and on the U.S. Armed Forces basketball team. After his time as a player came to a close, he headed to the sidelines serving as an assistant for his alma mater.
In 1979, Popovich struck out on his own, taking over as the head coach of the Pomona-Pitzer basketball team. While the squad never boasted the most talent, Pop led the Sagehens to their first divisional title in nearly 70 years.
During his time at Pomona-Pitzer, Popovich took a year's sabbatical to work with Larry Brown at the University of Kansas. That move paid dividends in 1988; when Brown joined the San Antonio Spurs, Popovich joined him as an assistant.
After the entire Spurs coaching staff got the ax, Popovich joined the Golden State Warriors and worked under Don Nelson. He returned to San Antonio in 1994 to take over as the franchise's head coach; since then, he's become nothing short of a living legend.
Refusing to call Donald Trump a leader
As a veteran NBA coach, Gregg Popovich is never shy about sharing his opinions. Quite a few of those opinions, it seems, exist outside of basketball.
In recent years, Popovich hasn't been shy to wade into the world of politics. After the tragic death of George Floyd, the Spurs coach once again took aim at Donald Trump, condemning his lack of leadership.
"It's so clear what needs to be done. We need a president to come out and say simply that black lives matter," Popovich told Dave Zirin of The Nation. Just say those three words. But he won't, and he can't. He can't because it's more important to him to mollify the small group of followers who validate his insanity. But it's more than just Trump. The system has to change. I'll do whatever I can do to help, because that's what leaders do. But he can't do anything to put us on a positive path, because he's not a leader."
Based on his resume, it's safe to assume that Coach Pop knows a thing or two about leadership; while he's had plenty of talent on his Spurs teams, no one wins five championships by accident.
Gregg Popovich is now taking aim at Texas' Republican leadership
Gregg Popovich's criticisms aren't limited to Donald Trump, though. With Texas' COVID-19 numbers on the rise, the Spurs coach called out the state's governor and lieutenant governor.
We've been all over the map in Texas, nobody knows what the hell is going on," the coach explained during his recent media availability. "We have a lieutenant governor who decided he doesn't want to listen to Fauci and those people anymore. That makes a lot of sense. How safe can that be? The messaging is ridiculous."
"The governor goes back and forth based on whether he has to satisfy Trump or listen to the numbers—politics show maybe he better do this because the virus has done that," Popovich continued. "But no overall policy, no principle. It's all about politics. It's all about what's good for them. And 'them' mostly means Trump. Because they're all cowards and they're all afraid."
Say what you will about Gregg Popovich, but the coach is certainly consistent. As one of basketball's top leaders, he knows poor decision making when he sees it.