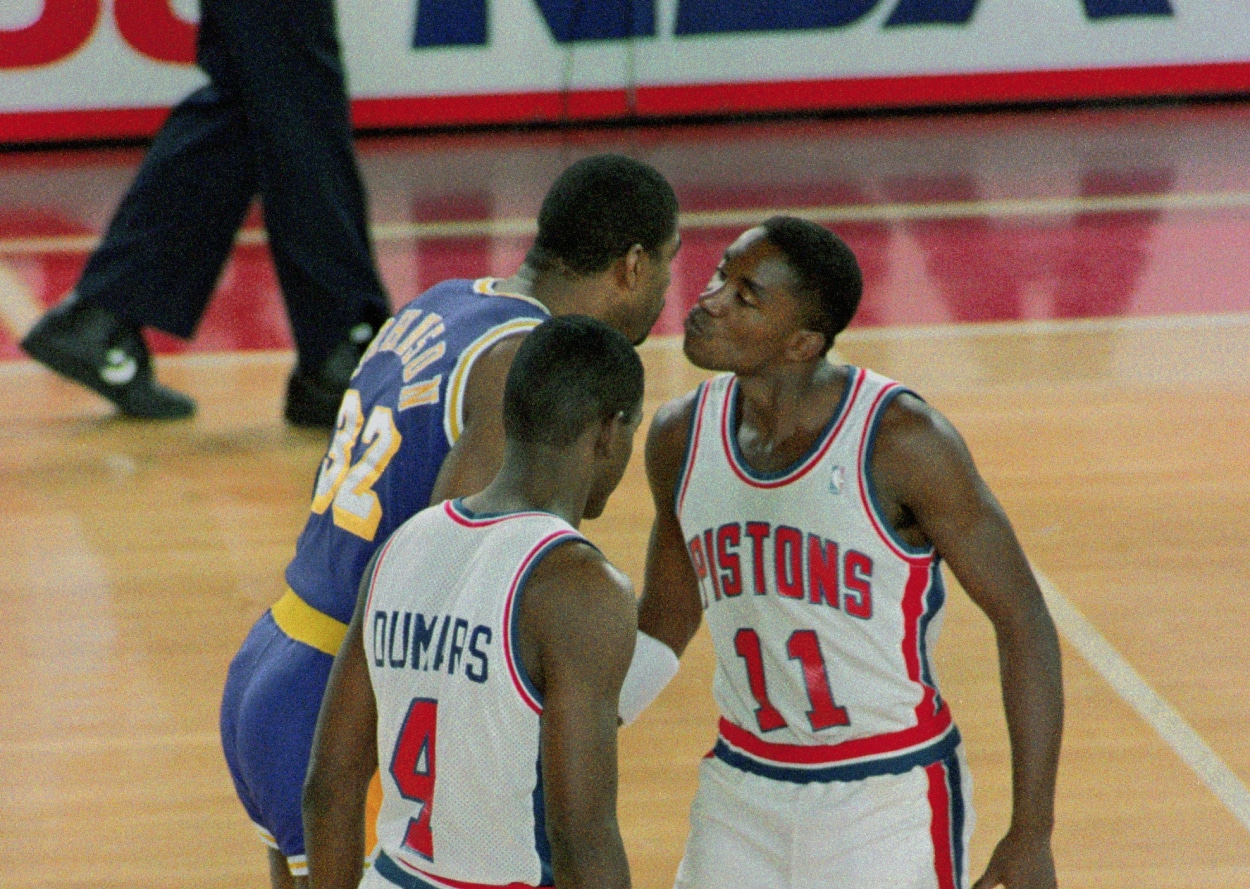 Magic Johnson 'Sad' to Admit the NBA Finals Changed His Relationship With Isiah Thomas
Kisses turned into elbows when Magic Johnson and Isiah Thomas met in the NBA Finals during the late 1980s.
Remember the cute little kisses Magic Johnson gave Isiah Thomas before their NBA Finals games back in the late 1980s? Johnson's Los Angeles Lakers squared off against Thomas' Detroit Pistons in consecutive years for the NBA championship.
The peck on the cheek signified their long-lasting friendship. When the games began, that friendship took a different turn. Recently, Johnson admitted he was sad to say the NBA Finals did impact their relationship.
Magic Johnson and Isiah Thomas squared off in the NBA Finals in 1988 and 1989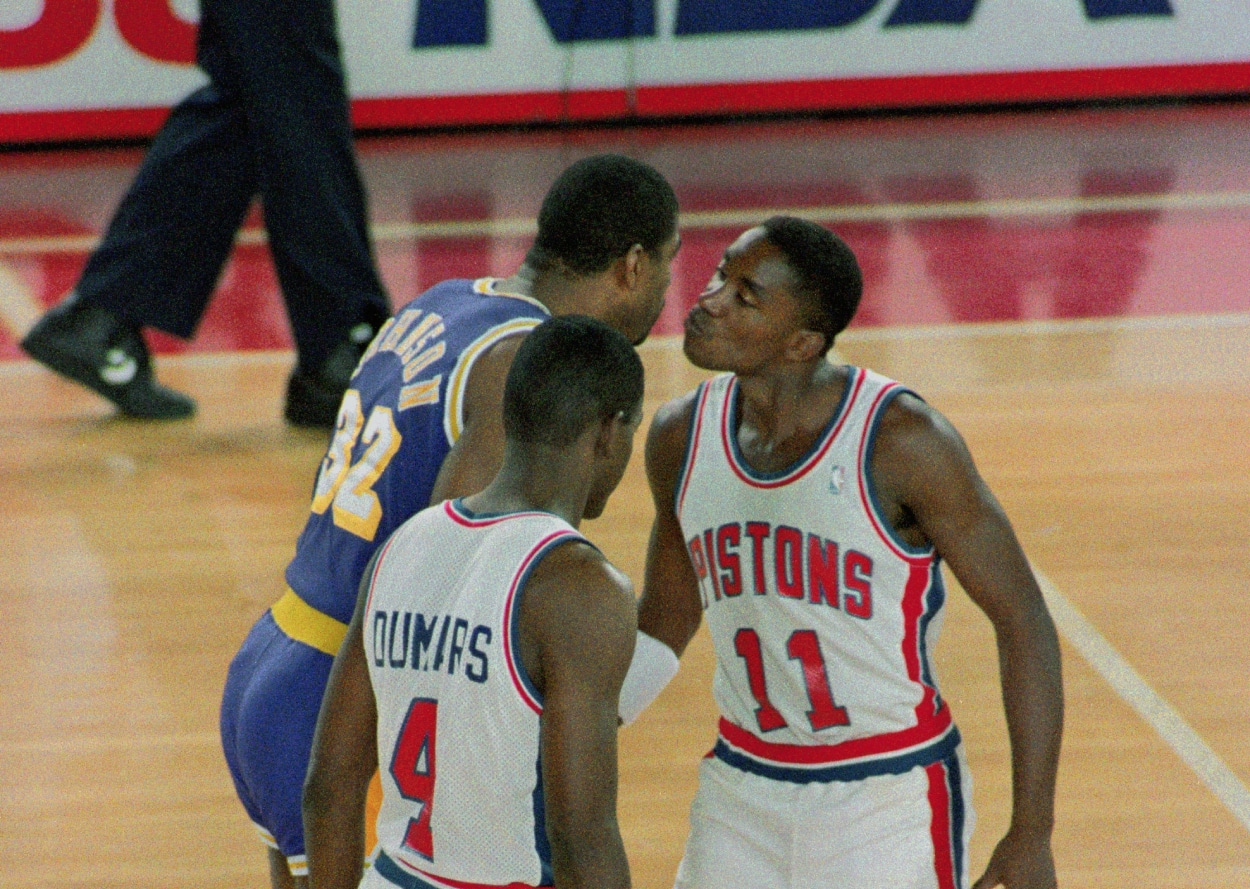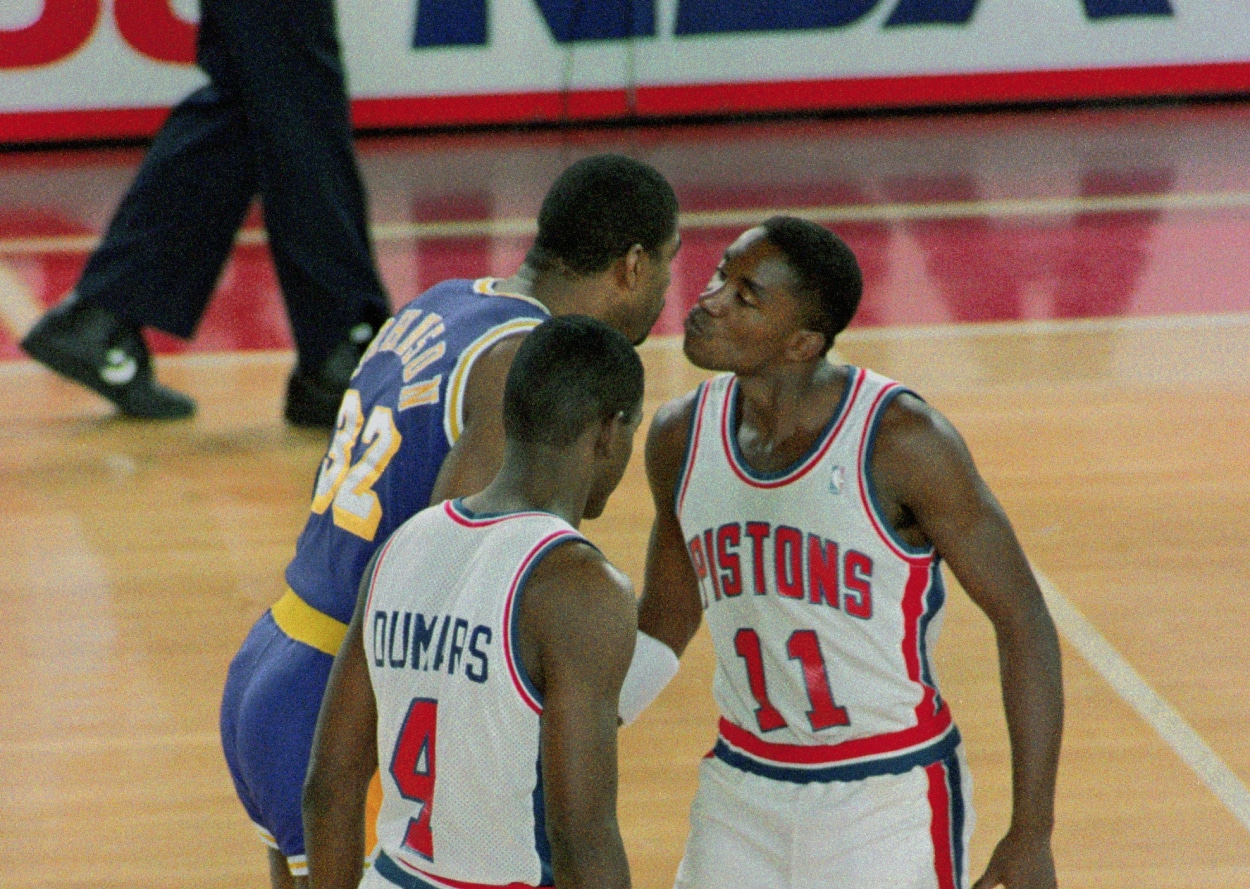 Magic Johnson was no stranger to the NBA Finals. As a rookie, he guided the Lakers to their first of five championships in the 1980s when they knocked off the Philadelphia 76ers in six games in 1980. Johnson and the Lakers played in the championship round eight times in the decade.
The last two of those came against his good friend Thomas as the Pistons reached the Finals three straight times from 1988 to 1990. During a recent appearance on Shannon Sharpe's Club Shay Shay podcast, Johnson recalled a time when Thomas, hungry to take his Pistons to the Finals, spent some postseason time in the locker room with Johnson and the Lakers during their mid-80s run.
"I love Isiah," Johnson told Sharpe. "That was my man. He was my best friend at that time. It wasn't just in the locker room. Also, we would sit up in my room, or we'd go in the lobby and just talk that game and the series. He was just getting all this valuable information, both watching the game and talking to me about it — my approach, how I saw it.
"Sure enough, when it was their turn, wow, he took full advantage of it. But give Isiah credit because a lot of dudes today wouldn't do that. Pride, ego, their camp, their agent, the team around them. Now, everybody's got a team. I ran with one dude. Back in the day, you ran with one dude."
In their first meeting, the 1988 NBA Finals, the Lakers outlasted the Pistons in seven games. Thomas and the "Bad Boys" got their revenge the following season by sweeping the Lakers.
Johnson admitted it was 'sad' how their friendship changed because of the Finals
RELATED: Magic Johnson Had His Own Flu Game in the NBA Finals, Then Was Aided by Mom's Home Cookin'
Those little kisses between Magic and Isiah turned into elbows when the teams battled it out for a championship. Things got heated between the two on the court. Sharpe asked Johnson if the Finals changed his friendship with Thomas.
"Yeah, it did," Johnson answered, "and I'm sad that I have to sit here and say that, but it did.
"I'm sure his coach, just like Pat Riley wanted to know and my teammates wanted to know, if I had to, am I going to put him down? I said yeah, and I did."
Thomas drove the lane during Game 3 of the 1988 Finals, and Magic came across with a hard forearm foul, knocking Thomas to the floor.
"I'm going down to the cup and all of a sudden he comes in and knocks me out of the air," Thomas said during a 30 for 30 video on the Bad Boys. "I get up as if to say, 'What the f***?"
"(Thomas) looked at you differently?" Sharpe asked Johnson.
"Of course," Magic said. "I'm here to win. He jumped up swinging, and I had no problem with that. It took probably the last couple of years to mend everything. But, man, we had some good times. What a great training partner and a great friend of our family. Our families were close as well.
"That's the one I regret. You regret some things in life. That was one of them."
Have thoughts on this topic? Keep the conversation rolling in our comments section below.