Rick Mahorn Was Much More Than Detroit's Baddest of Bad Boys Who Got Fined $5K for 'Love Taps'
Rick Mahorn isn't usually the first to come to mind when the topic of the Detroit Pistons 'Bad Boys' comes up. Dennis Rodman, Bill Laimbeer, and Isiah Thomas are usually associated with those late 1980s and early 1990s Pistons teams that won with talent and physicality.
Mahorn, however, may have been the baddest of the Bad Boys. He was the intimidator. He did the dirty work against some of the best big men in the league. Mahorn was effective despite his $5,000 fines for "love taps."
Rick Mahorn was 'the baddest Bad Boy of them all'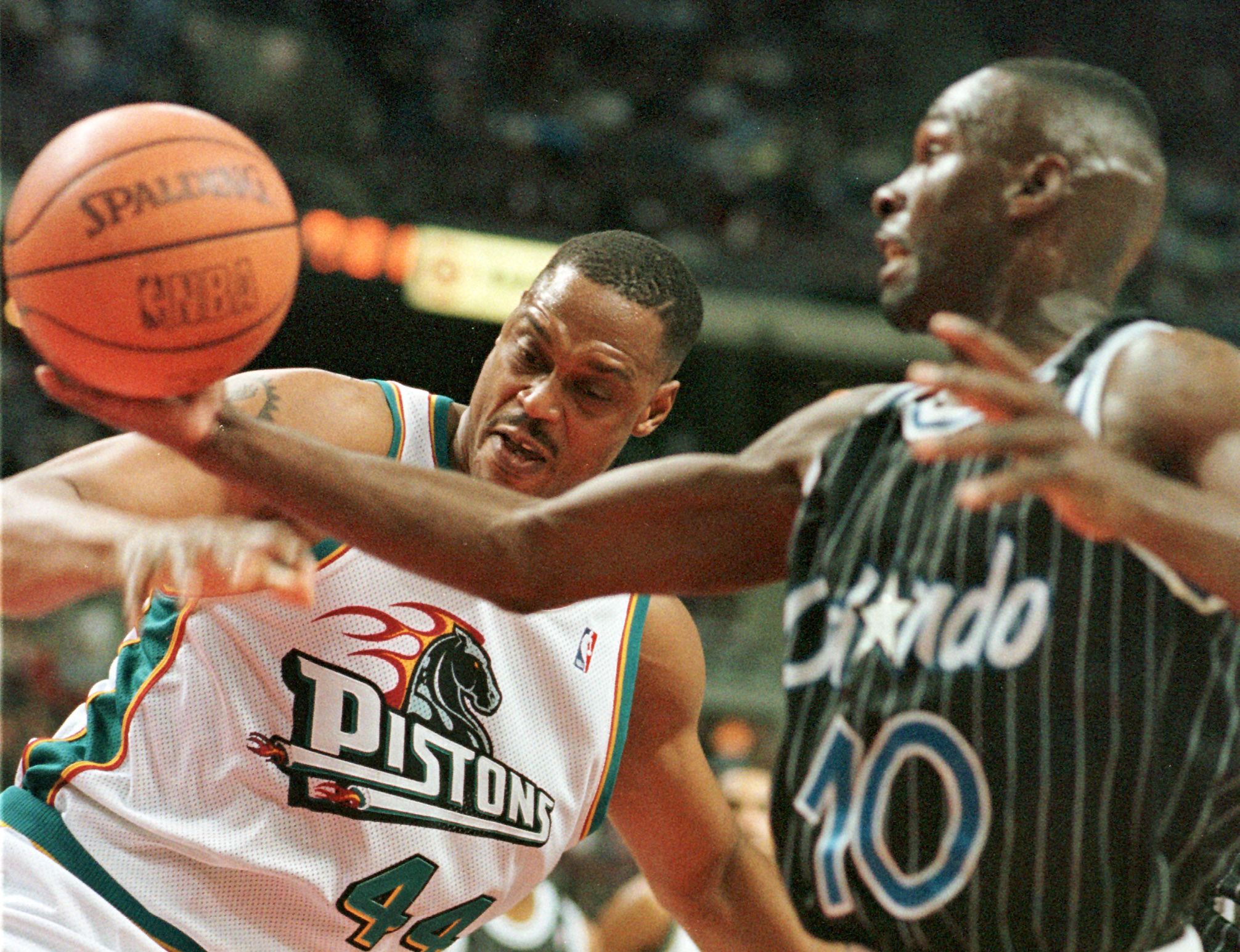 Mahorn wasn't flashy, but he was effective in the low post. He's what the NBA is missing today — a physical inside presence that deterred players from driving to the hoop. Mahorn was 6-foot-10, 240 pounds and was as physical as they come.
After spending five seasons with the Washington Bullets, the team that drafted him in the second round of the 1980 NBA Draft, he was traded to the Pistons. In Detroit, he spent fours years in his first stint with the team. In his fourth season, he won his only NBA title in 1989, playing a role as one of the Bad Boys.
Mahorn teamed with Laimbeer and Rodman on a Pistons team that was known for its physicality that bordered on dirty play. Laimbeer was considered one of the dirtiest players in all of the NBA. Rodman drew attention to himself with his wild antics, aggressiveness, and his rebounding prowess. Mahorn quietly and effectively provided the Pistons with intimidation and his physical presence.
Longtime Pistons broadcaster George Blaha called Mahorn the "baddest Bad Boy of them all," according to Big3.com.
Rick Mahorn was much more than an intimidator
Mahorn was a valuable piece to the Pistons' title-clinching puzzle in 1989, fueling Detroit's Bad Boy image. Mahorn never backed down from anyone and always found himself guarding some of the top-notch big men in the league. It was a challenge he never refused. He emphasized he was much more than an intimidator.
"My reputation is unfounded," Mahorn told Sports Illustrated back in April 1989. "I can play. I wouldn't have been in this league for nine years if I couldn't play. Thug this, enforcer that. I take 48 minutes very seriously, that's all, when you consider who I have to guard.
"That means Ewing, Kevin McHale, Charles Barkley, Moses Malone and Mailman Malone — every night. You know anybody who wants that?"
Chuck Daly, who coached Mahorn in Detroit knew the value of his big man back then.
"Rick brings a maturity, unselfishness and a glue to our club," he said. "We need that defensive rebounding, and we really need that low-post D."
Mahorn's 'love taps' proved costly
Although Mahorn did develop a reputation for taking some of his physicality too far, he earned the respect of some of the biggest names of this game. Hall of Fame center Patrick Ewing faced Mahorn on several occasions and knew he was in for a battle each time.
"He's a great defender, and he knows all the tricks," Ewing told Sports Illustrated. "He can push you out, then pull the chair and make you fall flat on your butt. Until this day, when I play Rick Mahorn, I know it's going to be a war."
Maybe it was because he was part of the Bad Boys, but Mahorn also was a little lighter in the wallet because of his physical play.
Earlier in that 1988-89 season, Mahorn was fined $5,000 for a play on Cleveland Cavaliers point guard Mark Price that sidelined him two games with a concussion. That brought his total of fines for the season up to $11,000.
"I don't see how he could have had a concussion," Mahorn said then. "I barely brushed him. In the hole that would be considered a love tap. Hey, I don't have anything against Price."
That was Mahorn's third fine of the year for rough play. He said he wasn't going to change his style.
"I'll play, I'll help us win if it kills me. If it kills you," he said.