The Magic Number Taysom Hill Must Meet to Make $95 Million From the Saints Shows How Much of a Sham His Contract Really Is
Unlike Bill Belichick, Sean Payton has yet to find a long-term replacement for his legendary quarterback. While the New England Patriots landed a worthwhile heir to Tom Brady in the form of Mac Jones, the New Orleans Saints still don't have a clear-cut successor to Drew Brees.
Of course, Saints fans had high hopes for Jameis Winston, but any dream of him leading the team to a Super Bowl title ended when he tore his ACL in Week 8. As a result, the organization has resorted to starting the thoroughly uninspiring Trevor Siemian over athletic quarterback/tight end/all-purpose player Taysom Hill.
Strangely, though, the Saints showed no hesitation about extending Hill's stay. But based on the magic number he must hit to maximize his payday, it's clear his contract shouldn't be taken seriously at all.
The Saints will keep the Taysom Hill experiment going a little while longer
Apparently, even the Saints aren't exactly sure what Taysom Hill's future holds. What they do know, though, is that he'll continue to don a New Orleans uniform for several more seasons.
On Monday, the 31-year-old "quarterback" agreed to a four-year, $40 million contract extension. Of course, assigning Hill a specific position label seems silly given his penchant for lining up all over the field.
Since he joined the Saints in 2017, the 6-foot-2, 221-pounder has thrown passes, carried the ball, hauled in receptions, executed blocking assignments, and made tackles on special teams. Hill's athleticism and versatility make him a valuable member of the team, but it's fair to wonder what lies ahead for someone who's never even played 50% of the offensive snaps in a season.
Still, it's obvious Payton believes Brees' longtime backup possesses significant upside. After all, the Saints structured Hill's extension in a manner that could become quite expensive depending on how he's deployed.
Hill must meet a magic number to maximize his payday that shows much of a sham his contract truly is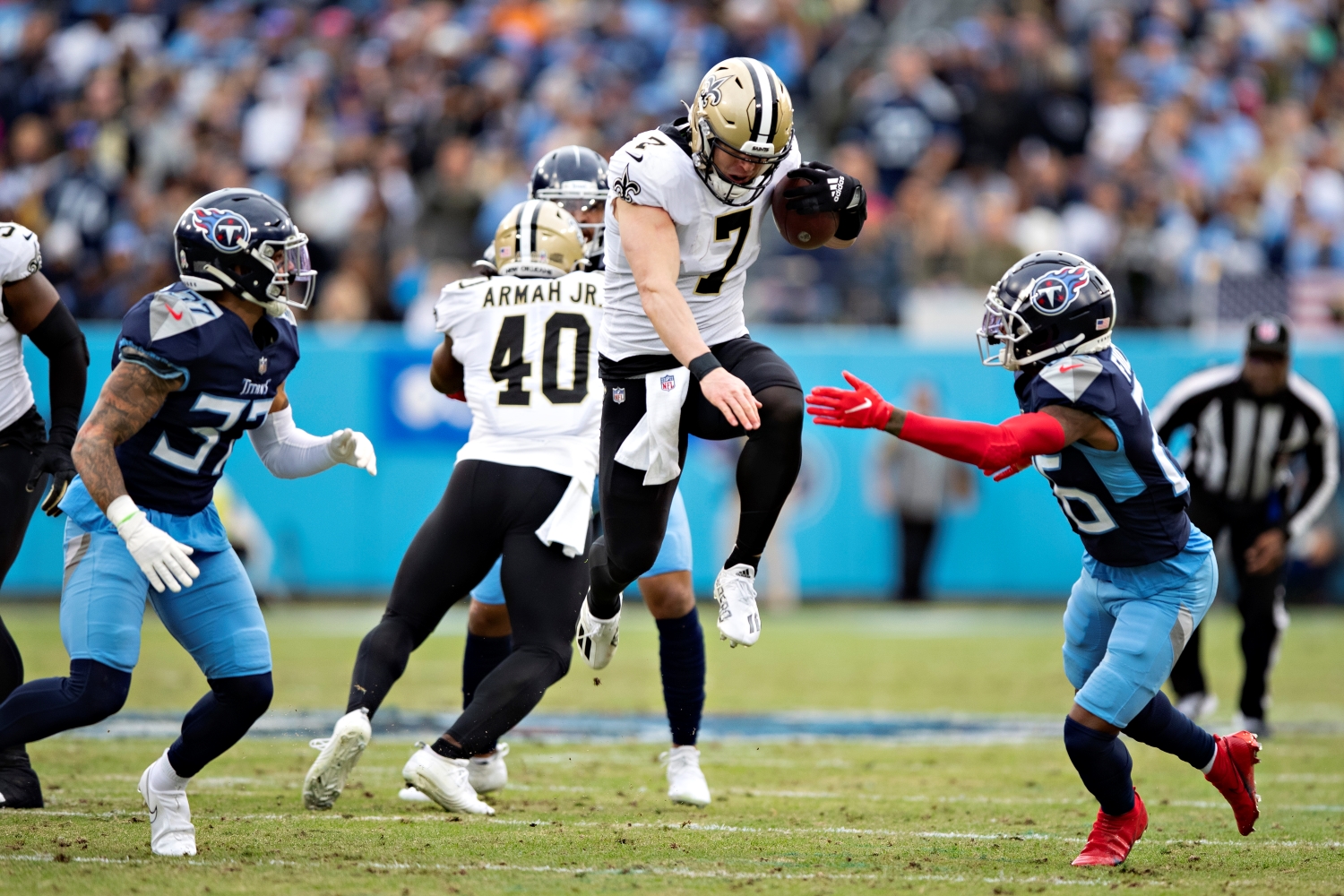 As if signing a part-time gadget player to a deal with $22.5 million guaranteed didn't raise enough eyebrows, the Saints caused a few more brows to furrow by giving Hill the opportunity to make substantially more than that.
In fact, he can earn up to $95 million if he becomes the team's starting quarterback over the next four years.
However, Hill has to meet a magic number to maximize his payday with the Saints. And when you consider what he's done during his NFL career, it's clear his contract is a sham.
According to Pro Football Talk, he must throw at least 224 passes in a season (13 attempts per game) to get paid as a quarterback.
"The number comes from the labor deal," Mike Florio wrote. "It's the minimum pass-attempt threshold for incentives."
While Hill has to be excited about his earning potential, the odds of him making $95 million seem incredibly slim. To put it bluntly: it would be one the most shocking developments in league history if he manages to cash in at that level. After all, a quick glance at his career stats shows how silly it is to think he actually has a chance to make almost $100 million from the Saints.
Hill has attempted a grand total of 142 passes in 60 regular-season games. Four of those turned into touchdowns, and four got picked off by defenders. He's actually recorded more carries (171) than throws — a testament to his versatility and inexperience as a pro passer.
Considering he will be 32 next season, no one should expect Hill to miraculously make the leap from backup to full-time starter. Even with Winston out for the year, he's still been utilized sparingly, which makes it difficult to envision him suddenly becoming the guy for the Saints.
Ultimately, Hill's extension seems like a case of New Orleans trying to manage the salary cap while foolishly furthering the narrative that he could take over as QB1. But unless he pulls off the most impressive offseason transformation in league history, he stands zero chance of seeing $95 million.
Which quarterback will start for Sean Payton in 2022?
Although Hill remains under team control through 2025, the Saints can't afford to stop shopping for quarterbacks. The team doesn't have a clear-cut plan for the position, so it will be interesting to see how Payton and general manager Mickey Loomis approach the offseason.
Will New Orleans bring Winston back and let him battle it out with Hill and 2021 fourth-rounder Ian Book? That route doesn't offer a ton of upside, especially with the 2015 No. 1 overall pick coming off a torn ACL.
Will the Saints explore the trade market? Russell Wilson, Aaron Rodgers, and Deshaun Watson seem destined to play elsewhere in 2022, but it will take a substantial haul to convince their current teams to send them packing.
Or, what about the draft? Unfortunately for quarterback-needy teams, the upcoming class doesn't feature a true blue-chip prospect. But if the Saints feel strongly about a particular passer, perhaps they will invest a first-round pick on the position.
At the end of the day, Taysom Hill may have a new contract and some semblance of job security, but he's not the long-term answer at quarterback.
And it may take significant financial and draft resources for the Saints to fill the biggest hole on their depth chart.
All statistics courtesy of Pro Football Reference.