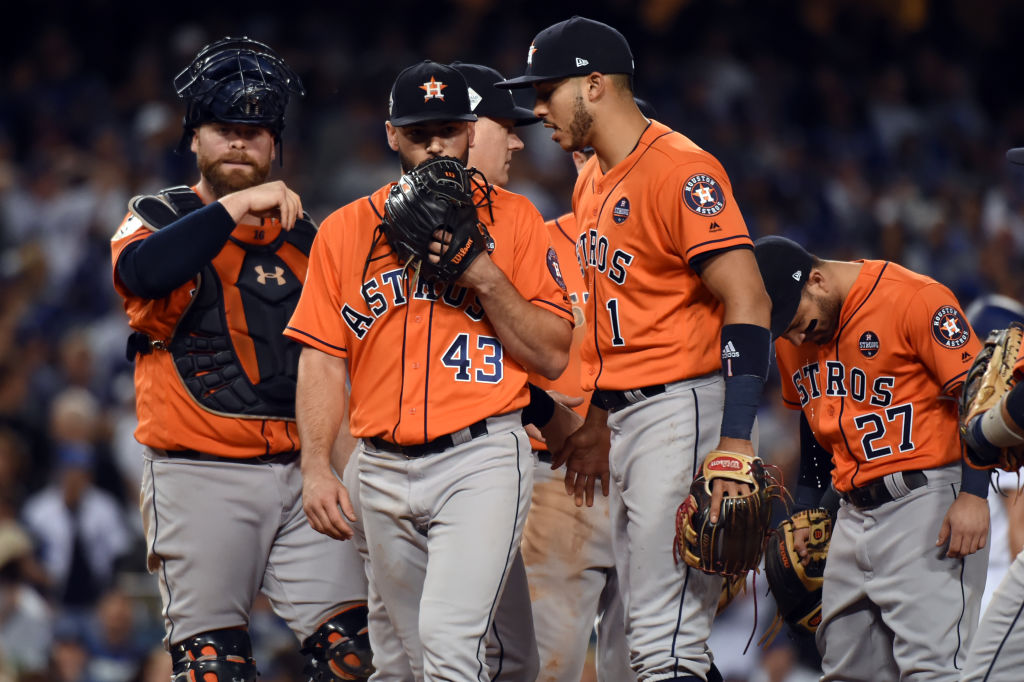 Major Baseball Finally Made a Correct Decision About the Houston Astros Sign-Stealing Scandal
Major League Baseball hasn't covered itself in glory during the Houston Astros sign-stealing scandal. The league, however, finally did something right.
Opening Day is still more than a month away, but the 2020 Major League Baseball season has already featured plenty of drama. Most of it has stemmed from the Houston Astros sign-stealing scandal and Rob Manfred's mishandling of the situation.
While Major League Baseball hasn't exactly covered itself in glory, the league finally made one smart decision. No matter how you feel about cheating, stealing signs, or any unwritten rules, physical violence isn't an appropriate response.
The Houston Astros sign-stealing scandal
While all's fair in love and war, certain things aren't allowed on the baseball diamond. Stealing signs through logic and deduction is OK; using technology, as the Houston Astros did, crosses the line.
As initially reported by The Athletic, the Houston Astros used a camera in center field to observe the opposition catcher. His signs were then deciphered in the replay room and used to alert the batter about potential offspeed pitches. Major League Baseball launched an investigation and confirmed virtually everything The Athletic learned.
While the league handed down a sizable sentence—general manager Jeff Luhnow and manager AJ Hinch received yearlong suspensions, while the club was docked several draft picks and fined $5 million—no one is rushing to pat Major League Baseball on the back. Between the players' lack of punishment and potential flaws in the league's investigation, Rob Manfred is starting to look just as bad as the Houston Astros.
Major League Baseball doesn't want pitchers targeting the Astros
Although the calendar reads 2020, Major League Baseball still adheres to some old fashioned traditions. One of those concerns retribution; if you violate the sport's unwritten rules, pitchers can take matters into their own hands.
Some players, like Dodgers pitcher Ross Stripling, have discussed the possibilities of taking justice into their own hands. Major League, however, doesn't want Houston Astros games turning into a shooting gallery.
"We have been working on for some time a memorandum about being hit by pitches, intentionally throwing at batters," Rob Manfred explained during his sit-down interview with ESPN. "It's really dangerous, really a dangerous undertaking, and completely independent of the Astros investigation we will be issuing at the beginning of this week a memorandum on hit by pitches which will increase the ramifications of that type of behavior."
The situation has been mishandled, but violence isn't the answer
No matter which team you support during the regular season, you probably don't love Major League Baseball's handling of the Houston Astros sign-stealing scandal. Even if the players should have received individual punishments, throwing at a batter isn't acceptable.
Although it might seem Major League Baseball is rushing to protect the perpetrators, it's only right to dissuade physical retaliation. While stealing signs can affect the outcome of a game, series, or season, throwing at someone can have even greater consequences. While pitchers will generally send a message with an offspeed pitch aimed at the batter's back, there's no safe way to throw a projectile at another person.
"It is simply not appropriate to express whatever frustration you may have growing out of the Astros situation by putting someone physically at risk by throwing at them," Manfred said. "It's just not acceptable."
No matter how harshly you judge the Houston Astros, we can all agree that they did something wrong. Major League Baseball's investigation didn't make things any better; hypocritically, a retaliating pitcher will receive a stiffer sentence than any Astro. That double standard might seem unjust, but physical violence is never the answer.