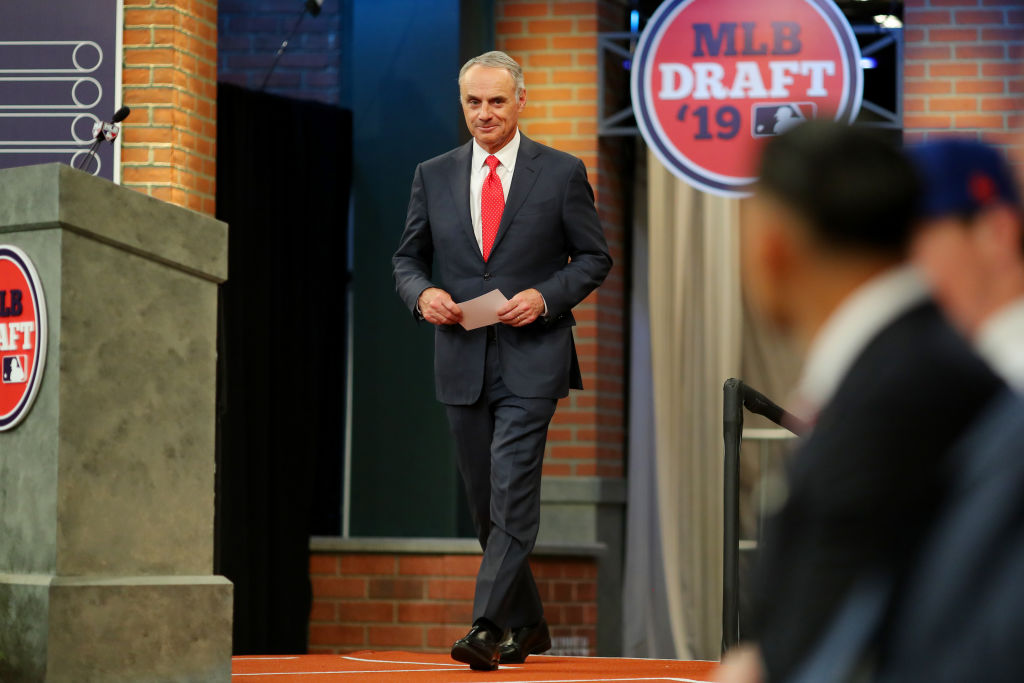 Does MLB Commissioner Rob Manfred Even Like Baseball?
Rob Manfred is in charge of Major League Baseball. A series of rule changes, though, have led some to question if he's a fan of his own sport.
Fandom is a personal experience for everyone. Some people prefer to observe their favorite sport with scholarly rigor, focusing on stats and tactics; others cheer passionately, living and dying with their team. One thing remains constant, though: a fan loves the game through thick and thin. Major League Baseball fans, however, are also united by their dislike of one specific man: MLB commissioner Rob Manfred.
His decisions have led to speculation over his relationship with America's Pastime. Rob Manfred might work in baseball, but is he even a fan of the game?
Rob Manfred's time to Major League Baseball
From an early age, Rob Manfred was exposed to the realities of organized labor. His parents each sat on opposite sides of the bargaining table—Manfred's father was a copper mill executive, and his mother was a card-carrying member of a teachers' union—and Rob eventually earned a degree from Cornell's School of Industrial and Labor Relations.
After a J.D. from Harvard, Manfred started working in labor law. He first linked up with Major League Baseball in 1987, assisting with collective bargaining; when the players went on strike in 1994, Manfred provided counsel to the owners. He then formally started working for Major League Baseball in 1998, serving as Executive Vice President for Labor Relations & Human Resources.
Once onboard, Rob Manfred became a key part of the league's negotiation efforts. He helped hammer out Major League Baseball's first drug testing agreement and the subsequent collective bargaining agreements. In 2013, he was promoted to Chief Operating Officer, paving his path to the top job; he officially took over as commissioner in 2015.
A series of controversial decisions
Every commissioner is going to be second-guessed. Rob Manfred has experienced that reality since taking over the top job.
Baseball, more than any other sport, is grounded in unwritten rules and tradition. For better or worse, Manfred has been unafraid of shaking things up. He's instituted pace of play changes—like a pitch clock and the new three batter minimum—and is apparently considering making some drastic alterations to postseason play.
Manfred has also faced criticism for plenty of other issues. His threats of Minor League Baseball contraction have been compared to "the collusion of a cartel." As the Houston Astros' sign-stealing scandal continues to spiral, the commissioner is looking worse and worse.
Does Rob Manfred even like baseball?
Since Rob Manfred has shown an insistence on changing Major League Baseball, some have questioned if the commissioner even likes the sport. Manfred, himself, insisted that he does.
"I grew up a Yankees fan," Manfred told Tom Verducci in 2014. "I was born in upstate New York. Because of the proximity to Syracuse University, we were one of the first areas to have cable television. So we actually had access to both Met and Yankee games all while I was growing up. My dad is a huge Yankee fan to this day. My mom and dad brought my brother and my sister and I down to Yankee Stadium to see our first game in 1968. Really, a great family experience. I mean, something all of us have very fond memories about."
"So I was just a big baseball fan," he continued. "It never occurred to me that I would work in the game, to tell you the truth."
While he's definitely not doing a great job as commissioner, Rob Manfred's fandom ultimately doesn't matter. He's there to run the league for the owners; they'll care more about the bottom line than anything else.